Writing a New Play for the Jug Broke Theatre Company
I first met the Ladies of Llangollen years ago, through one of my favorite podcasts: "Stuff You Missed in History Class." My imagination was immediately and thoroughly captured by the story of Eleanor Butler and Sarah Ponsonby, who eloped together from Ireland to Wales in 1778, and spent the rest of their lives cultivating a charming, eccentric existence in the company of well-know Georgian poets, artists, and thinkers.
When I joined The Colonial Williamsburg Foundation as a writer and performer in 2019, the Play House Stage presented a wonderful home for the play I had long hoped to write, and our Ladies of Llangollen premiered on April 10, 2021.
In creating this piece, my first task was to choose a form for such rich and romantic content. I determined that such a beautiful love story must be a musical, and that the piece should have a narrator…indeed, it should have two! The first of these external figures took on the person of Mary Caryll, who worked as housekeeper for Eleanor and Sarah in their shared home of Plas Newydd, and undoubtedly knew and loved them better than anyone else in their world. The second narrator emerged as a 21st-century voice: a skeptical professor unfamiliar with the Ladies' story, who could serve as advocate for the audience, asking questions, examining biases, and modeling an openness to new perspectives on history.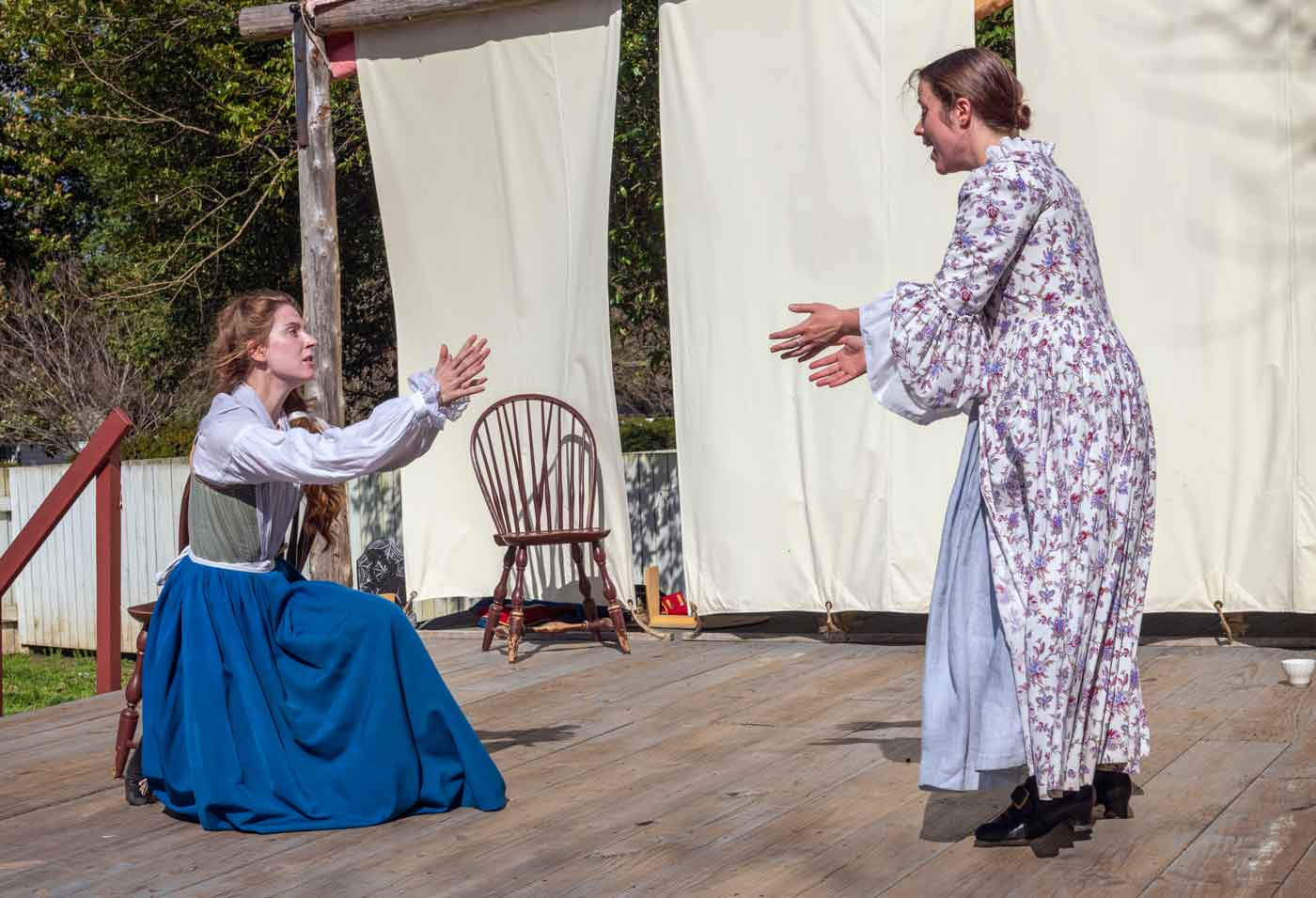 As to the Ladies themselves and the heart of their story, I was joyfully fortunate to find myself inundated with primary source documents in Eleanor and Sarah's own hands, (A reading list can be found at the conclusion of this blog post.) When writing from the perspectives of real people from the past, I always try my best to ensure that as many of their own words as possible make it to the stage, that their unique voices and vocabulary might shine through and be heard again after hundreds of years. As has become the custom for our Jug Broke Theatre team, I worked in conjunction with Wayne Hill and Patrick Rooney to select four 18th-century songs and tunes that suited the tone of each musical moment and the needs of our singers. For Eleanor's solo, we selected the boisterous "Spanish Ladies," which by lovely serendipity, proved nearly a perfect fit for the meter of one of Eleanor's own poems: "The Old Maid's Prayer to Diana."
It was absolutely evident that this poem's introductory stanza would make an ideal opening salvo for Eleanor's character and I translated it nearly verbatim, excising one word ("that") to fit the melody of "Spanish Ladies" and altering another ("bear" to "beg") for clarity:
Original Poem:
Since thou and the stars, my dear goddess, decree,
That Old Maid as I am, an Old Maid I must be,
O hear the petition I offer to thee —
For to bear it must be my endeavour:
Lyrics:
Since thou and the stars, my dear goddess, decree,
Old Maid as I am, an Old Maid I must be,
Oh, hear the petition I offer to thee,
For to beg it must be my endeavor.
Knowing that our time constraints would not allow me to dramatize every delicious line, I regretfully resigned myself to being judicious, and set about selecting excerpts from Eleanor's text that would both best reflect her luminously clever voice and offer our audiences important information about this young woman's life in the play's first few minutes.
Original Poem:
From the legacy-hunters that near us abound,
Diana, thy servant deliver.
Lyrics:
From those five fortune hunters who may yet return,
Diana, thy servant deliver.

By making this slight alteration, I slipped in a bit of exposition about Eleanor's life: she did indeed turn down five proposals and dreaded the prospect of a loveless marriage founded only on her fortune.
Original Poem:
But chief from the love (with all loveliness flown)
Which makes the dim eye condescend to look down
On some ape of a fop, or some owl of a clown, —
Diana, thy servant deliver.
Lyrics:
From my mother's indictment to fold like a fan,
Acquiescing to some uninspiring man,
To sell off my soul just as a soon as I can,
For she thinks that I may not do better.
While I deeply lamented the loss of such pure genius as "some owl of a clown" — now my primary choice of insult, should I ever have occasion—I once again took this opportunity to share the context in which Eleanor's poem was written, while preserving her primary theme. Her relationship with her family was tenuous at best, highlighting all the more the importance of the family she would go on to create with her "beloved wife" Sarah, their dear Mary Caryll, and the many friends and visitors who joined them at Plas Newydd throughout their lives.
I repeated this writing process with one of Sarah's poems to create a song for her and selected a series of direct quotations from letters and diaries written by and about the Ladies to further bring their voices to life. Also included are excerpts from poems authored by Anna Seward and William Wordsworth, a small selection from their roster of notable correspondents. Mrs. Seward in particular offers a sumptuous picture of the Ladies' life, which we endeavored to capture in the writing and staging of this play:
"Then rose the Fairy Palace of the Vale,
Then bloom'd around it the Arcadian bowers;
Screened from the storms of Winter, cold and pale,
Screened from the fervours of the sultry hours…"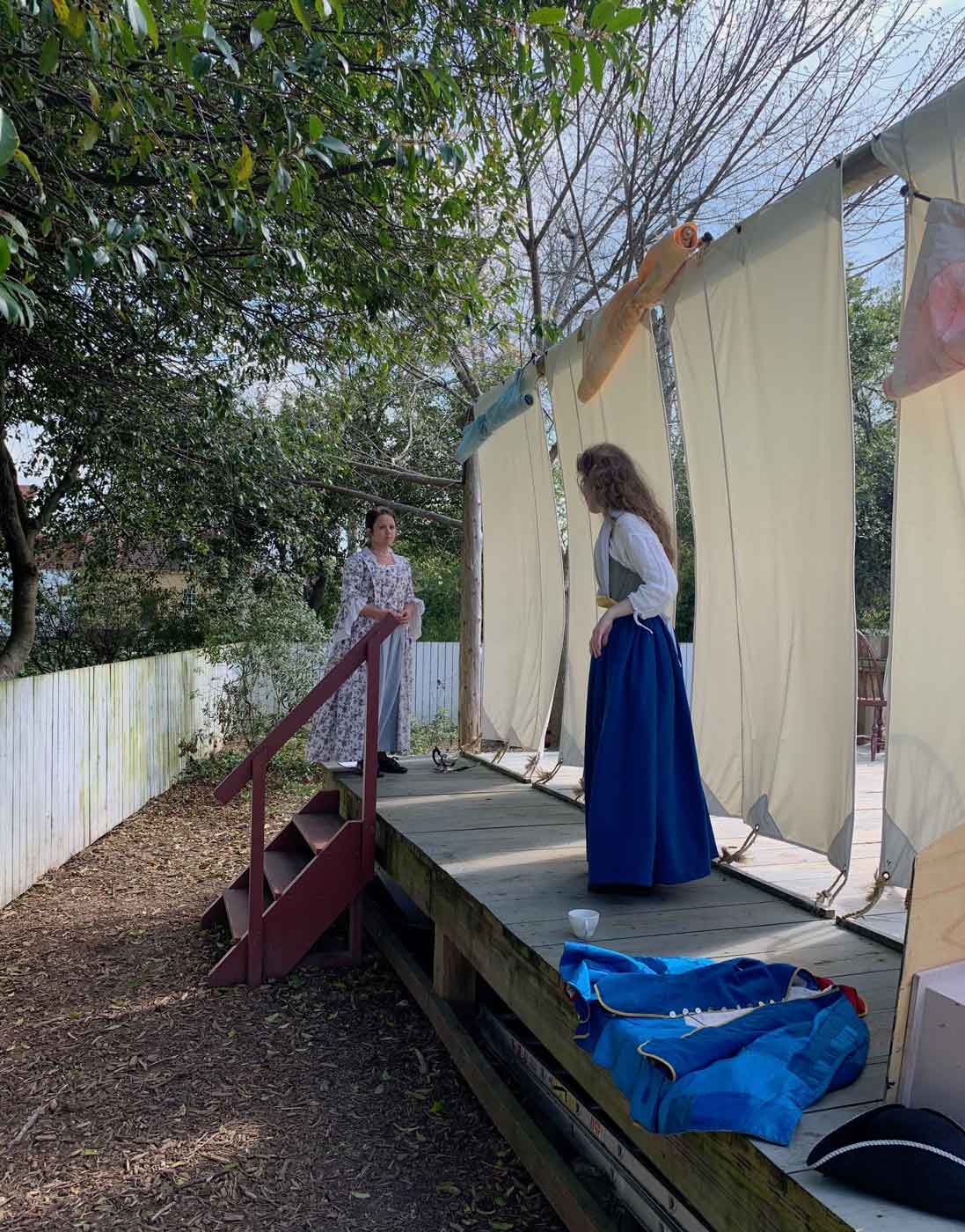 While we cannot say for certain which words Eleanor and Sarah would have used to describe themselves and their relationship, had they access to our modern vocabulary, we do know from their own words how deeply they loved one another. Everyone deserves to see themselves reflected in history, and we are so greatly honored to share this beautiful story with our guests!
Claire Wittman is so honored and delighted to work alongside her fellow Theatrical Interpreters and ERHI friends to create and share beautiful, challenging, and important stories with all of Colonial Williamsburg's guests.
If you would like to learn more about the ladies and their life, please do enjoy this reading list:
Life With the Ladies of Llangollen (the Diaries of Eleanor Butler), published by Viking Press
The Collected Poetry of Mary Tighe, published by John Hopkins University Press
Notable Irishwomen, by CJ Hamilton, available online at the Internet Archive
I Know My Own Heart: The Diaries of Anne Lister, 1781-1840, published by NYU Press
Poems Between Women: Four Centuries of Love, Romantic Friendship, and Desire, edited by Emma Donoghue
Romantic Women Poets: Genre and Gender, by Cecilia Piertropoli
The Ladies of Llangollen: a Study in Romantic Friendship, by Elizabeth Mavor
"A Plas Newydd Timeline", compiled by Kelly M. McDonald
Colonial Williamsburg is the largest living history museum in the world. Witness history brought to life on the charming streets of the colonial capital and explore our newly expanded and updated Art Museums of Colonial Williamsburg, featuring the nation's premier folk art collection, plus the best in British and American fine and decorative arts from 1670–1840. Check out sales and special offers and our Official Colonial Williamsburg Hotels to plan your visit.
Learn More