Framed between Constitution Day on September 17 and Citizenship Day on September 23, there are close to 335 ceremonies devoted to welcoming nearly 21,000 new citizens into the American experiment. They come from many backgrounds and from many cultures. They are many colors and many creeds, and they come for many reasons; but regardless of the road that brought them to this point, collectively they will undertake the same rite of passage. They have completed all the mandated steps and now, before their families, friends, and soon to be fellow countrymen, they'll take the oath of allegiance. What moments before was a diasporic group, far-flung and reaching, will suddenly, as if by alchemy, be members of one new American family. E Pluribus Unum: out of many, one.
In an age when there is much to bring to account in a nation's history, naturalization ceremonies are often overlooked rituals where the values, ideals, and aspirations of the American experiment come alive. They are also the embodiment of one of the sincerest hopes of many of the founding generation.
Since the birth of American democracy, there has never been a single united opinion as to whom America should belong. It is easy to frame the answer around, "the people" but who exactly are "the people?" Is it the wealthy, the native born, the Christian, the White? Countless American founding fathers held these distinctions in mind. But at the time of its adoption, one of the most radical parts of the US Constitution were the mechanisms by which one could become a United States citizen.
While many framers looked to the prospect of immigrants holding the same rights and privileges as native-born citizens, founders like Benjamin Franklin expressed that the "Constitution will be much read and attended to in Europe, and if it should betray a great partiality to the rich, it will not only hurt us in the esteem of the most liberal and enlightened men there, but discourage the common people from removing to this country …. When foreigners after looking about for some other country in which they can obtain more happiness, give a preference to ours, it is a proof of attachment which ought to excite our confidence and affection."
So, in 2022, who are "the people" and to whom does America belong? As we look ahead to Constitution Day the answer is clear: To whomever is willing to do the work to become a citizen.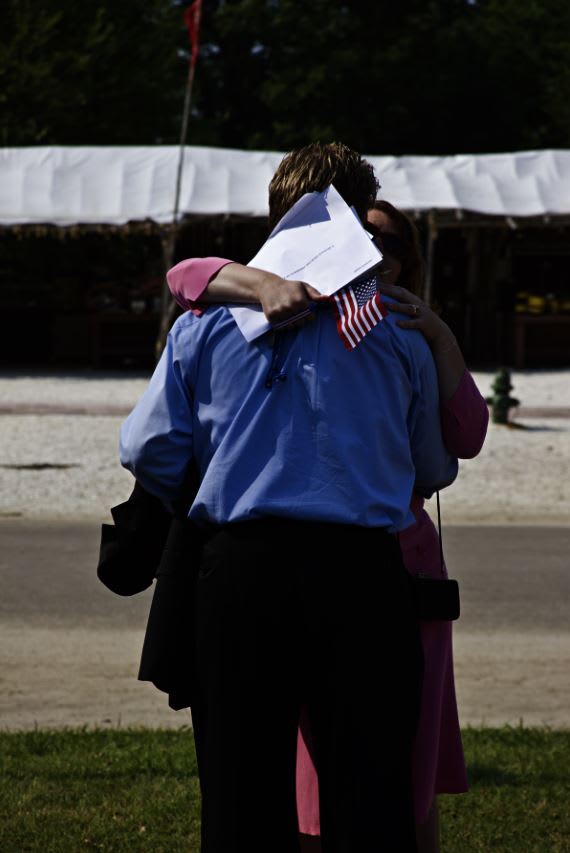 This special time of the year, when the great American table gains chairs for its new family, we reflect on the great events and conversations that shaped who we are. For those about to take their oath of allegiance and enjoy their first moments of citizenship, America's potential will never be purer in its motive. It is something we should all celebrate and take part in commemorating.
And for those soon-to-be citizens of the United States:
We are so happy you are here.
We have been waiting for you.
Welcome home.
Now, let's get to work on asserting our newly earned rights and responsibilities as citizens!
It's suggested for new citizens, after naturalization, to familiarize themselves with the rights and responsibilities of citizenship. This Constitution week, we challenge current citizens to do the same and consider this list from the U.S. Citizenship and Immigration Services website:

Rights
Freedom to express yourself.
Freedom to worship as you wish.
Right to a prompt, fair trial by jury.
Right to vote in elections for public officials.
Right to apply for federal employment requiring U.S. citizenship.
Right to run for elected office.
Freedom to pursue "life, liberty, and the pursuit of happiness."

Responsibilities
Support and defend the Constitution.
Stay informed of the issues affecting your community.
Participate in the democratic process.
Respect and obey federal, state, and local laws.
Respect the rights, beliefs, and opinions of others.
Participate in your local community.
Pay income and other taxes honestly, and on time, to federal, state, and local authorities.
Serve on a jury when called upon.
Defend the country if the need should arise.
At The Colonial Williamsburg Foundation, we work to keep the principles of citizenship at the forefront of our work and tell the stories that shape who we are as Americans. We hope, always, to be a home to all Americans who find themselves searching for the way forward through the lessons of the past.


Bryan Austin is a professional actor, writer, and interpreter with over 20 years in the theatre and museum world. His presentations as Madison have taken him to schools and audiences across the country along with interviews and articles with TIME and various other local newspapers.
Colonial Williamsburg is the largest living history museum in the world. Witness history brought to life on the charming streets of the colonial capital and explore our newly expanded and updated Art Museums of Colonial Williamsburg, featuring the nation's premier folk art collection, plus the best in British and American fine and decorative arts from 1670–1840. Check out sales and special offers and our Official Colonial Williamsburg Hotels to plan your visit.
Together, with You
We count on you to fulfill our mission that the future may learn from the past. Together, with you, Colonial Williamsburg strives for excellence through nationally recognized preservation of this living museum, world-class educational opportunities and thought provoking civic engagement programming. Make a gift now to support and advance this important work.