Doing What We Do Best in the Blacksmith Shop
In early July of this year, I received an inquiry from Juan, a Boy Scout from Maryland. He was looking for an African American blacksmith working in Maryland to assist with an Eagle Scout project to rehabilitate the Mount Zion African Methodist Episcopal Church cemetery in Glen Arm, Maryland. The mid-19th-century church was constructed on land where a congregation of free and enslaved Black residents had traditionally held their services prior to the American Civil War. Juan's project proposed to clean and repair the cemetery, use non-invasive technologies to search for unmarked burials within the cemetery bounds, and mark and protect any graves located during the project. Additionally, he planned to restore the original cemetery boundary markers, which also served as hitching posts for horse-drawn vehicles in the late-19th and early 20th centuries. In the century or so since their installation, the iron posts have been damaged and needed repair. Juan hoped to find an African American blacksmith to do the work — a more difficult task in the 21st century than one might suspect.
Historically, West African culture held deep traditions in ironworking. Iron smelting and ironworking technology as well as artistic merit in forged iron within African communities was quite advanced, dating back several thousand years. Iron was valued for its utility and spiritual power and was employed in sacred rituals for individuals and the community. Ironworkers were revered for their work skill, wisdom, spiritual guidance, and ability to interact with the supernatural world. In present-day West Africa, many of these customs persist with blacksmiths attaining positions of power as respected advisors and spiritual leaders within their communities.
Enslaved Africans in America most certainly knew of these cultural traditions, though research on that topic in this country is still in its infancy and concrete evidence of those customs is scarce or unrecognized here. Much was passed on as oral tradition. While African objects of symbolism and ritual are scarce on early American sites, there are many surviving iron works made by skilled free and enslaved Blacks during the colonial and Federal periods. Most notably, these surviving examples are in southern cities like Charleston and New Orleans, where the urban landscape incorporated large architectural works such as gates and railings, although the style of the work follows European design. With such deep cultural traditions in iron, it is surprising that African American blacksmiths are few and far between in our country today. I continue my search to find more Black ironworkers and learn more about their cultural roots.
Learning about Juan's project, I knew that we wanted to support his effort to recondition the cemetery's ironwork and ensure that the work was done traditionally, with sensitivity and reverence for the surviving work. Juan and his adult supporters in Maryland provided photographs of the iron posts and we formulated a plan to complete the work here at Colonial Williamsburg.
To fulfill the desire to have an African American tradesman involved with the project, I approached my colleague Harold Caldwell to see if he would be interested in participating. Harold, an apprentice carpenter, had accompanied us on a trip to Washington, D.C. to view the "Striking Iron: The Art of African Blacksmiths," an exhibition organized by the Fowler Museum of Art at UCLA, when it was at the Smithsonian National Museum of African Art in early 2019. As part of his study of these African traditions, Harold had expressed interest in working with us in the Anderson Blacksmith Shop, combining his skills as a carpenter with work forging iron nails to create a traditional "Power Figure" like one made in the Congo in the late 18th or early 19th century. (See an image of an original example in the above link under the heading "Iron's Empowering Roles.")
Harold, a skilled carpenter in the Historic Trades Department, eagerly agreed to do the work. In mid-July, Juan and his family were passing through Williamsburg on their way to a family vacation in North Carolina, so they were able to transport the posts to us here in Williamsburg on July 16. Harold joined the shop and with minimal guidance carried out the repairs under the watchful eye of Juan and his father, Andy. Each post had to be heated in the forge and worked with hammer and anvil to restore the work to its original form.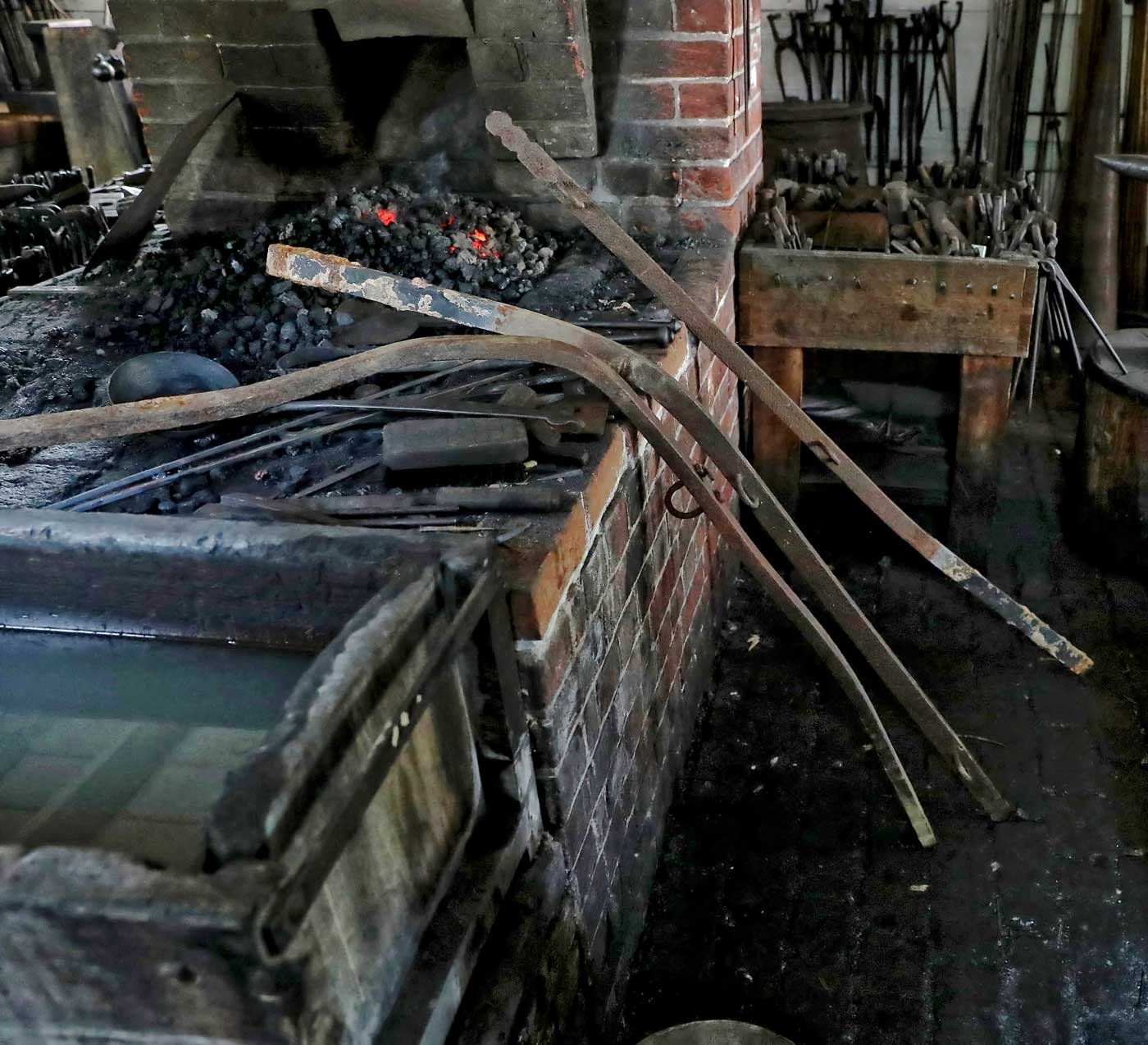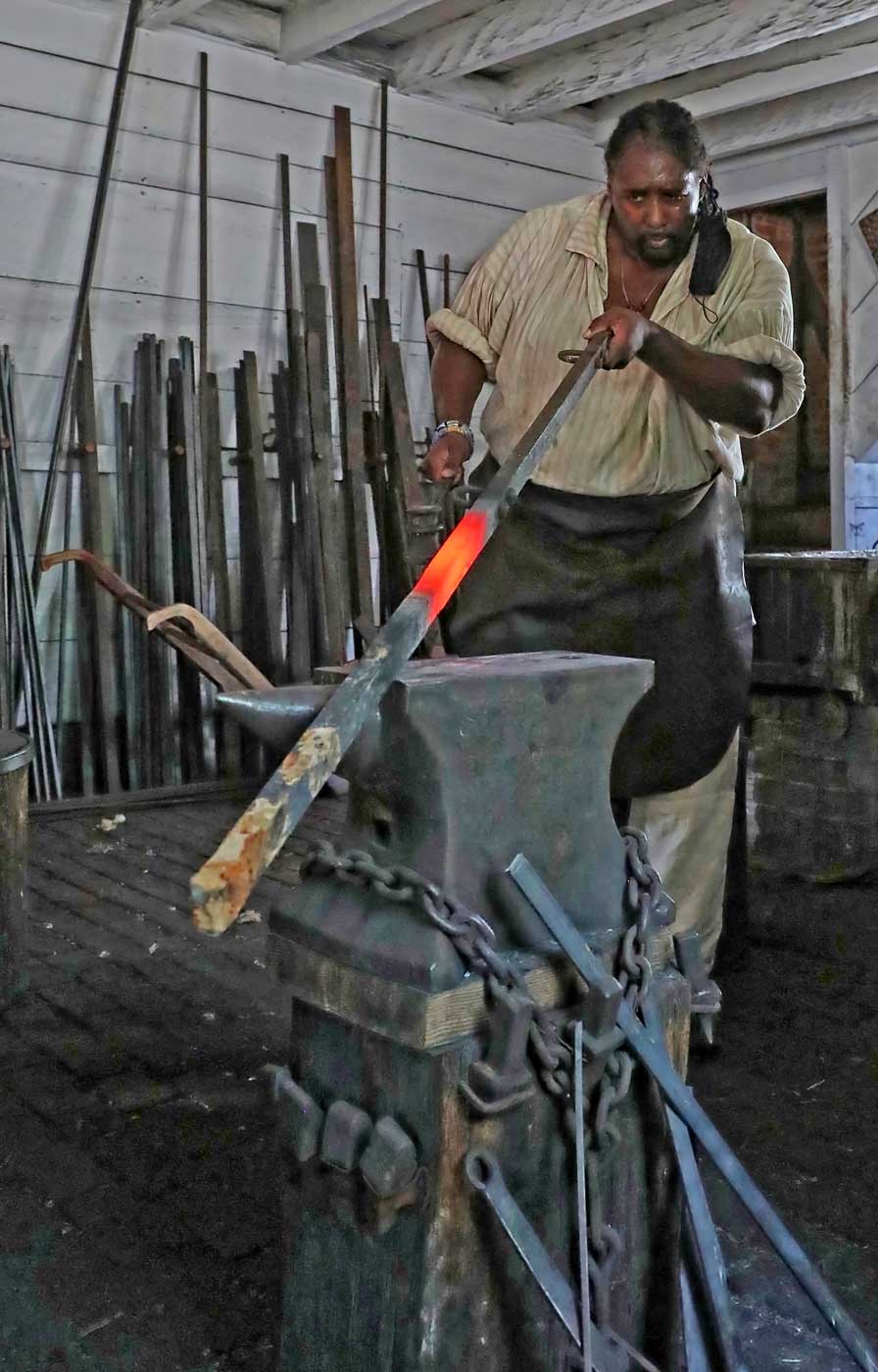 Little is known of the origins of the iron posts for the cemetery. The work appears to be late- 19th- or early-20th-century work, but it is neither signed nor dated. There are rudimentary ornaments forged at the top of each post, and the church property also has foot scraper made by the same hand that incorporates the same ornament. Oral histories from church members suggest that the posts were installed around 1920. The original maker was likely a local blacksmith, who may also have been a member of the Mount Zion Congregation. The posts were forged to perform a dual function — to distinguish the boundary between the cemetery and adjacent public access and provide hitching for horses used as transportation in the early 20th century. While the posts were made as utilitarian objects, it is not uncommon to embellish such items to provide aesthetic interest or communicate cultural significance. These posts follow that common practice. The forged finials, while simple, provide visual interest and may have deeper significance. Although the objects are humble, they have adorned and served the property for at least a century and are worthy of respect as cultural artifacts of this congregation and its community over that hundred-year span.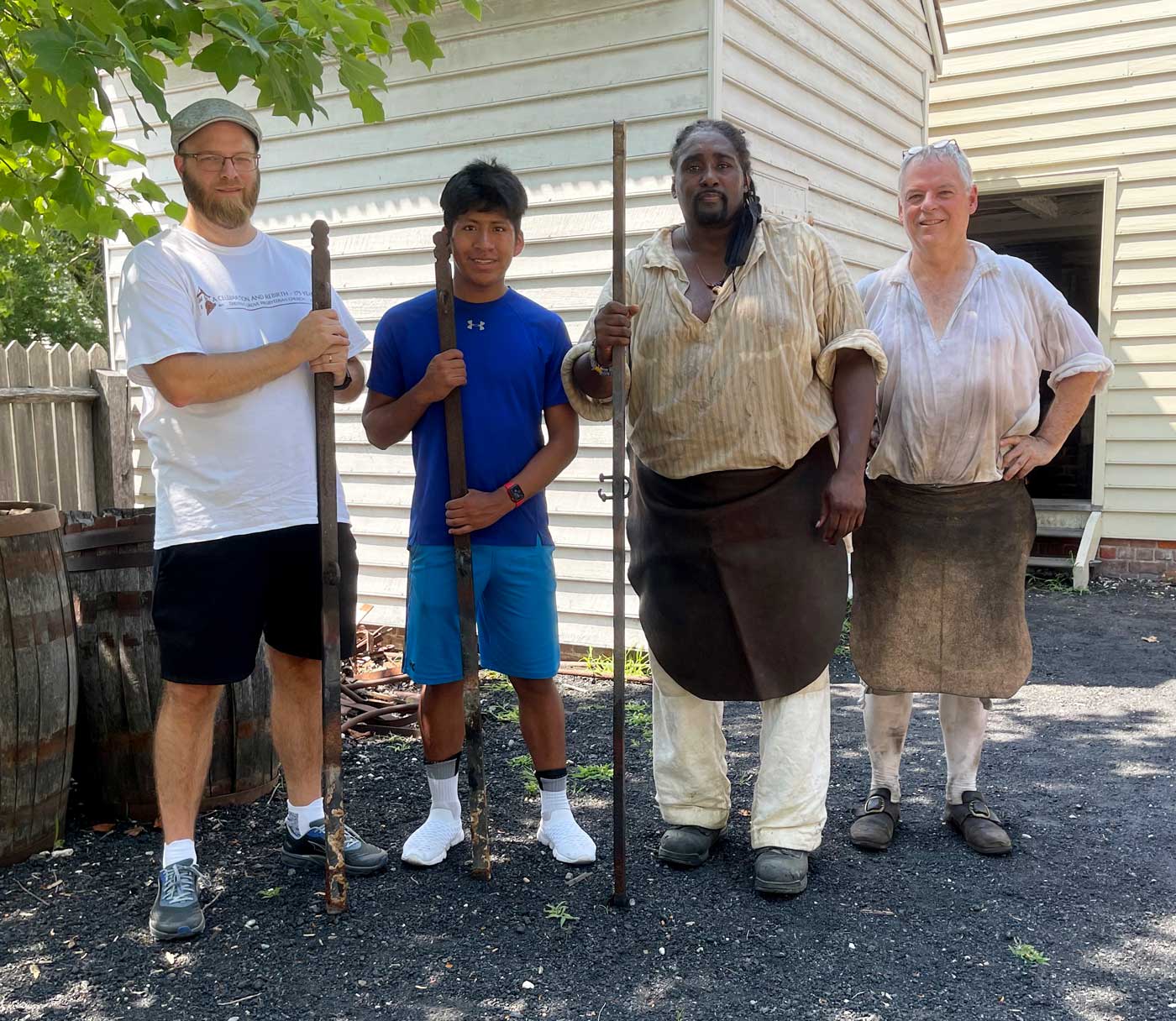 Colonial Williamsburg's Historic Trades Department is dedicated to the research, rediscovery, preservation, and practice of pre-industrial processes to provide quality products and services for the restoration and re-creation of early historical sites and to inspire interest and respect for our shared cultural heritage. We were proud to be a part of Juan's project to save and restore these historic artifacts for the Mount Zion AME Church.

Kenneth Schwarz began his blacksmith career in Maryland in 1977. He joined Colonial Williamsburg's Elkanah Deane Blacksmith Shop in 1982 as an apprentice, eventually advancing to his current position as Master Blacksmith. Beginning in 2000, he worked with Master House Carpenter, Garland Wood, and others conducting research which led to the reconstruction of James Anderson's Revolutionary War Blacksmith and Public Armoury in 2013. Ken's passion for historic ironwork is demonstrated by his nearly 40-year commitment to the research, preservation, practice of traditional techniques of the trade, and use of that knowledge to inspire Colonial Williamsburg guests gain a deeper understanding and appreciation for the ideals of our Founders and the struggles of working people to achieve those ideals.
Together, with You
We count on you to fulfill our mission that the future may learn from the past. Together, with you, Colonial Williamsburg strives for excellence through nationally recognized preservation of this living museum, world-class educational opportunities and thought provoking civic engagement programming. Make a gift now to support and advance this important work.
Colonial Williamsburg is the largest living history museum in the world. Witness history brought to life on the charming streets of the colonial capital and explore our newly expanded and updated Art Museums of Colonial Williamsburg, featuring the nation's premier folk art collection, plus the best in British and American fine and decorative arts from 1670–1840. Check out sales and special offers and our Official Colonial Williamsburg Hotels to plan your visit.
Learn More