In January, we launched our national conversation series, US: Past, Present, Future. How did this series come about and why are doing it? We're taking you behind the scenes to the creation and inspiration for this monthly examination of what it means to be American.
What is US: Past, Present, Future?
US: Past, Present, Future is a national conversation series exploring the vital intersection of current events, our shared history, and the enduring promises of America. At this time, it's primarily a virtual series.
So far, programs have examined religious freedom, Williamsburg's Black community, the role of women in Virginia, and American citizenship. These conversations highlight the relevance of our 18th-century story to today's world and emphasize the importance of history and civic engagement to our shared community.
You can join us every third Saturday of the month on Facebook Live. Conversations are subsequently published on YouTube and an archive of past conversations, and an upcoming schedule can be found here.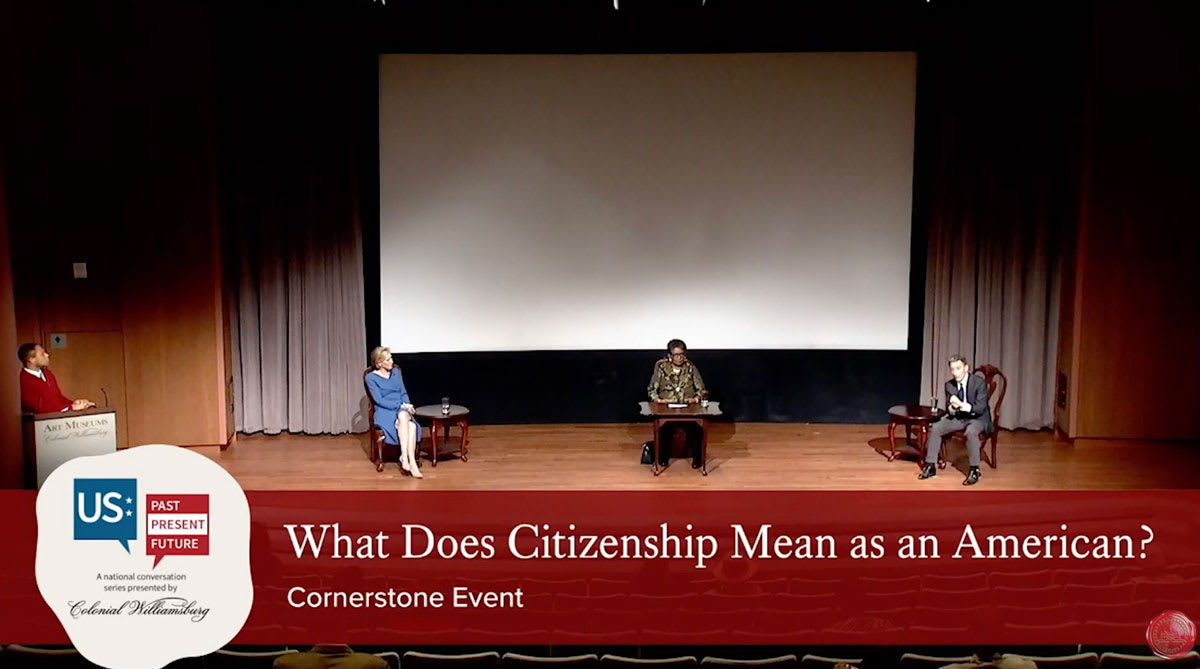 Who are your panelists?
Expert panelists have included Colonial Williamsburg experts, community leaders, and voices in national affairs. Here are just a few of them who have joined the discussion:
Cora Masters Barry, civic leader and political science professor
Bobby Braxton, Williamsburg City Council member and community leader
Janice Canaday, supervisor of Colonial Williamsburg's Randolph House and lifelong Williamsburg resident
Carly Fiorina, chair of the Colonial Williamsburg board of trustees and former chairman and CEO of Hewlett-Packard
Connie Matthews Harshaw, President of the Let Freedom Ring Foundation and member of the First Baptist Church in Williamsburg
Razi Hashmi, a foreign affairs officer and South Asia advisor in the Office of International Religious Freedom at the U.S. Department of State
James Ingram Jr., a seasoned museum professional, theologian, and U.S. naval veteran, who has portrayed Nation Builder Gowan Pamphlet at Colonial Williamsburg since 1998.
Jeffrey Rosen, president and CEO of the National Constitution Center
Brian Smalls, lawyer, resident, and former president of the York-James City-Williamsburg Chapter of the NAACP.
Why did this series begin?
Our dedication to historical education, and teaching people about our formation of government began with John Rockefeller, who founded and funded The Colonial Williamsburg Foundation. He envisioned Colonial Williamsburg as a place for historical study and inspiration. This series is an extension of that work which we strive to carry forth in all that we do, as we focus on our original mission that the future and learn from the past.
"We have had to rethink and redo, and repurpose ourselves over time, as societal needs have changed and we respond to what is going on in our world," said President and CEO Cliff Fleet in his opening remarks for the first US: Past, Present, Future virtual event. "As we have looked at the current situation, and where we aspire to be in 2026, which is the nation's 250th anniversary, and the foundation's 100th anniversary, we've identified the need for new programming to help advance our historic mission."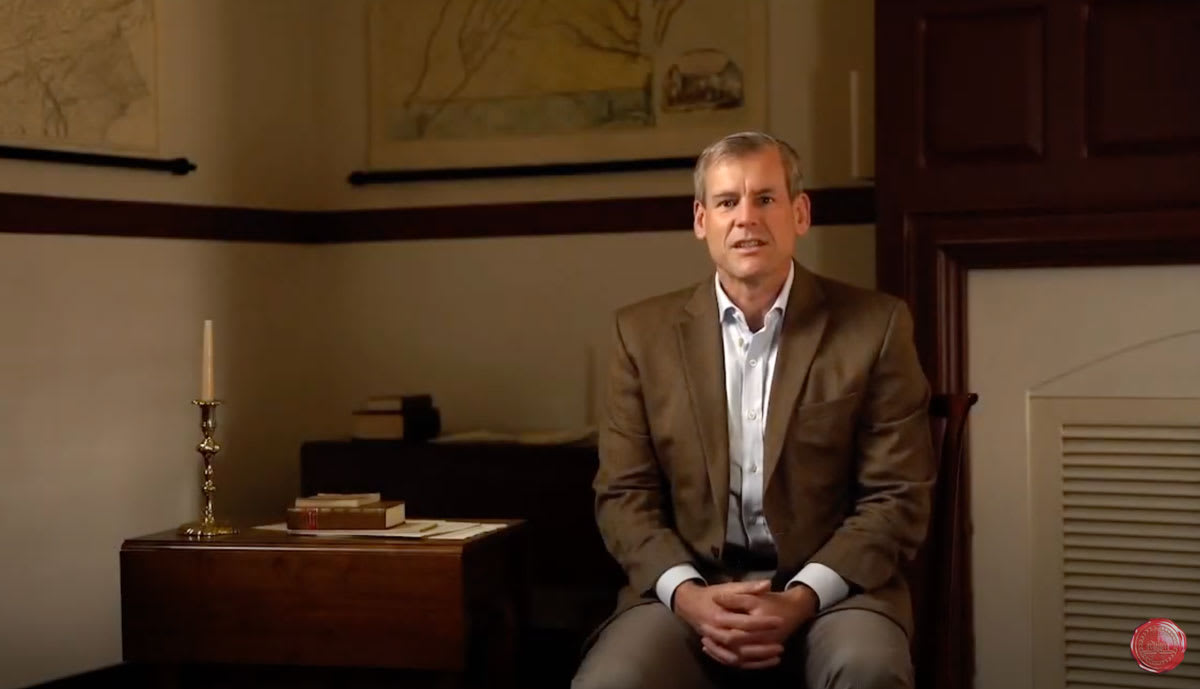 He shared several prongs that this programming is centered around. First, the recognition that teaching civics has declined in this country.
"We need to refocus and reenergize this as a field of study," said Fleet. "Because the study of civics, which we define as the rights and responsibility or duties of citizens, is critically important in these times."
The next piece is our commitment to being a leader in teaching civics, in teaching about our formations of government in our history. Not to glorify the past, but rather to help people understand why we are where we are today and what we can better do to solve the problems that face us. It's our belief that the past has enormous relevance to help us tackle issues that are of great importance today.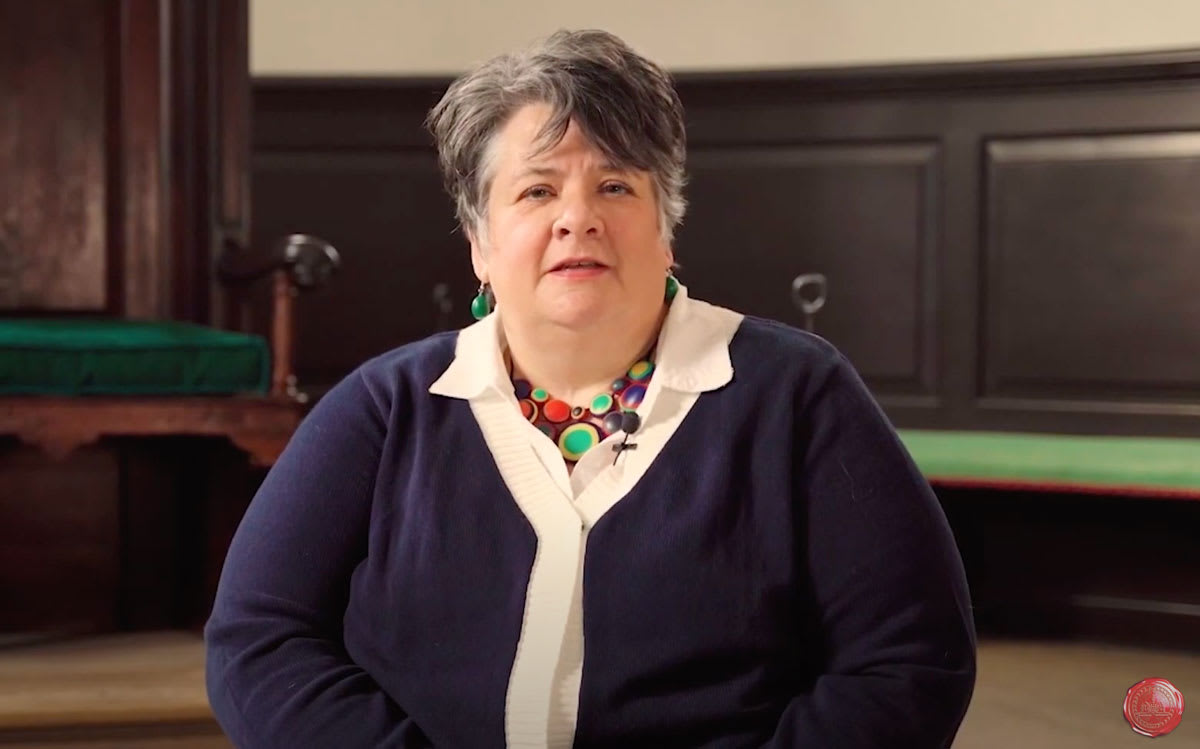 "The challenges and debates that confront us today are not new, in fact they were all experienced or anticipated by those present at our nation's founding," said Beth Kelly, Colonial Williamsburg vice president for education, research, and historical interpretation. "With the 'US: Past, Present, Future series Colonial Williamsburg hopes to convene a civil national discussion on a range of critical topics."
We have an unparalleled platform for this work. The capital of the largest, most prosperous and arguably most important colony at the time of the American revolution, Williamsburg witnessed the ideas that sparked a revolution. It was on these streets, and in these buildings that people such as Jefferson, Madison, Randolph, Washington, Lafayette and others debated, discussed and formed the structures of government and sparked a revolution. Those immortal words of the Declaration of Independence, "all men are created equal, and they are endowed by their creator with certain unalienable rights, which among those are life in the pursuit of happiness" were not true for everyone at the time of the American revolution. But they sparked revolution around the globe. They also sparked the aspiration within our own people so that they could more fully realized the ideals embedded in the declaration of independence.
"Today, we are blessed to live in the oldest democracy in the world," said Fleet. "But that democracy must be reinforced, and strengthened the civics. Our democracy is only as strong as the citizens who live in this country and they recognize their rights and responsibilities as citizens. That's why we do this work, why we believe this program is so important."
How can I can get involved?
All are invited to be a part of this series — afterall, it's called "US." Here's how to be part of the conversation.
1.First, sign up for our emails for reminders about upcoming US: Past, Present, Future events.
2. Then, check out the upcoming conversation and submit a question for our panel to discussion.
3. Check out past conversations, and the resources provided in our "Background and Further Reading," sections for each topic.
4. RSVP on Facebook for the next conversation, every third Saturday of the month at at 4 p.m. EST.
5. Invite two friends you'd like to share the discussion with!
Links and forms for every item on this checklist can be found here.
We hope to see you at the next US: Past, Present, Future event.
Colonial Williamsburg is the largest living history museum in the world. Witness history brought to life on the charming streets of the colonial capital and explore our newly expanded and updated Art Museums of Colonial Williamsburg, featuring the nation's premier folk art collection, plus the best in British and American fine and decorative arts from 1670–1840. Check out sales and special offers and our Official Colonial Williamsburg Hotels to plan your visit.
Learn More