For the last several decades, we have welcomed hundreds of people throughout the year to join us here in Colonial Williamsburg for educational conferences focusing on 18th century woodworking, antiques, gardening, and a host of other subjects. Each conference is as unique in its topic as its attendees, and many have been attending for years.
This year, as with many things, the preparations for our educational conferences look rather different.
Instead of speakers quietly preparing to give a lecture come February for Antiques Forum, or build a piece of furniture using 18th-century techniques in January for Working Wood, they're prerecording lectures from home in December, prefilming behind-the-scenes tours in October, and demonstrating a technique multiple times in November so that we can snag some great close ups of the details.
Instead of working on menus for coffee breaks and closing night dinners, confirming bus schedules, and putting together a printed program, we are figuring out which sessions will be best served live-streamed versus pre-recorded, learning how to use new systems of technology to deliver content to registrants, and testing our streaming platforms to ensure the best possible virtual experience.
Since everyone loves a little behind-the-scenes, I thought it might be fun to give you a little sneak-peak at some familiar faces who are donning (sometimes very!) different hats to bring these conferences to life in a whole new way.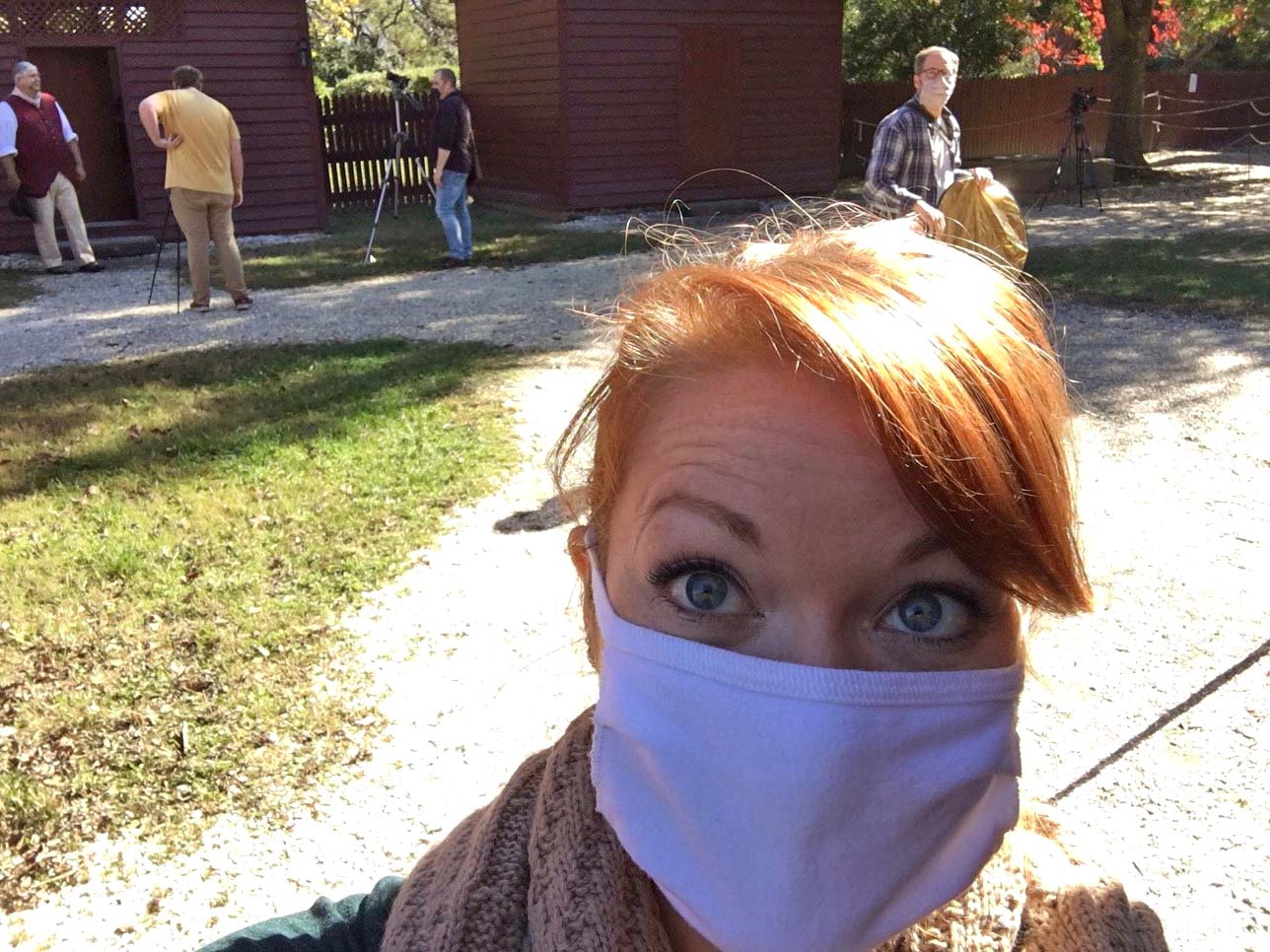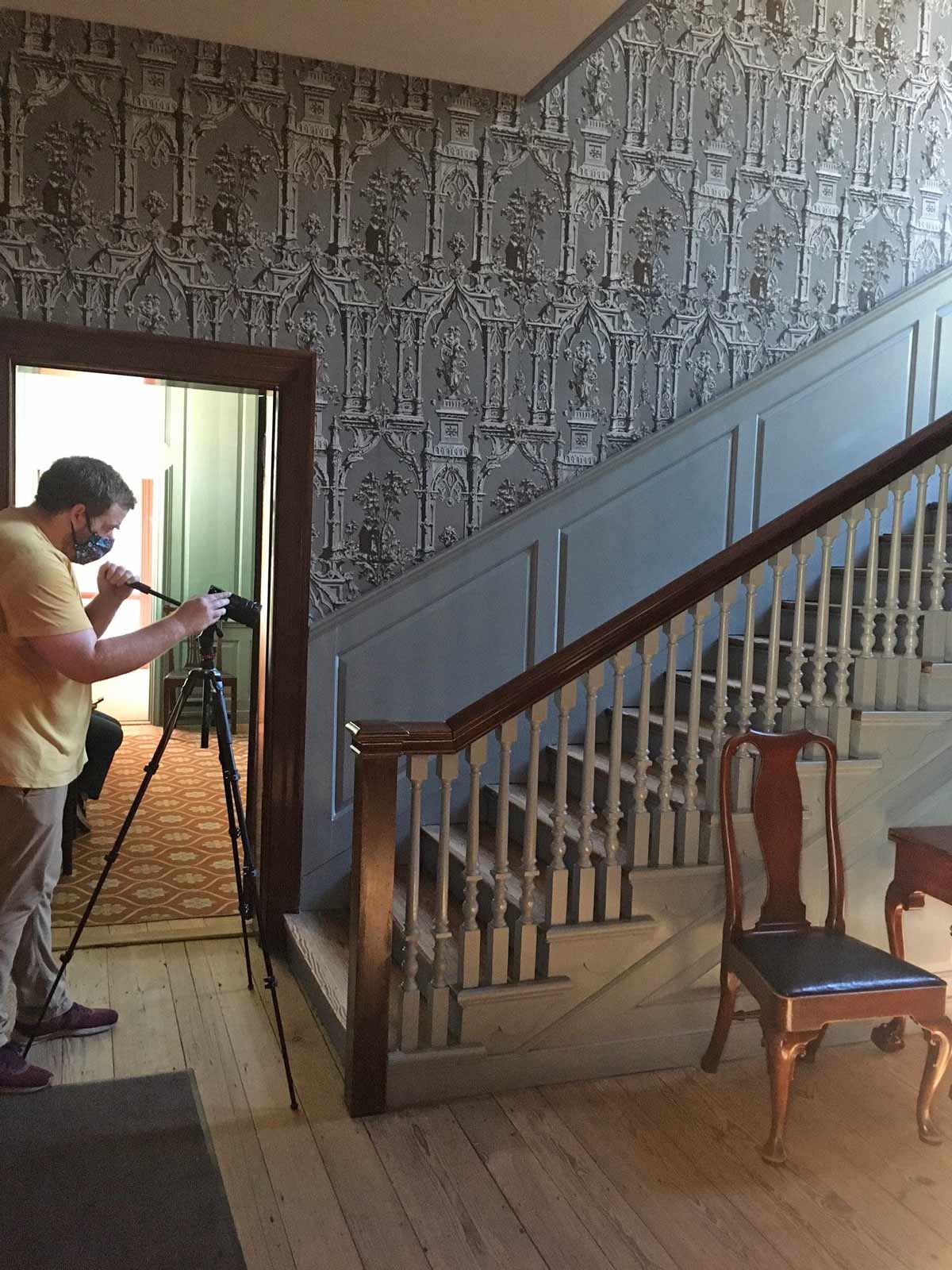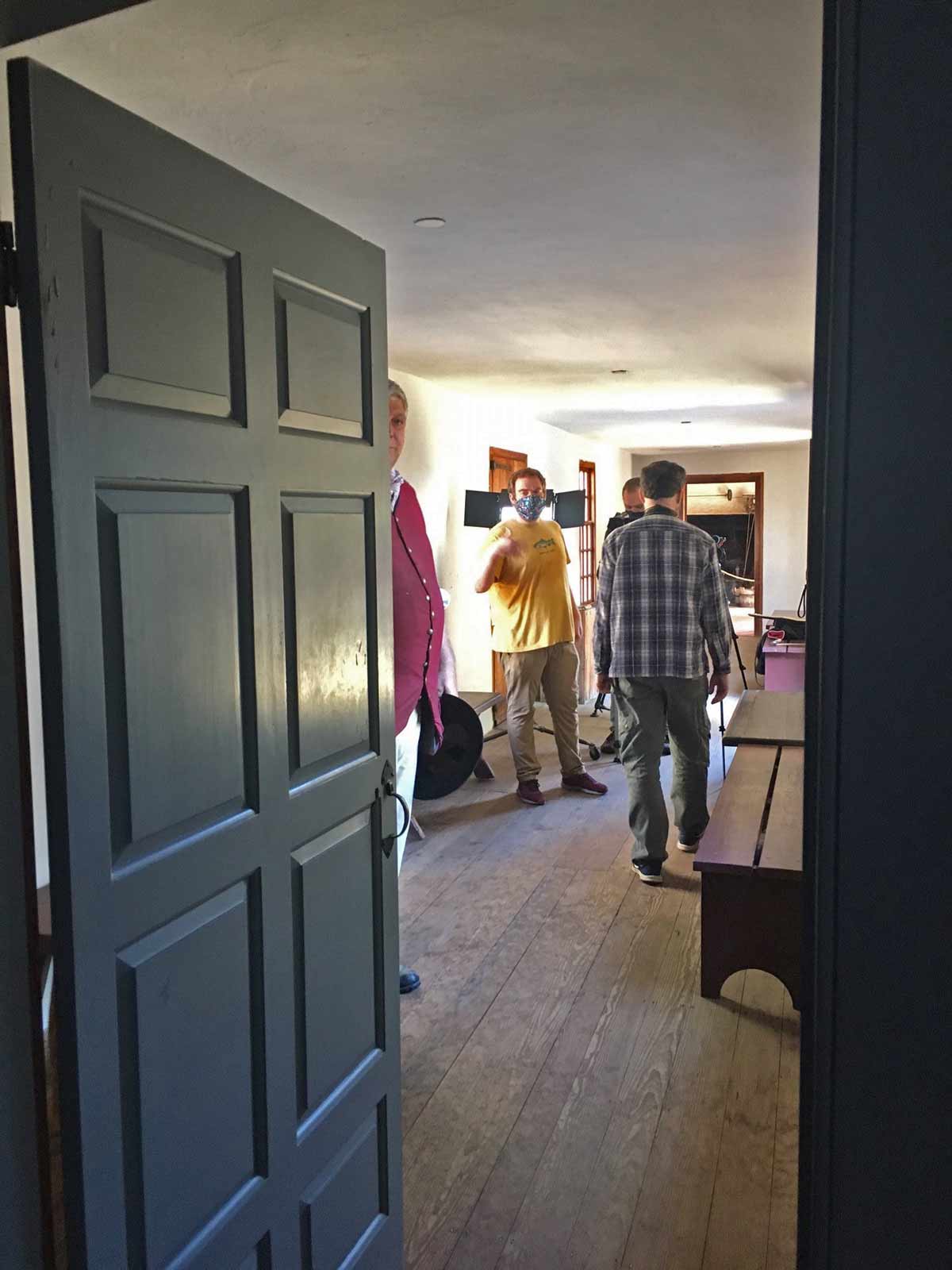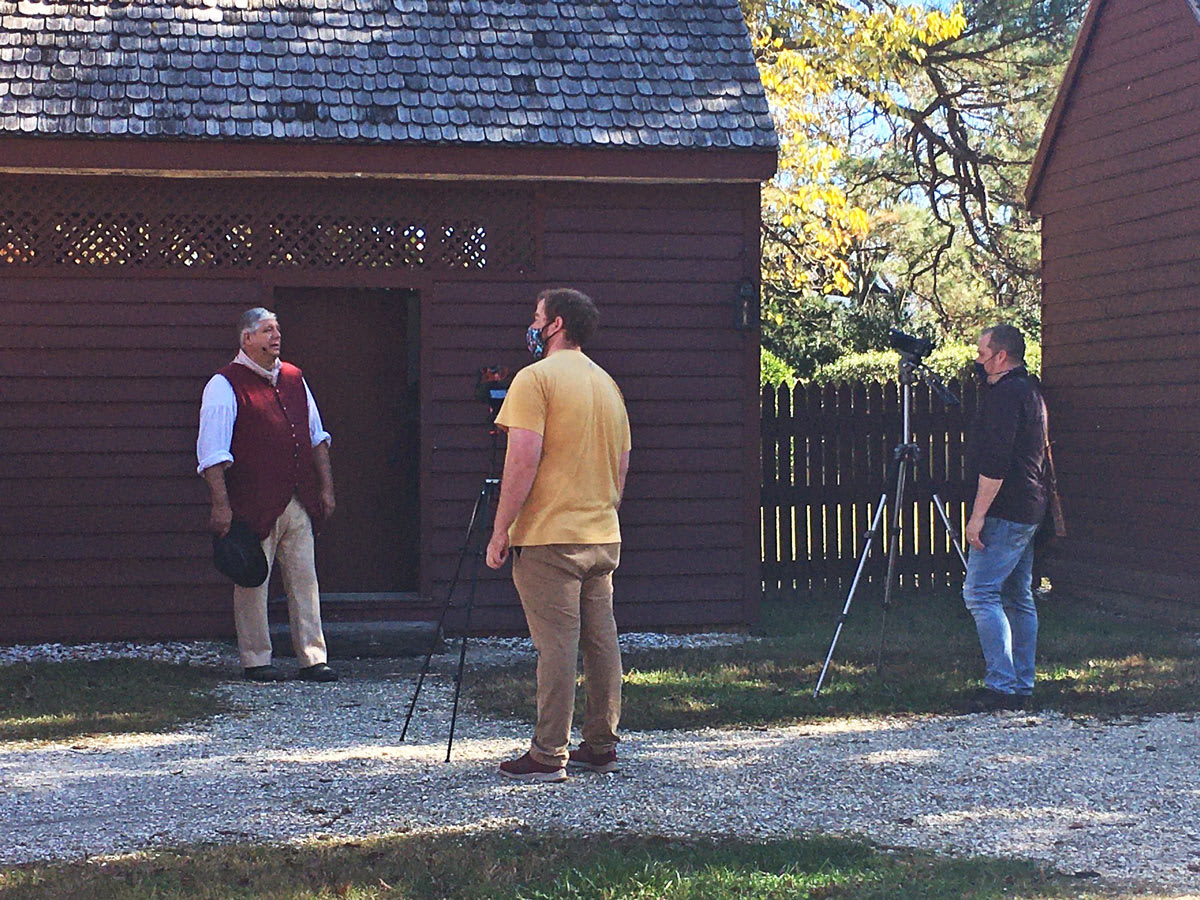 Layne Chappell, Apprentice Pewterer & Founder, alternates between catching sound and film, and is doing a lot of the heavy editing lifting for our Working Wood Historic Area pre-filmed sessions.
Justin Chapman, Manager Historic Trades, Magazine & Military Programs, moves seamlessly between cameraman and sound tech, often advising the speakers on a particular shot or turn of phrase in the Historic Area.
Bill Pavlak, Master Cabinetmaker and head of the Working Wood planning committee serves as director for the pre-filmed pieces in the Historic Area, as well as helping the presenters to figure out the best practices for translating from the big audiences they're use to instead to a camera---months in advance.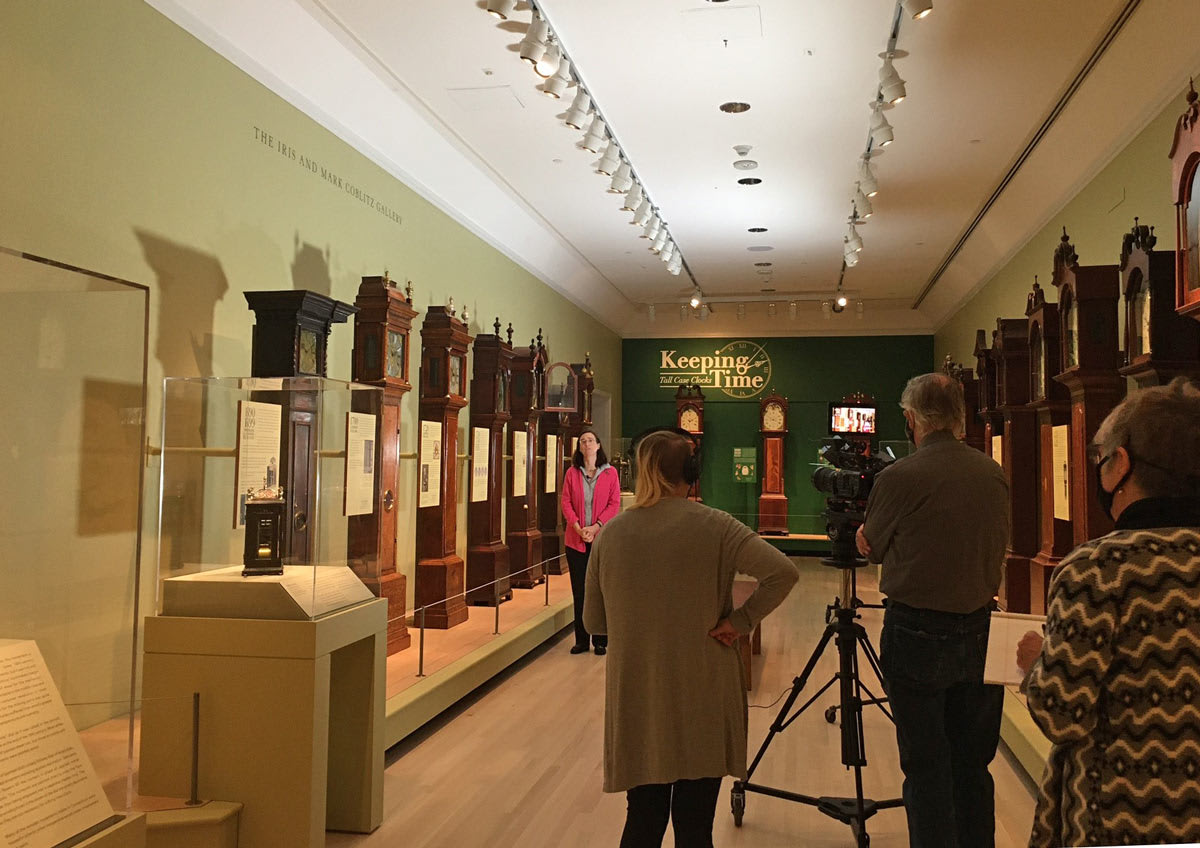 Cari Rillo, Senior A/V Tech for the Hennage Auditorium, has not only been focusing on pre-filming and sound for the Working Wood Art Museums and Antiques Forum pieces, but is doing major editing, and putting together the systems in the Hennage that will stream the live sessions to the online streaming platform.
Mary Cottrill, Manager of Museum Operations, puts on the hat of director, producer, and font of knowledge for the Art Museums and Antiques Forum pieces, along with too many other things to remember!
There are so many others who are involved in the major planning, equipment procurement, and of course, the remarkable on-camera talent, but these are just a few highlights.
This year is certainly not without its challenges for so many, and here at Colonial Williamsburg, we have had incredible opportunities to translate our signature in-person and hands-on experiences into virtual programming across social media, for donor events, and beyond. While we are very much looking forward to the time when we can see the faces of our guests and conference attendees in person, we are excited about the virtual ways we are bringing you these highly-anticipated conferences in 2021.
With a virtual setting, we are able to get a little more up-close-and-personal with some of our antiques and take all attendees behind-the-scenes and into areas not always available to the public or larger groups.
Additionally, we are able to keep the cost of attendance significantly lower than an in-person event, and we hope to continue offering a virtual option for most of our conferences when we are once again gathering in person.
Each paid registration includes a multi-day ticket voucher for a future visit to Colonial Williamsburg, with the opportunity to purchase one for a guest to join you here on site prior to December 31, 2021, as well as access to all presentations for several weeks following the conference. For a full schedule, FAQ, speaker bios, fees and to register, please visit the individual conference websites. To sign up to receive notifications when registration goes live, please visit the Educational Conferences webpage and sign up on the email list!
You can always find the latest information available for each of our Educational Conferences at www.colonialwilliamsburg.org/learn/conferences

Whitney Thornberry began at the Foundation in 2014, renewing the spark of interest in early American history that was struck when she visited Colonial Williamsburg as a little girl, Felicity doll in tow. Her first few years at the Foundation included portraying the historical, the ghostly, and the ridiculous through Evening Programs, interpreting in iconic buildings throughout the city, and more recently, working with Development in Donor Special Events. In early 2019, she stepped into her current role as Manager of Educational Conferences, Forums, and Symposiums, and relishes working with her brilliant colleagues from across the Foundation and Hospitality, bringing them together with outside experts to continue these decades-old traditions of creating incredible, focused learning opportunities for the public in new ways.
Colonial Williamsburg is the largest living history museum in the world. Witness history brought to life on the charming streets of the colonial capital and explore our newly expanded and updated Art Museums of Colonial Williamsburg, featuring the nation's premier folk art collection, plus the best in British and American fine and decorative arts from 1670–1840. Check out sales and special offers and our Official Colonial Williamsburg Hotels to plan your visit.
Learn More