Today we're featuring a centerpiece, which you can see in the exhibition "British Masterworks: Ninety Years of Collecting at Colonial Williamsburg" currently on view in the Miodrag and Elizabeth Ridgely Blagojevich Gallery at the DeWitt Wallace Decorative Arts Museum, one of the Art Museums of Colonial Williamsburg and home to one of the nation's premier collections of fine and decorative arts. The exhibition has been generously funded by Don and Elaine Bogus.
WHAT IS IT?
Made around 1775 of lead-glazed cream-colored refined earthenware, this centerpiece is comprised of eleven separate pieces and consists of a base or plateau that supports a central column and provides the framework for four tiers of cruet bottles and casters, pierced and shell-shaped dishes, hanging baskets, smaller open baskets, and a top central dish fitted with a lid in the form of the goddess "Plenty" – an apt metaphor for an object meant to be lavishly filled with sweetmeats.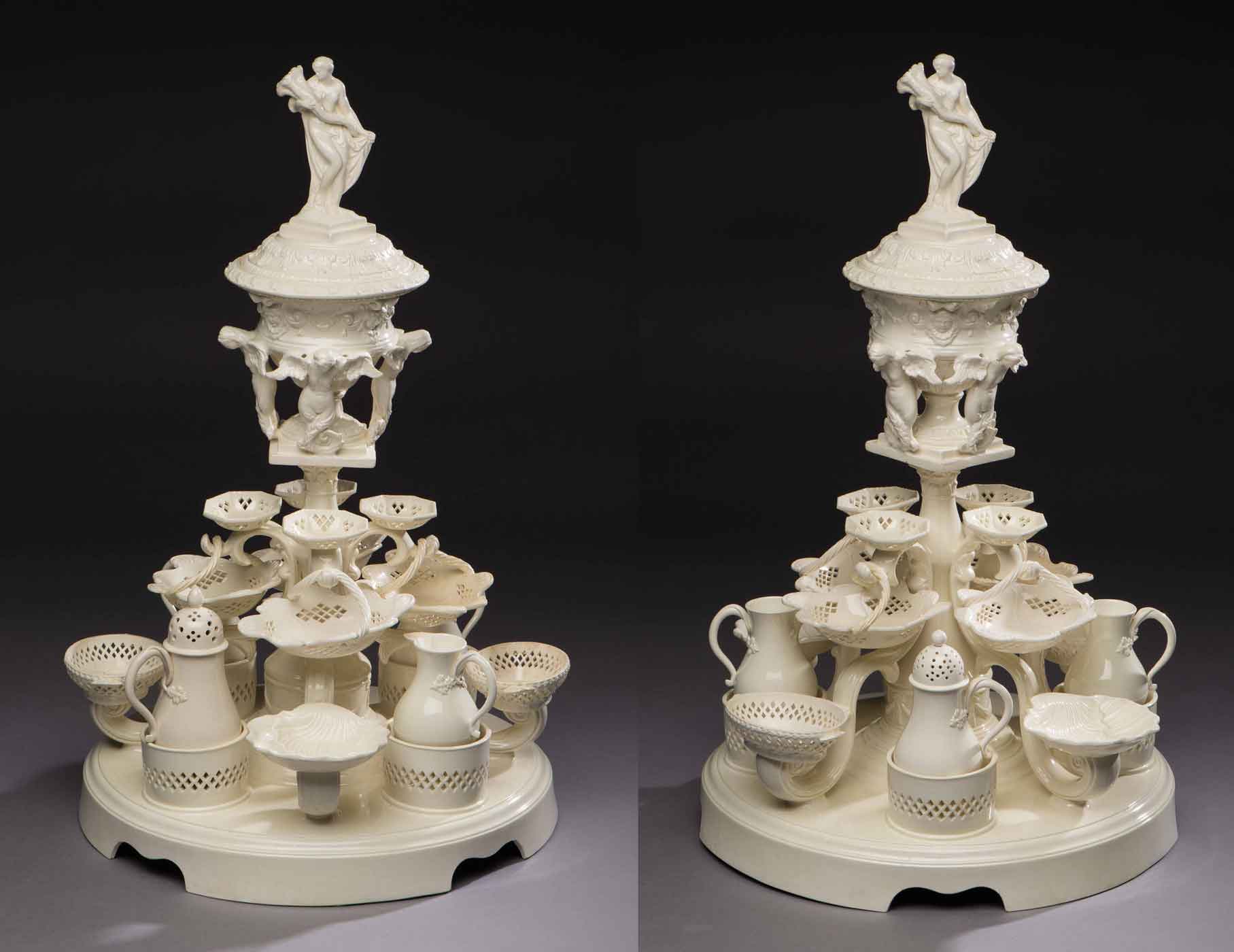 WHAT'S THE STORY?
Copying silver epergnes with plateaus, the four-tiered creamware centerpiece was a less expensive, but arguably equally impressive alternative to the prized metalwork examples. The form was described as a "Grand Platt Menage" in the eighteenth-century shape and pattern books published by Hartley, Greens, and Co. at the Leeds Pottery in Yorkshire, England.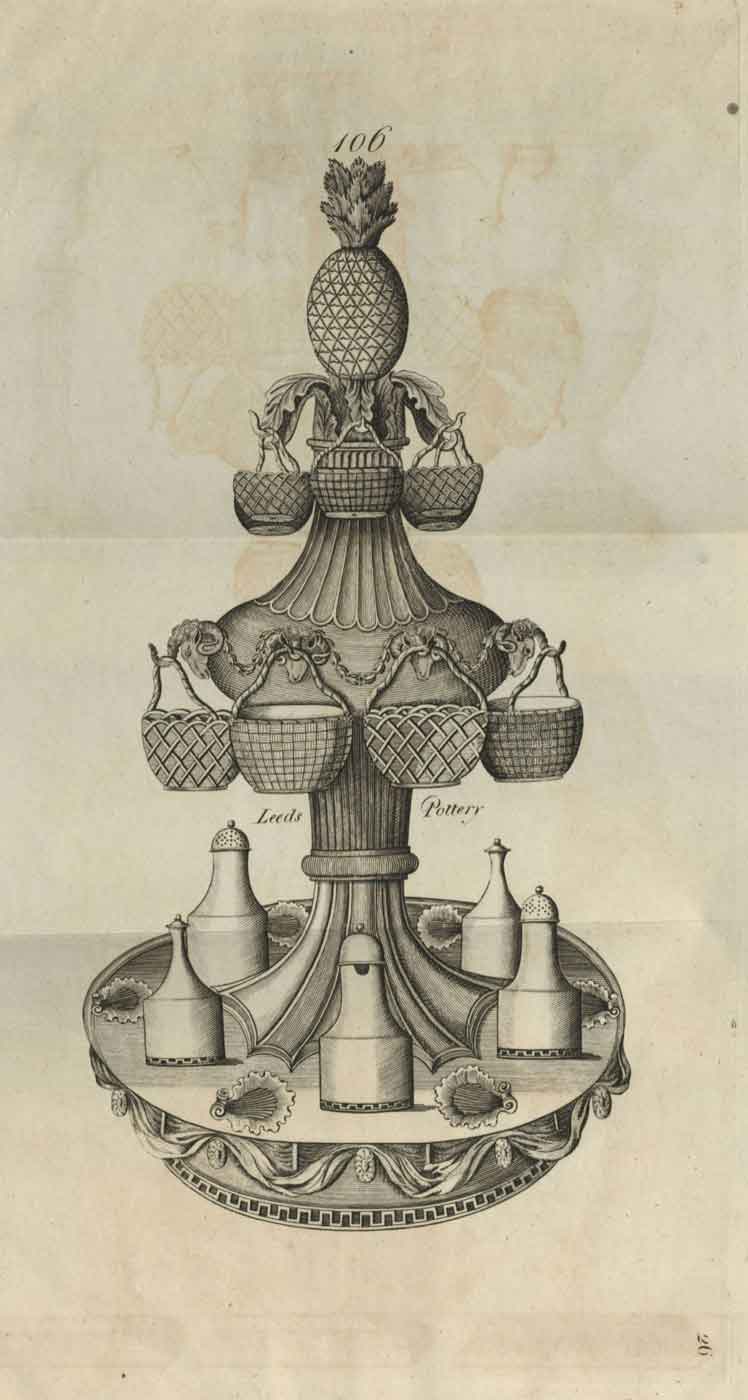 Shape and pattern books shed light on manufacturing techniques, period object terminology, and buying and selling from the perspective of manufacturers, retailers, and consumers. In the eighteenth and nineteenth centuries they sometimes served as an early version of a catalog shopping experience and provided consumers with the opportunity to select objects and personalize them in a world before big box stores or Amazon. The Leeds Pottery pattern book provided illustrations of vast array of goods from teapots and chamber pots to monumental epergnes or centerpieces all available to retailers and consumers at a variety of monetary levels. Even more monumental objects like the Grand Platt Menage, clearly intended for a more well-to-do household, were offered in different sizes.
Colonial Williamsburg's Grand Platt Menage is surmounted by a molded figure of "Plenty," whereas other ones are topped with figures of pineapples or eagles. The object also includes three winged and twin-tailed mermaids —similar to the one seen on the Starbucks Coffee logo— that act as supporters for the top container.
More than merely a pretty centerpiece, this was both a useful and ornamental object for the table. With its removable cruets and casters, and its four removable pierced baskets swinging between the two levels of stationary pierced dishes, it would have served as the pièce de résistance of the dessert course of any English dinner. Placed at the center of the table and filled with sweetmeats, nuts, and pickles, the high sheen of the lead-glazed ceramic body would have gleamed by candlelight.
WHY IT MATTERS
Only a handful of these grand objects survive, making this an important part of Colonial Williamsburg's collection of British pottery. It helps us tell so many stories including that of the Leeds Pottery that made it, the shops and retailers that marketed it, the people who purchased it to grace their tables, the people who made the sweetmeats that filled it, and the servants or enslaved who set and cleared the tables of the households that used it.
SEE FOR YOURSELF
You can find the Grand Platt Menage here and tens of thousands of other objects in the online collection here. We also invite you to see this remarkable object in person at the Art Museums of Colonial Williamsburg and discover more amazing stories, beautifully told.
Angelika Kuettner has worked at Colonial Williamsburg for about 12 years. She enjoys studying ceramics of all types and their interplay with other 18th- and 19th-century every-day objects found on the dining table, in the chamber, or even in the garden.
Together, with You
We count on you to fulfill our mission that the future may learn from the past. Together, with you, Colonial Williamsburg strives for excellence through nationally recognized preservation of this living museum, world-class educational opportunities and thought provoking civic engagement programming. Make a gift now to support and advance this important work.
Colonial Williamsburg is the largest living history museum in the world. Witness history brought to life on the charming streets of the colonial capital and explore our newly expanded and updated Art Museums of Colonial Williamsburg, featuring the nation's premier folk art collection, plus the best in British and American fine and decorative arts from 1670–1840. Check out sales and special offers and our Official Colonial Williamsburg Hotels to plan your visit.
Learn More