Animal Safety and High Temperatures
June hasn't even started and temperatures have already soared this season. Naturally, that raises questions about the safety of our animals. You can rest assured that the well-being of our Rare Breeds is a top priority.
HYDRATION
Providing our animals with water, of course, is the most basic protection against the heat. The untrained eye may wonder about water access in our pastures. In reality, this is one area where we use 21st-century technology. Our pastures feature automatic water bowls that continuously replenish, so every animal can drink their fill.
HEAT WATCH
Besides plenty of water, breaks, and shade, Coach & Livestock utilizes a heat index policy for working animals. The heat index combines the temperature with the relative humidity to check how hot it feels. Our policy includes a heat index cutoff point for each species.
For example, cattle — like dogs — cannot sweat, so they are removed from work when the heat index reaches 95°.
Horses can sweat, making them more equipped for hot temperatures. Still, safeguards are in place. The working horses start their day with a shower to get clean and ready for the day. They are washed again at the end of the day, and midday if needed as well. They're also fed grain topped with electrolyte powder. The horses enjoy the taste (the powder comes in flavors like apple and mint), but more importantly, it helps replenish salt lost through sweat. We also have techniques for cooling them down, such as rubbing them down with rubbing alcohol and placing them under a fan.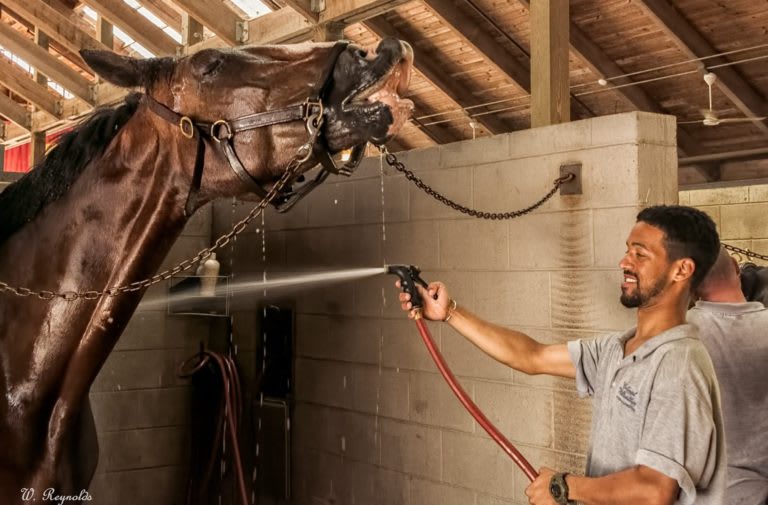 So what happens when the temperature rises? It depends on the heat index. When the heat index hits 100°, the carriage horses sit out every other ride. This allows for more water breaks and rest in the shade. When the heat index reaches 105°, all carriage rides are suspended. The same threshold applies to interpreters riding horses through the Historic Area. In addition to this heat index policy, horses temperatures are monitored every morning, midday, and in the evening.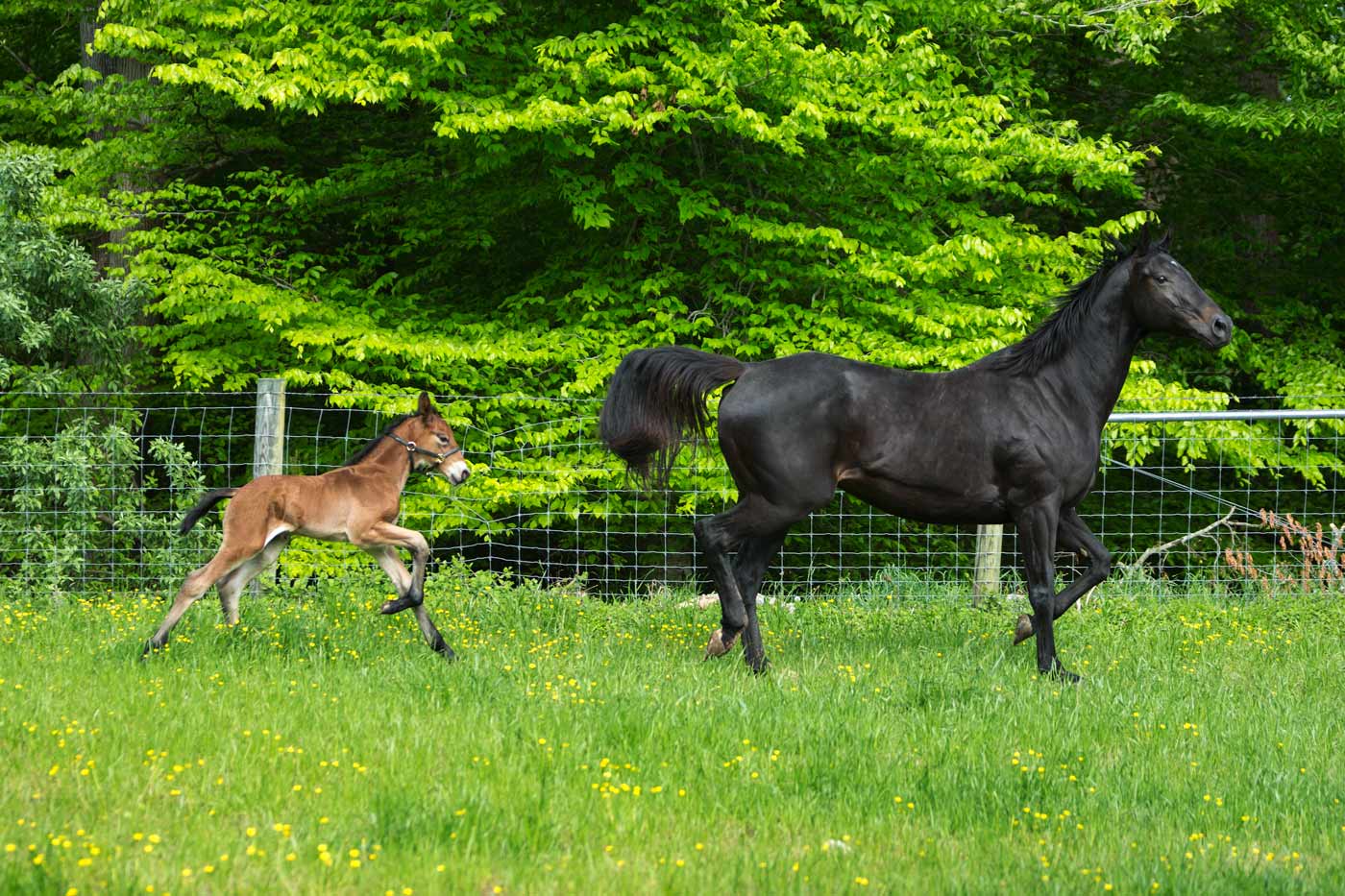 Similar precautions are in place for our Leicester Longwool sheep. As with all of our animals, we ensure that they have plenty of shade and water. If the heat index reaches 95°, or their respiratory rate exceeds 82 bpm, the sheep are removed from the Historic Area.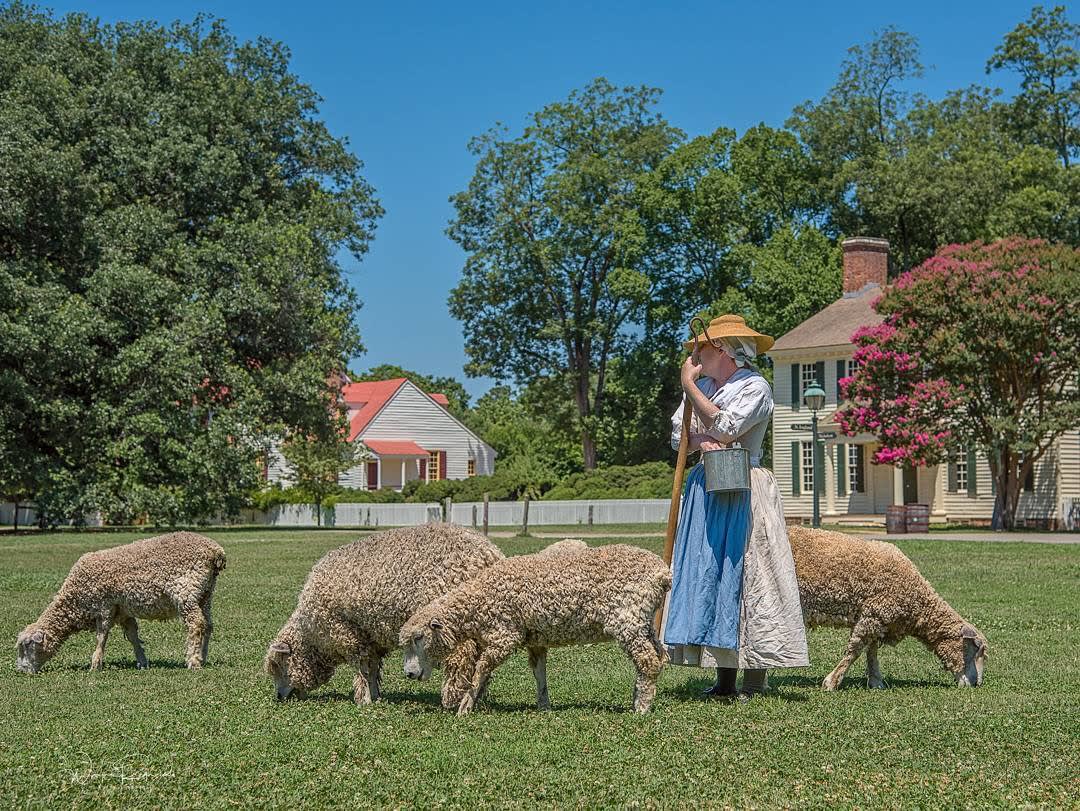 When the animals are not working, they are either in a pasture with shade trees, or in the stables where large ceiling fans run constantly to provide air circulation.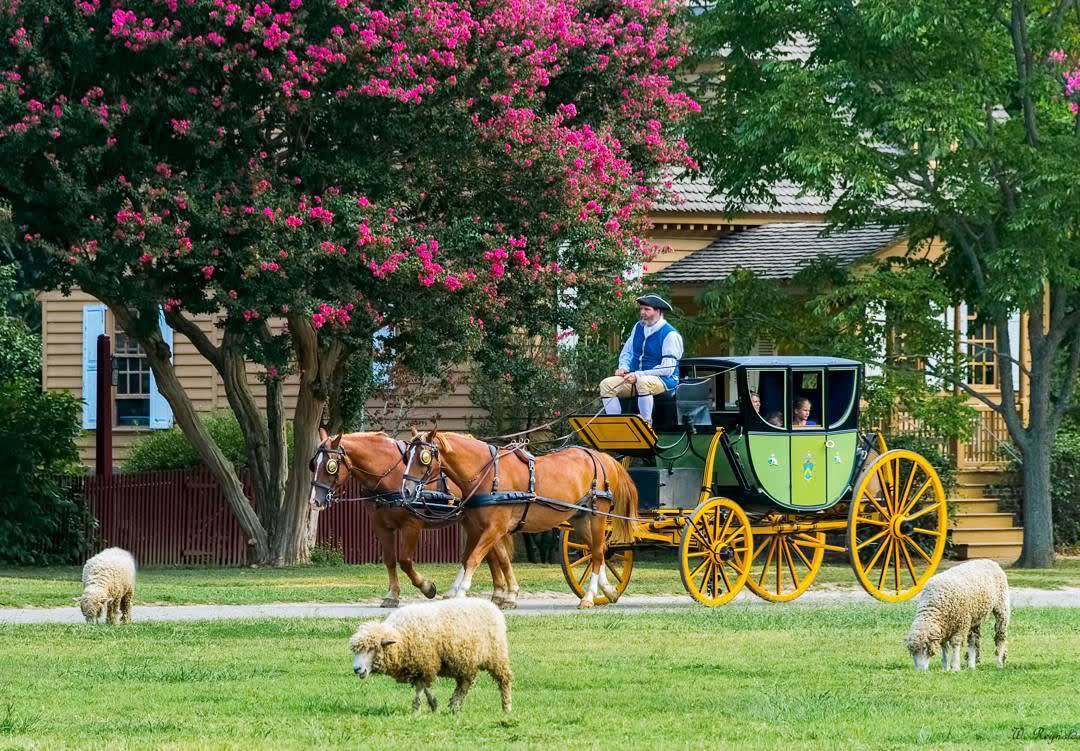 The Coach and Livestock team is passionate about ensuring the happiness and health of all Colonial Williamsburg animals, which is why these measures are in place. We apologize in advance for any inconvenience heat advisories cause your carriage ride plans, but we're sure you can understand that everyone's safety is the top priority.
LEARN MORE
Want to learn more about our Rare Breeds Program? Check out the Bits and Bridles tour! This one-hour walking tour of the Colonial Williamsburg stables provides a behind-the-scenes look at our facilities, carriages, and the chance to get up close and personal with some of our animals. Plus, a selection of animals will available for young visitors to interact with at Patriots at Play — weather permitting, of course.
SUPPORT COACH & LIVESTOCK
Our Rare Breeds program plays an integral role in bringing history to life. Support our mission and Give Today.
Learn More