Today we're looking at the only known piece of Southern-made military silver dating from the American Revolution. Found in the "A Rich and Varied Culture" exhibition, this is part of the DeWitt Wallace Decorative Arts Museum, home to remarkable objects that are useful as well as beautiful. This is one of the two museums under the roof of the newly updated and expanded Art Museums of Colonial Williamsburg.
What is it?
This silver plate acts as the buckle of an officer's shoulder-worn sword or bayonet belt. Centered on his chest, it proudly displays the engraved devices of his regiment, the South Carolina Royalists. Featuring a sapling pine under the British crown with the Latin for "Under the King I Flourish" on a ribbon tied around it, a garter inscribed "Honi Soit Qui Mal Y Pense" (Evil to He Who Evil Thinks) follows the front edge.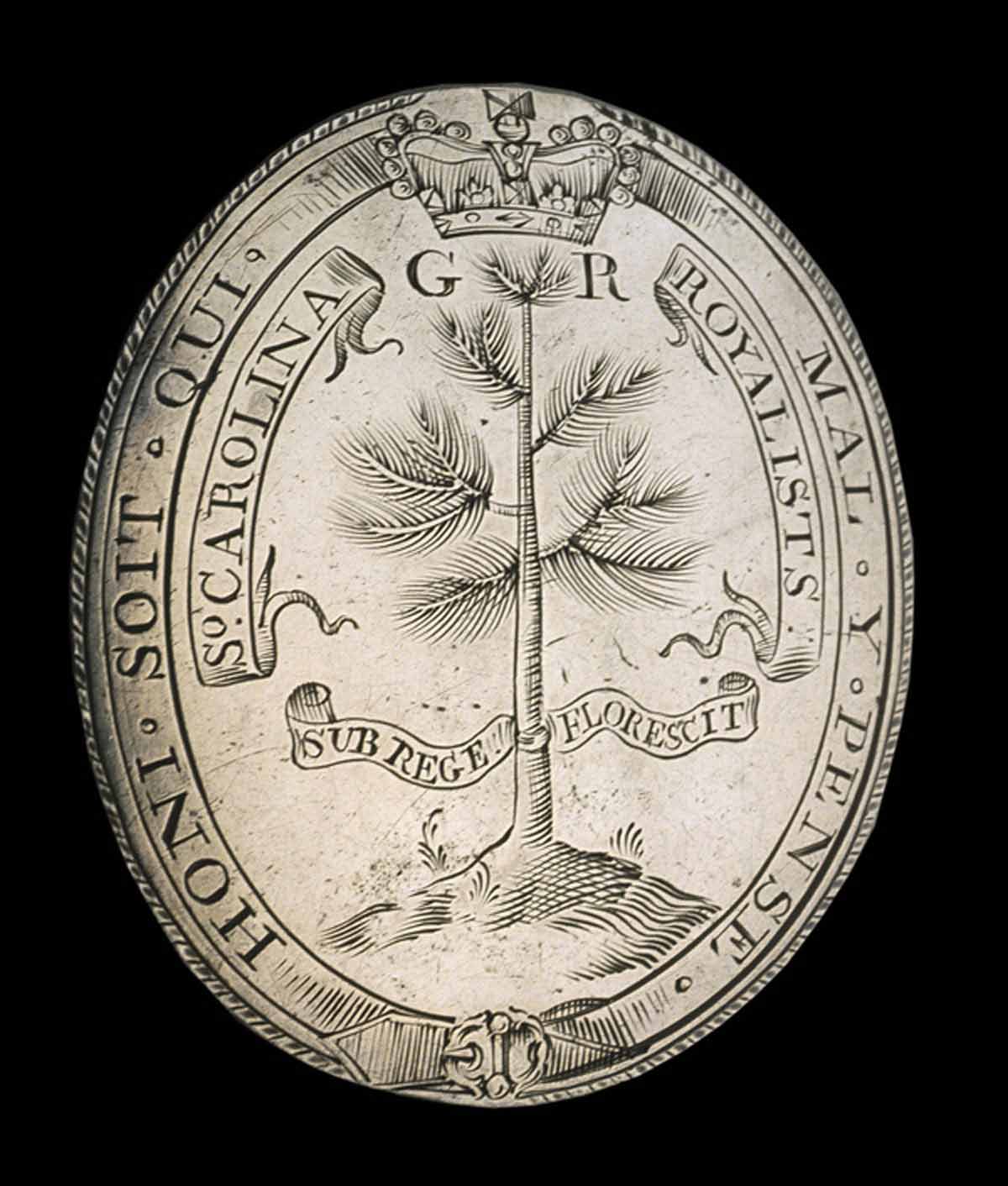 What's the story?
Raised in British-held East Florida in 1778, the South Carolina Royalists were a red coated fighting unit of men primarily from North and South Carolina. Composed of both mounted and foot soldiers at various times, they were veterans of the successful defense of Savannah in 1779, and were present when Charleston fell to the Crown Forces in early 1780.
In gaining control of their home province's main port, officers of the South Carolina Royalists had easy access to the fine wares available in Charleston, where this plate was likely made. Executed by an accomplished engraver, it is likely the work of the only such artisan advertising for military business during the British- occupation of the city, Thomas Coram.
Why it matters
More than just pretty buckles, belt plates were regulated for British officers. In the case of Loyalist officers, the plates were usually finely wrought of silver and made in or around British controlled cities like New York and Charleston. Only a small handful are known to survive, all of which are Northern-made, except this example.
The unique South Carolina Royalists belt plate also stands out for its ingenious devices and anti-Revolutionary mottos. What could be a more perfect metaphor for the Southern Loyalist movement than a frail pine sapling — and future source of limitless timber and tar — thriving under the protection of British Royal might?
See for yourself
You can find this silver belt plate [accession number 2005-251] and tens of thousands of objects in online collection here. We also invite you to see this remarkable object in person at the Art Museums of Colonial Williamsburg and discover more amazing stories, beautifully told.
Erik Goldstein has curated Colonial Williamsburg's holdings of arms and militaria since 2002. A proud "Rev War nerd," Erik is also passionate about the everyday things of early American life, from tools to coins and money.
Colonial Williamsburg is the largest living history museum in the world. Witness history brought to life on the charming streets of the colonial capital, plus, explore our newly expanded and updated Art Museums of Colonial Williamsburg featuring the nation's premier folk art collection, plus the best in British and American fine and decorative arts from 1670–1840. Check out sales and special offers to plan your visit.
Learn More