The Art Museums of Colonial Williamsburg are home to a breathtaking range of folk and decorative art. Uncover the history behind beautiful objects in masterfully curated exhibitions in our series "Amazing Stories. Beautifully Told."
Today we're looking at a remade black worsted or "stuff" gown found currently on view in the exhibition: "Textile Arts of Britain" located in the Alaimo Gallery. This is part of The DeWitt Wallace Decorative Arts Museum, home to remarkable objects that are useful as well as beautiful.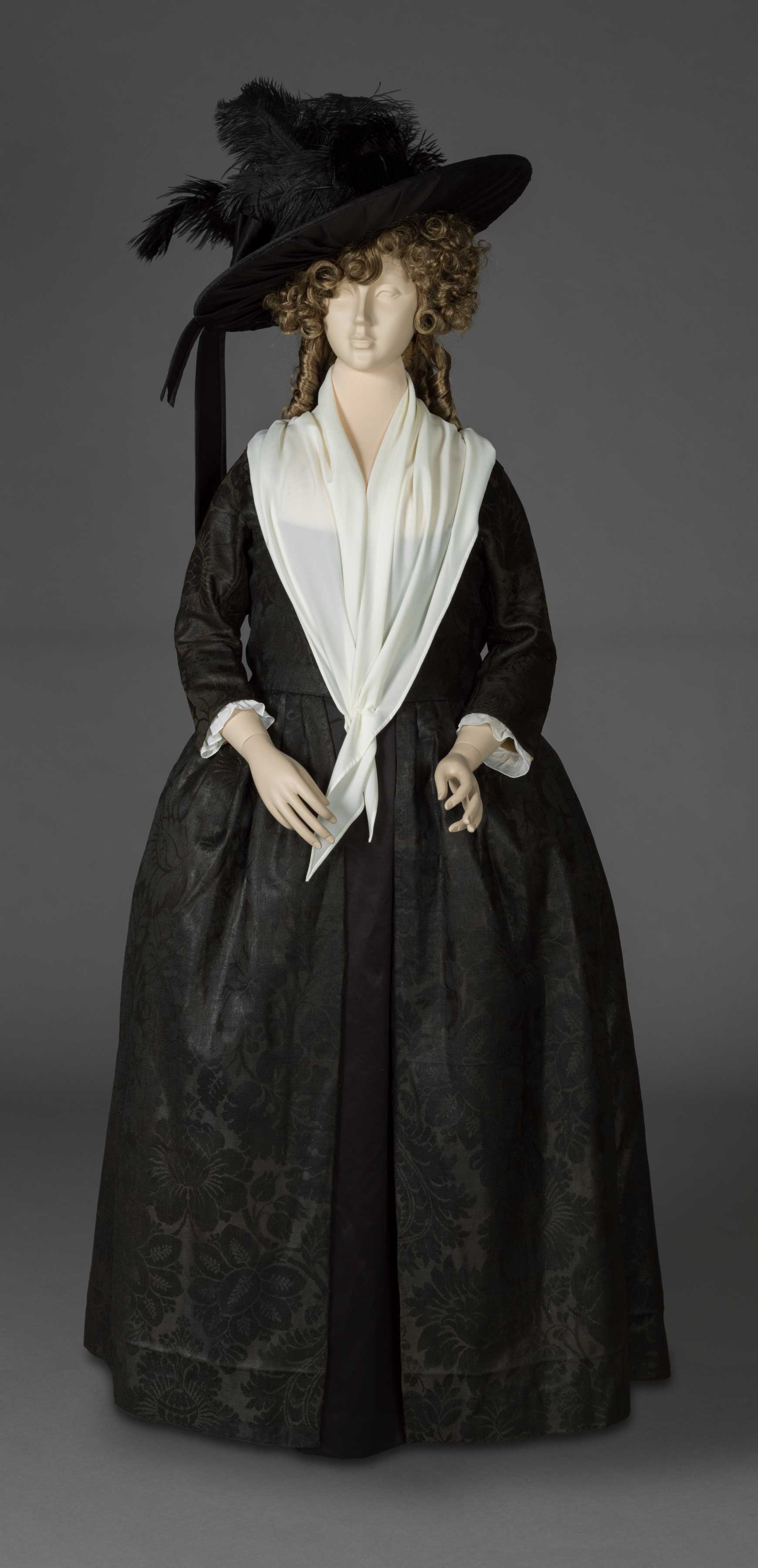 What is it?
A 1780s gown remade from an earlier 1750s black "stuff" or worsted wool damask gown, possibly worn for mourning. The gown's bodice and sleeves are lined in multiple linens and linen-cotton fabrics. The bust measures 41 inches, the waist measures 35 ½ inches, with an overall length of 57 ½ inches.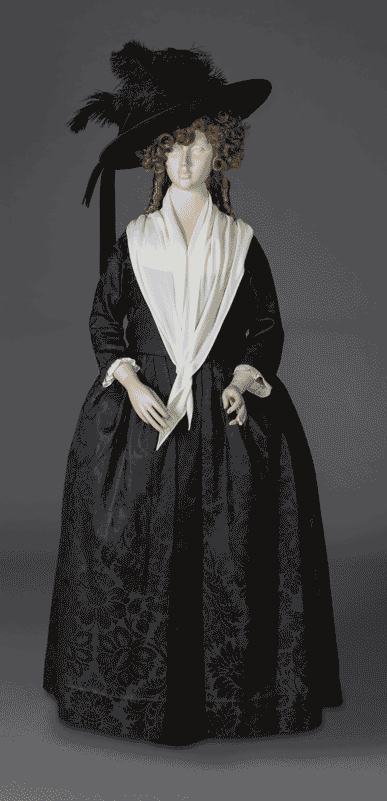 What's the story?
Wool gowns were commonly worn by women of all classes in the 18th century. They were practical, hard wearing, and supported Britain's most important industry, however compared to silk or cotton gowns, very few survive. Both silk and wool gowns have inherent vice due to their fiber content, but this gown has a second vice, its color.
As we move into the fall, many of us begin to unpack our warmer clothing and will find to our dismay holes eaten through our expensive wool garments. The proteins in wool create the ideal Thanksgiving feast for insects that feed on animal fiber, such as webbing clothes moths and carpet beetles. Thankfully this gown has suffered very little from those tiny pests.
The color black is notorious for being a harsh dye. The use of copperas or iron sulfate as a mordent or chemical glue for the dye, attacks the fiber and greatly weakens it. This accelerates over time and with exposure to light. Luckily, this gown has very little loss.
Beyond the pest and dyestuffs, this gown faced several remodeling's like many 18th-century garments. The gown and now missing petticoat were initially constructed sometime between 1740 and 1760 and would have closed originally with a stomacher. The gown was then altered sometime between 1780 and 1800, updated with the new center front closing style. At some point the petticoat may have been harvested to patch areas on the sleeves and may explain why it no longer survives.
Why it matters
Sadly, we will never know who wore this gown, but the garment conveys many stories. From understanding the worsted wool textile industry around Norwich, England and the history of the worsted wools, to the use of period dye stuffs. It also serves as a study object for our historic trades department to better understand how these garments were made and as a lens to view 18th century mourning practices. Enduring two centuries of inherit vice and human intervention, this gown is an extraordinarily rare survival.
See for yourself
You can find this gown and tens of thousands of objects in online collection here. We also invite you to see this remarkable object in person at the Art Museums of Colonial Williamsburg and discover more amazing stories, beautifully told.


Neal Hurst is the associate curator of costume and textiles. He holds his BA from the College of William and Mary and his MA from the Winterthur Program in American Material Culture.
Colonial Williamsburg is the largest living history museum in the world. Witness history brought to life on the charming streets of the colonial capital, plus, explore our newly expanded and updated Art Museums of Colonial Williamsburg featuring the nation's premier folk art collection, plus the best in British and American fine and decorative arts from 1670–1840. Check out sales and special offers to plan your visit.
Learn More