Researching and interpreting the life of an enslaved spy
James Armistead Lafayette was an enslaved spy during the American Revolution. That's what we had. It wasn't all we had at the time, but it was close. We knew nothing about his life in slavery, we knew a bit more about his life as a free man when it was finally afforded to him, but there were not volumes of books written about Mr. Lafayette's life; there hadn't even been one.
Still, his story was interesting enough for Colonial Williamsburg interpreters to share parts of his life throughout the last 40 years of African American Interpretation. I was introduced to him in 2010 when Dr. Jeffrey Villines wrote a script for our Revolutionary City Program called The Hated Spy. I didn't even play Mr. Lafayette in it, but it was the beginning of my journey of wanting to know more. Now that it is my job to portray Mr. Lafayette, I endeavor to share why you should want to know more about this extraordinary man's life as well.
James' story is so complicated and interesting that I can't help sharing the questions I had to ask myself to play him and the questions you all often ask to better understand him. Most people ask the same question I asked at first: Was James offered freedom for spying on the British? And the answer is no.
How do I know? The law. It may sound mundane but understanding 18th-century Virginia Law and the British Laws they are based upon will answer more "why" questions than any other study. In 1781, in Virginia, slaveholders were not lawfully allowed to free their enslaved people. The only entity that could lawfully free them were the courts. And they could only do so for meritorious service; service above and beyond. It had been that way in Virginia since 1723. When the Marquis de Lafayette enlisted Mr. Lafayette into his service as a spy, he could not offer him freedom. Help? Perhaps, but not freedom under the law. And though his conduct might be considered meritorious, we have numerous records of enslaved individuals being denied their freedom despite their service. James was one of those individuals initially denied his freedom after the war.
So why decide to spy?
I don't know. No one does for sure. All we can do is look at his circumstances, the world he lived in, and honestly, painfully, ask ourselves: What would we have chosen? Did he ask to be a spy or was he asked to be a spy? Historians have different opinions on this question and there are no records at the time answering this question. As a first-person interpreter, I have to make a choice. Could my choice be wrong? Yes. History doesn't evolve, but our understanding of it does. Through research, archaeology, and exploration we gain more knowledge of what came before. And knowledge is power. My job is to make a choice based on the knowledge that's been accumulated. I owe it to Mr. Lafayette to tell his story right. I've spent the last three and a half years researching him, finding as much firsthand information as I can, finding sources, working to understand why he chose the decisions he ended up making. So why did James Lafayette decide to spy for the Marquis?
You'll have to ask him yourself.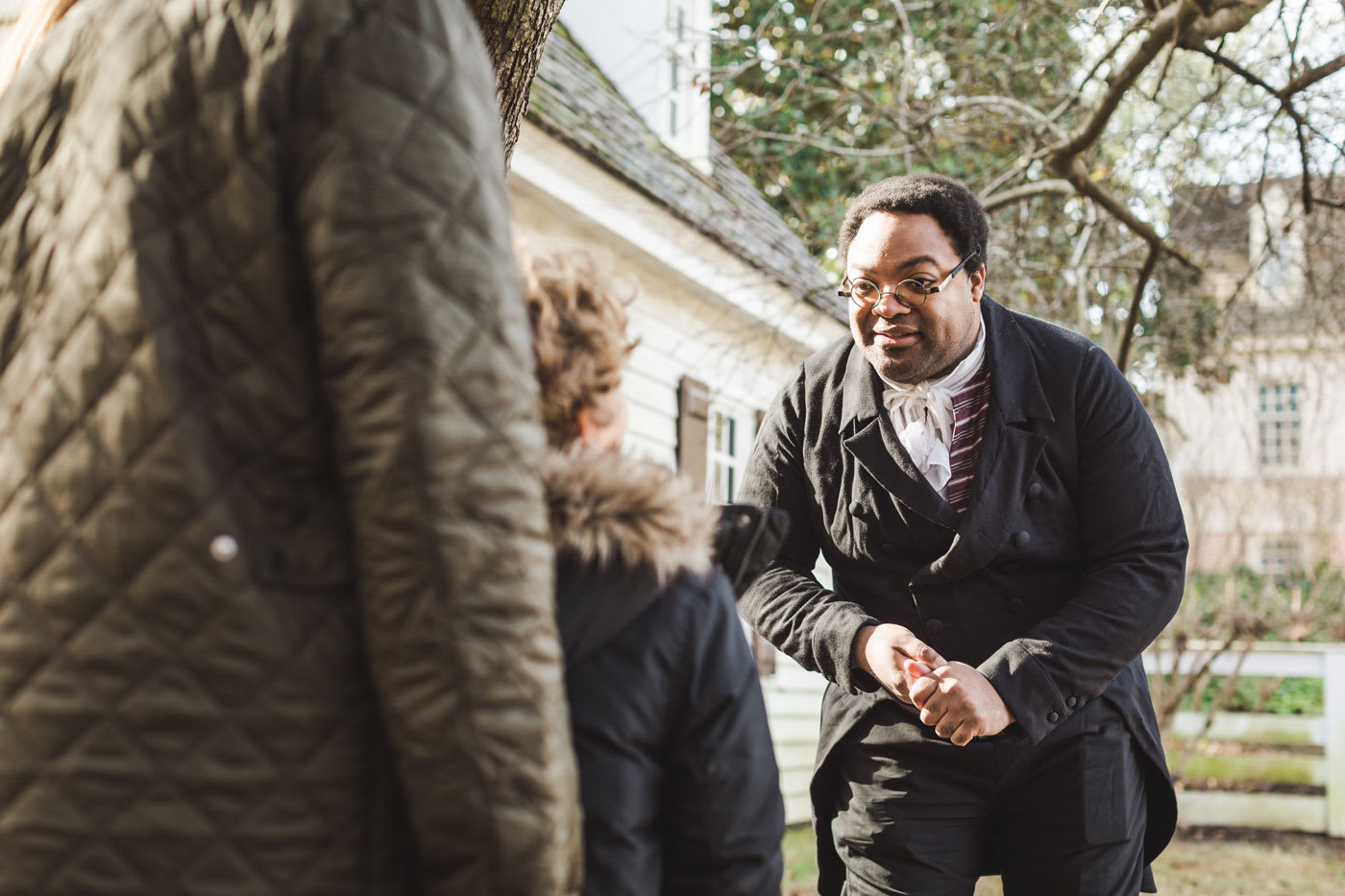 If you come to see me as James, he will be more than happy to talk to you about his circumstances. As Stephen, I have additional questions I want you to think on, some questions about his life, world, and circumstances. Keep these in mind as you explore the live of enslaved Virginians: Did he have a family? If so, how would those connections change his way of thinking about his own freedom? Would you want freedom if it meant you would never see your family again? What would his life be like as a free man?
Freed Blacks were not afforded equal protections under the law as whites did. And who could he trust other than his family? The British were offering freedom for those Blacks joining the British Army. He was, however, being asked to serve the Americans, who were not offering this same freedom. Would that even change his mode of thinking at all? Five years prior, these Americans fighting the war considered themselves British. Their names changed, but did it change who these men and women were? There are so many more circumstances I could write today, but I'd rather you talk to Mr. Lafayette and see what he thinks. Until that time, however, these questions can start you on your own journey of discovery.
In early 2019, I had the honor to walk on part of the property he purchased after becoming free in 1787. Some records say he bought 30 acres in New Kent County, but the tax records say it was 40 acres. The land was worn and bleak, but it was his. Tax records show that he kept that land until he died in 1830. Many of the books I read about his life said that his property was now under water and therefore could not be explored. It wasn't. It took a member of the New Kent County Historical Society, LaVonne Allen, years to find the actual tract of land and another year to track down the owner and yet another year to gain permission to explore it. It is not unusual for it to take this much time and I can tell you it was worth it.
The paths we walked were most likely the paths he walked. His house is no longer standing, but the property is still there. And where the tax records spoke of a derelict piece of land, it is now flourishing, mostly wooded, but green as far as the eye can see. Might he have been the one to start that process back in the 18th Century? Again, no one knows. But I like to think he did. This was his land. Under Virginia law even as a free man he could not be considered a citizen of Virginia. And despite that fact I was walking on the land where Mr. Lafayette raised his family, lived his life, laughed, cried, paid his bills, did his laundry, and loved his wife.
Part of who we are is where we came from. James' life was an American life and it feeds into what would one day become our lives. Walking through his property made me feel as though I understood him better. It made me feel that I could portray him in a way to help you understand him better. I hope you will visit me as Mr. Lafayette and that he helps you to understand your history, as well as yourselves, better. Let me tell you his story.


Stephen Seals started off his professional career as a freelance actor traveling the country performing and directing theatre for 14 years before being hired at Colonial Williamsburg. He attended Virginia Commonwealth University as a Theatre Education Major. Stephen spent 10 years teaching theater in the Richmond community, and working as an actor, director, stage manager, production manager, and lighting designer. Stephen started his time at Colonial Williamsburg Foundation 12 years ago as an Actor Interpreter and was also a Supervisor of the unit for three years before becoming the Manager of Program Development for African American and Religion Interpretation for the Foundation. Stephen is currently portraying Nation Builder James Lafayette, in addition to his positions as Community Outreach Liaison and Program Development Manager for the Foundation.
Learn More