In the 18th century, America Indian delegations were a regular sight in Virginia's colonial capitol of Williamsburg. During their stay, many of the accommodations, such as an encampment or the expenses incurred at a tavern, would be paid for by the local colonial government. At a time when southeastern and northeastern woodland tribes maintained military, political, and economic dominion over themselves and others, early colonial empires sought to set them against their old-world enemies and vice versa. Tribes encamped in Williamsburg were courted the same as any other foreign ambassadors.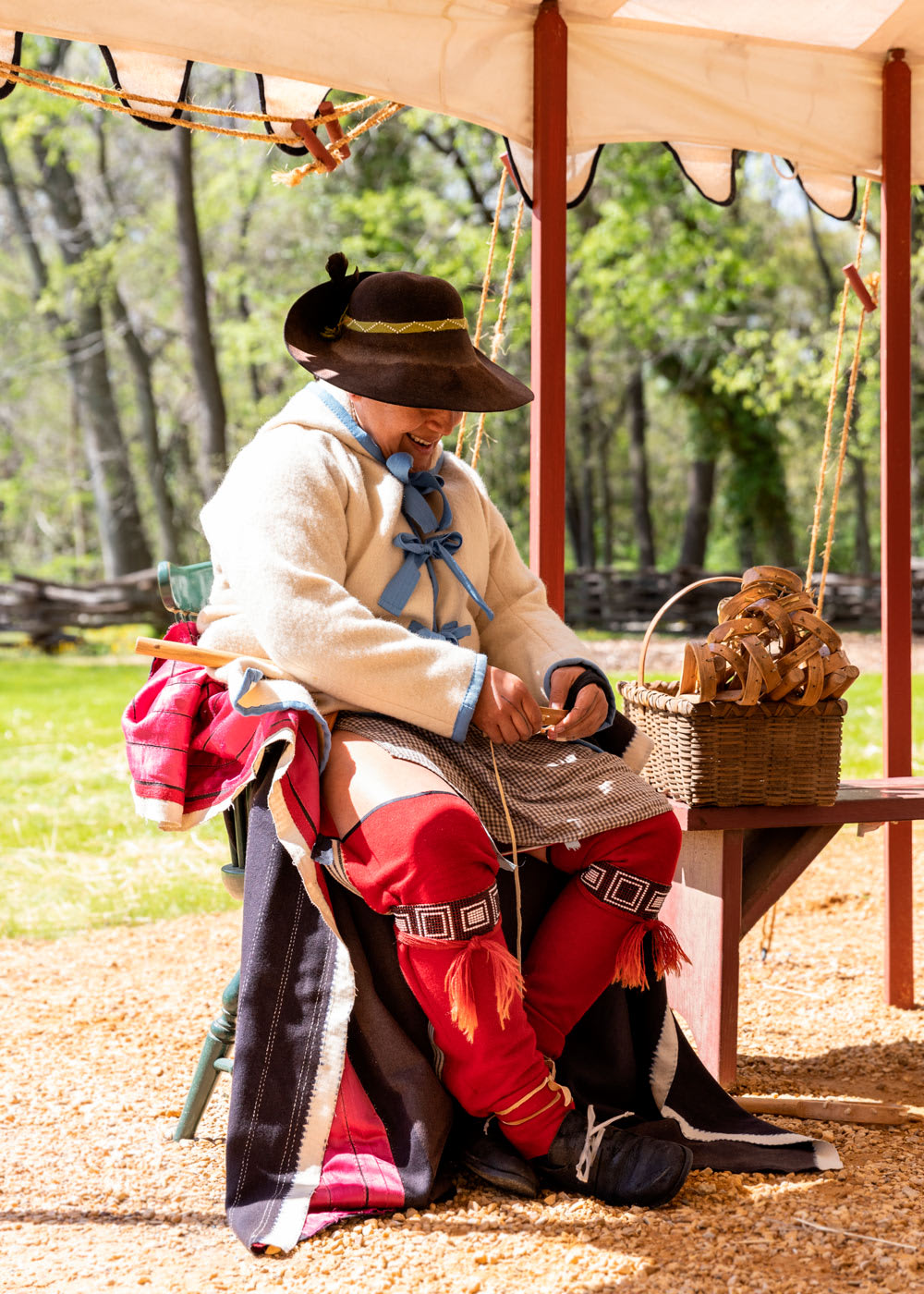 The return of the American Indian delegation's encampment at Colonial Williamsburg provides a dedicated space focused on what many of these interactions looked like. Located at the corner of Botetourt and Nicholson Streets, the American Indian delegation can be easily mistaken for a military encampment. With a spread of canvas wedge and marquee tents it would be hard to assume anything different. However, many encampments erected in Williamsburg would be provided by the city at minimal expense. To accompany these encampments, local foods and entertainments would be provided during their stay. Delegations from throughout various woodland communities would, at times, include entire families. One Cherokee delegation, for example, numbered over one hundred men, women, and children lodged on palace green.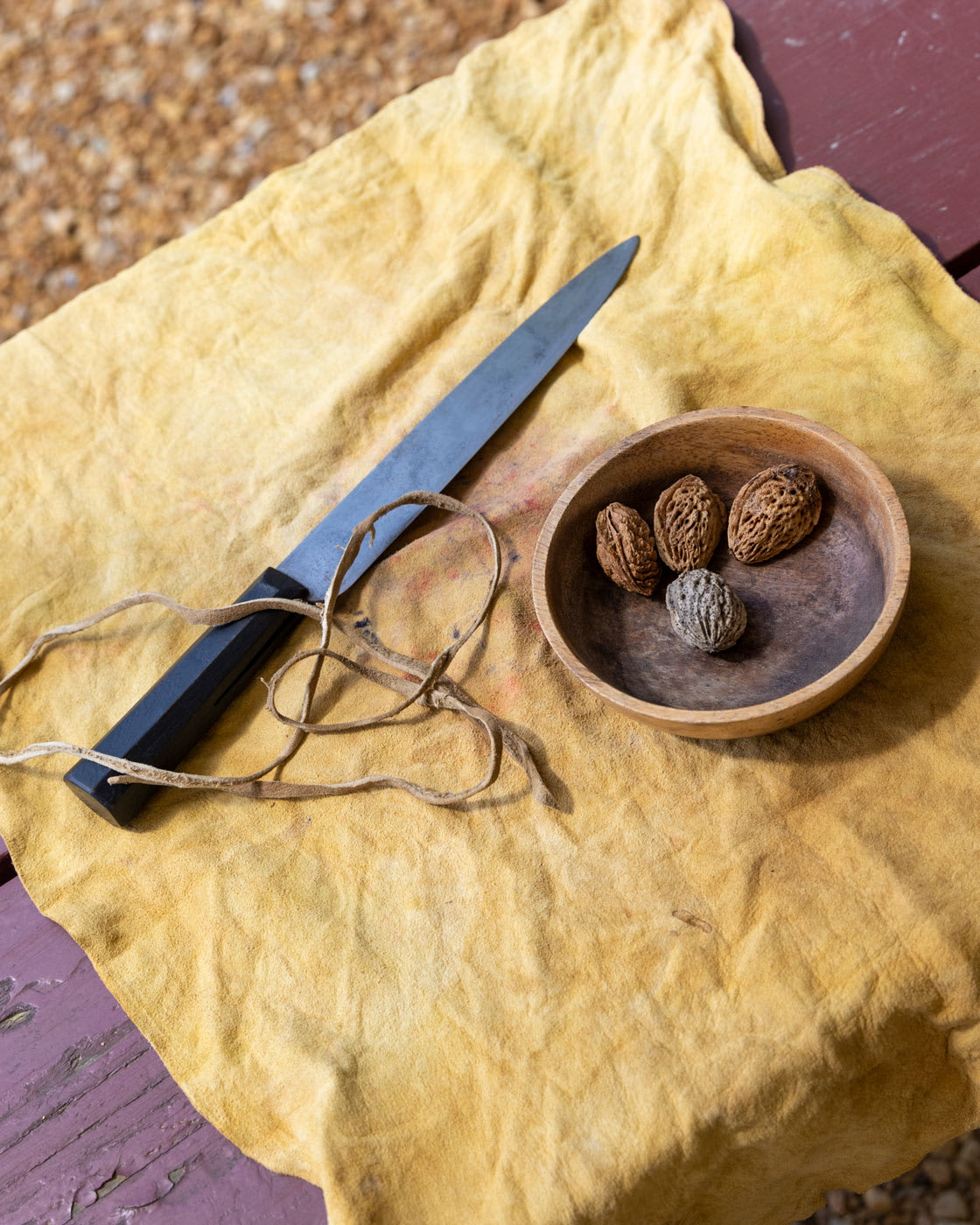 The purpose of Williamsburg receiving these political delegations was a way to create, maintain, or rebuild strained relationships with western nations. With early colonial powers at odds with one another throughout the Americas, nations like the Shawnee, Creek, Members of the Iroquoian Confederacy, and Cherokee would quickly become active players in the politics and conflicts of colonial governments. Many of these tribes not only maintained their sovereignty throughout colonial settlement, but also used European treaties to benefit the needs of their communities. Agreements of land acquisition, boundaries, trade, legal jurisdictions, military alliances, and more would be negotiated and signed in cities like Williamsburg.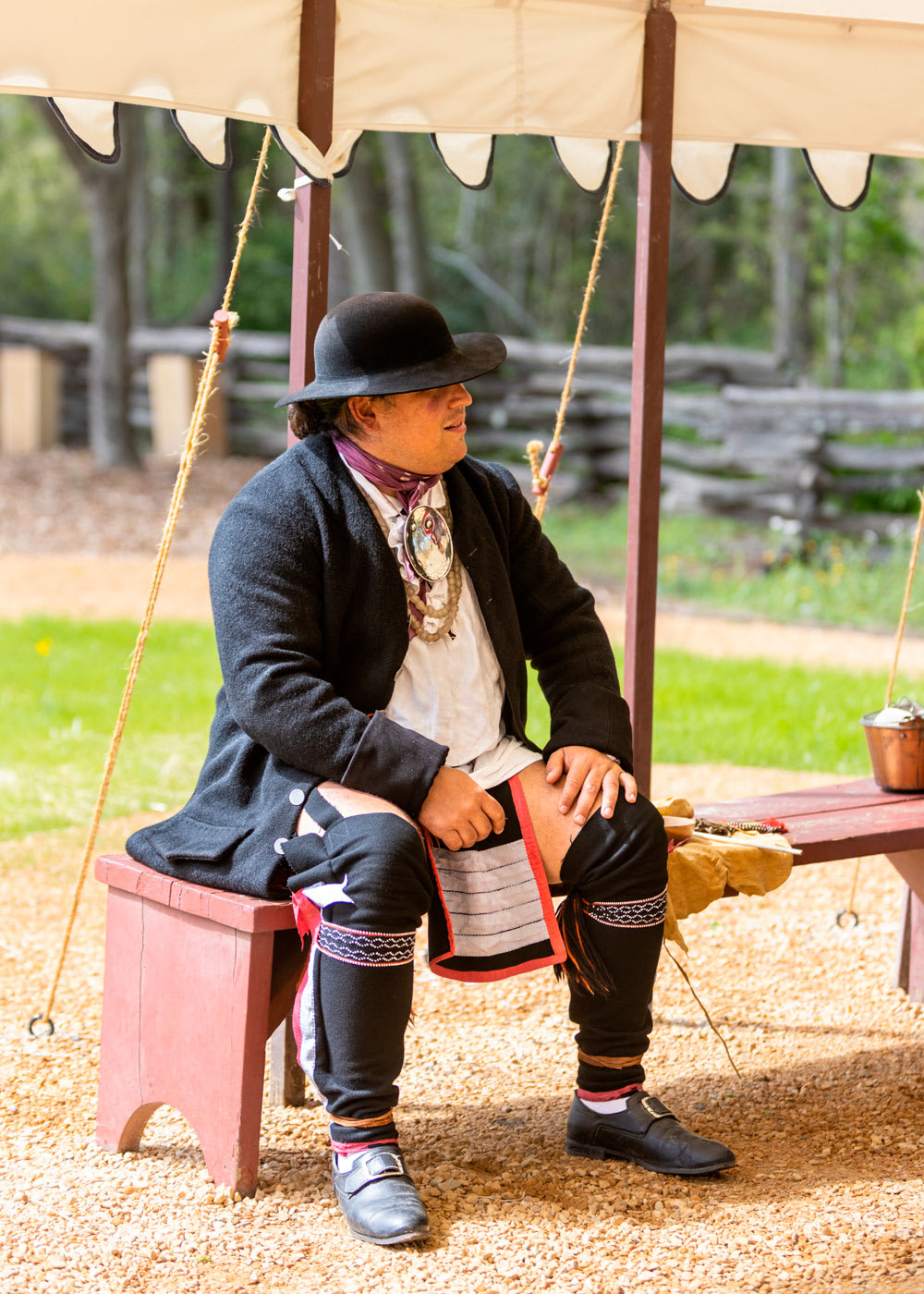 After these discussions and negotiations were finished, it was customary for quantities of gifts including textiles, clothes, weapons, tools, and the like would be distributed by the royal governor. Gift giving is a historically and culturally integral part of tribal discourse, one that European nations were quick to adopt in their pursuit of alliances with certain tribes. In the encampments, it would not be uncommon to see temporary residents enjoying the spoils of their trip. Gaming, cooking, gift exchanges, and political discussion would be regular sights in these temporary communities. Some delegates also enjoyed balls, taverns, theater, and refreshments at Charlton's coffeehouse during their stay.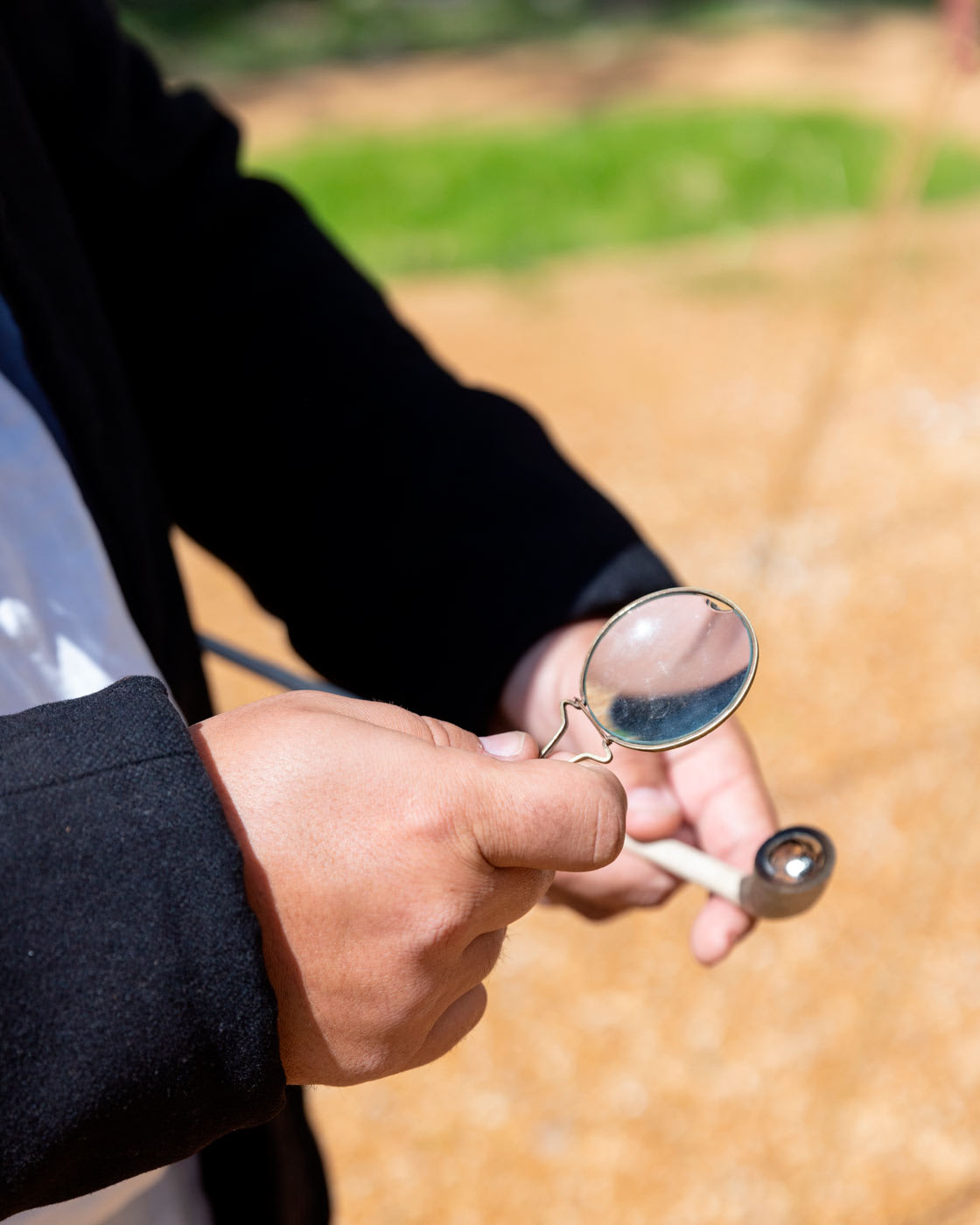 This is a small sampling of the many subjects covered when you visit with the American Indian interpretive team at Colonial Williamsburg. At the encampment, we are not in character. By speaking with guests about historical events in a modern context, we can help make connections about events following the Revolutionary War. At times, you will also see some cooking and American Indian trade skills like beadwork, sewing, leatherwork, and quillwork as they would have been practiced in the period. The encampment is open for guests to stay and interact during operating times for as long as they choose. We also understand that our guests have a wide range of questions about American Indian relations during the colonial period. With that in mind, our focus at the encampment is on subjects of guest interest, our interpreters will structure content and provide information to promote further discussion and research about your curiosities. We invite you to visit and spend some of your time at Colonial Williamsburg with the encampment and experience another facet of 18th-century American society.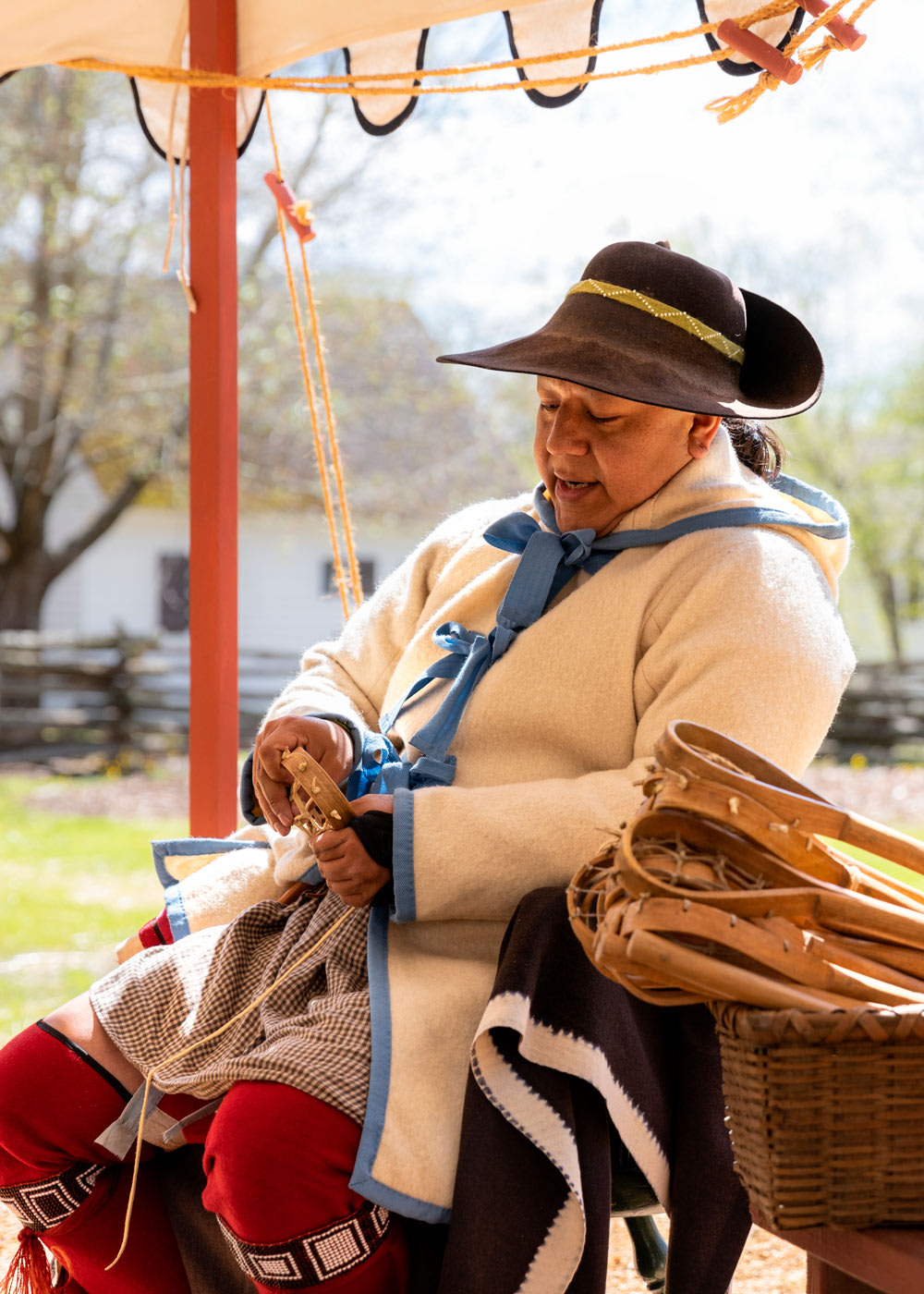 Kody Grant recently took on a new position of Nation Builder/Lead American Indian Interpreter portraying Oconostota, a well-known and respected member of the Cherokee nation during the period Colonial Williamsburg interprets. Kody is an enrolled member of The Pueblo of Isleta and has worked as an actor interpreter for seven years at the Foundation. Previously, he contracted with the American Indian Initiative for seven years while working within the historical and cultural education field in his other community of the Eastern Band of Cherokee Indians via the Cherokee Historical Society. He is the son of retired United States Navy and Airforce veterans. In his free time, Kody enjoys experimenting with new recipes in the kitchen and playing with his two dogs.
Colonial Williamsburg is the largest living history museum in the world. Witness history brought to life on the charming streets of the colonial capital and explore our newly expanded and updated Art Museums of Colonial Williamsburg, featuring the nation's premier folk art collection, plus the best in British and American fine and decorative arts from 1670–1840. Check out sales and special offers and our Official Colonial Williamsburg Hotels to plan your visit.
Together, with You
We count on you to fulfill our mission that the future may learn from the past. Together, with you, Colonial Williamsburg strives for excellence through nationally recognized preservation of this living museum, world-class educational opportunities and thought provoking civic engagement programming. Make a gift now to support and advance this important work.
Learn More