Reproducing a Coastal NC Writing Table
When I started my apprenticeship at the Anthony Hay Cabinet Shop in Colonial Williamsburg, I had already made dozens of pieces of furniture as a hobbyist hand-tool woodworker and small business owner. I was fairly well-versed in the tools and techniques that I use every day to construct furniture, but there was one important side to my work at Colonial Williamsburg that I had not yet explored: crafting faithful reproductions of high style furniture from the 18th century.
As any kind of maker will tell you, creating can be a thrilling process, and the realization of something that started as a simple idea in your mind can be very rewarding. That, however, is not where our central work lies in the cabinet shop. Instead, we typically study and reproduce original work like chairs, desks, tables, and other large casework. In doing so with period-accurate tools and techniques, we get a sense of what it was like to work in an 18th century shop, and maybe why they did the things they did. Part of our mission in the shop is to then relate that experience to guests.
As a comparative novice in the study of historical woodwork, I was a predictable mix of excited and nervous when it came to taking on my first reproduction. In line with my curriculum as an apprentice cabinetmaker, I needed to make a table with at least one drawer. The master of my shop, Bill Pavlak, and I looked through the pieces in the CW collection and settled on a writing table with three drawers from the Roanoke River Basin of North Carolina. The table is made of black walnut and pine, both principal woods used in cabinetmaking in the Tidewater Region. With the piece chosen, it was time to contact our colleagues in Collections and set up a time to examine the table.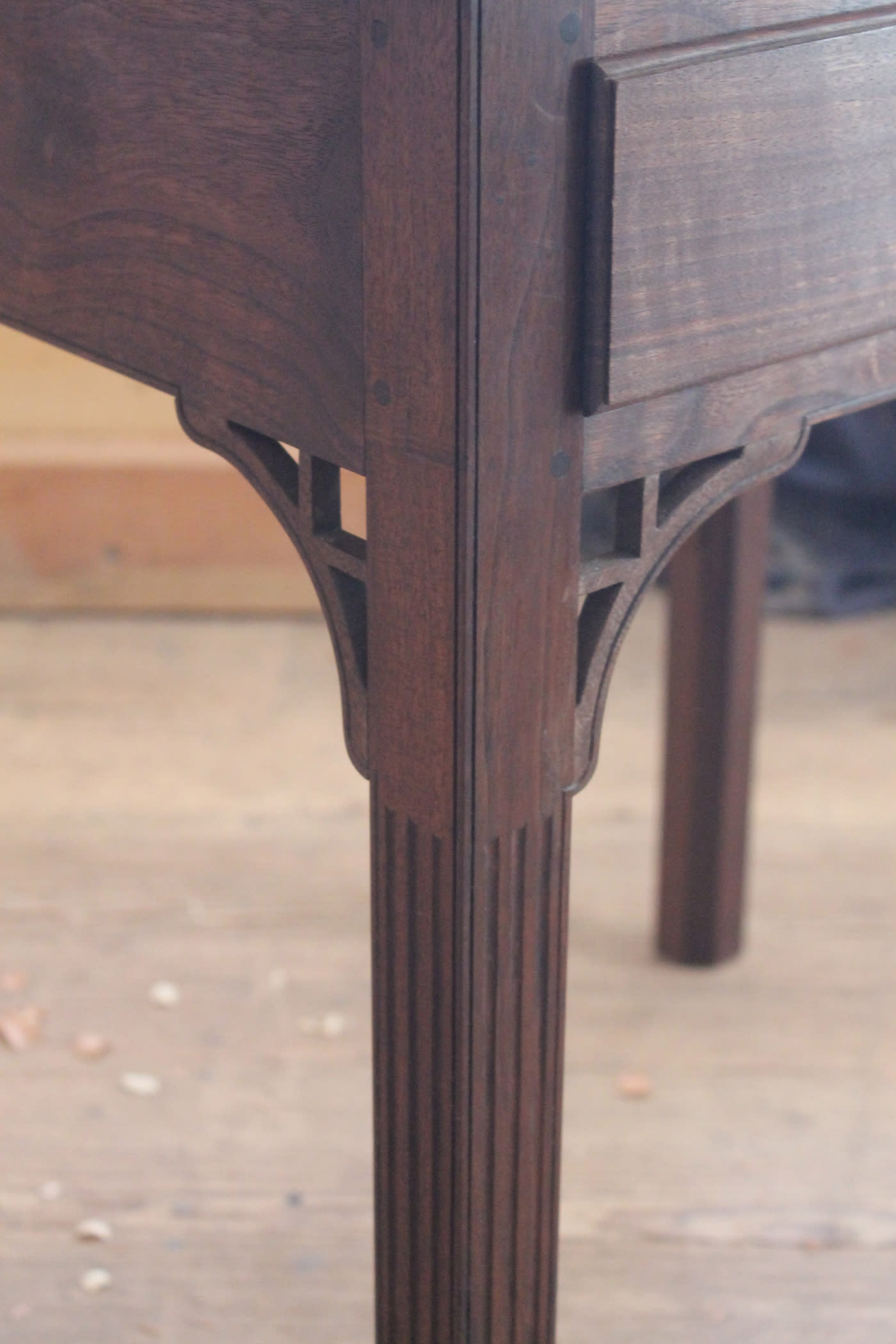 Minutes into our first look at the table, Bill and I spotted a couple of unique elements that made this table interesting to work on. To name a few: two shallow drawers that would be perfect for paper and pen storage; a drawer divider that locked into the top of the table in a particularly tricky way; a decorative shaping to the front corners of the top that would test my modest carving skills. All of these elements were carefully measured and photographed over the course of three visits in the summer of 2019.
When you visit the cabinet shop, we like to update you on all the work being done and discoveries being made. This sometimes amounts to us confidently demonstrating a skill or offering a hypothesis on the nature of the work. My time working on the writing table was in line with that, but I found a new challenge in interpreting this work: I was now retracing the footsteps and toolmarks of a real person who lived a real life and made things to earn a living.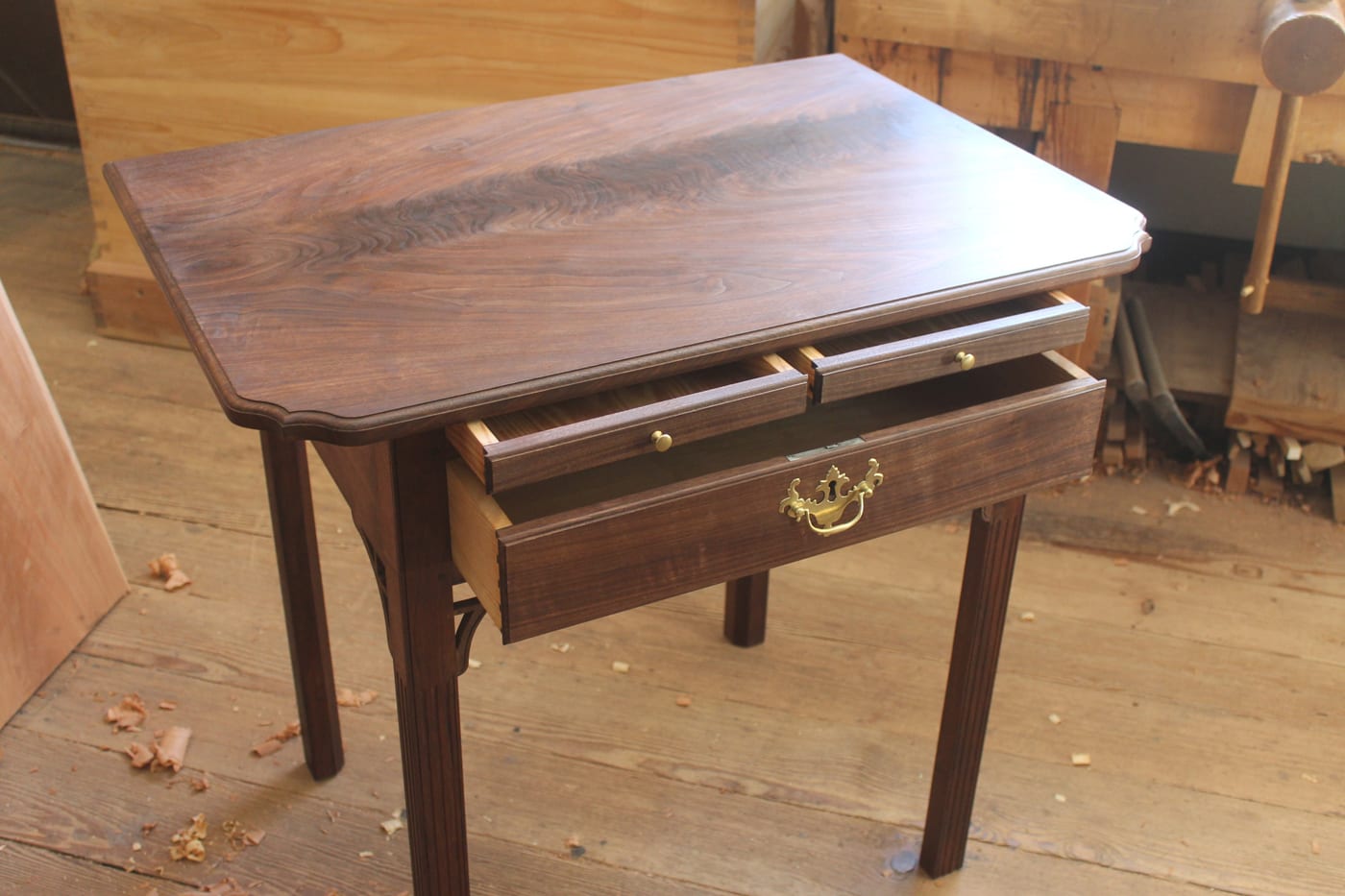 I saw their intention and evidence of process everywhere, from the dimensions of wood they used, to the way they cut their dovetails. Even the decorative parts of the table were simply and effectively done — a complicated thing based around a simple proportion or rule. In recreating this piece, I was making that connection to a working person of the past, which is the core of what we do here at CW. Most importantly, I saw their work and efforts in me, in how I work, and the choices I make when producing furniture.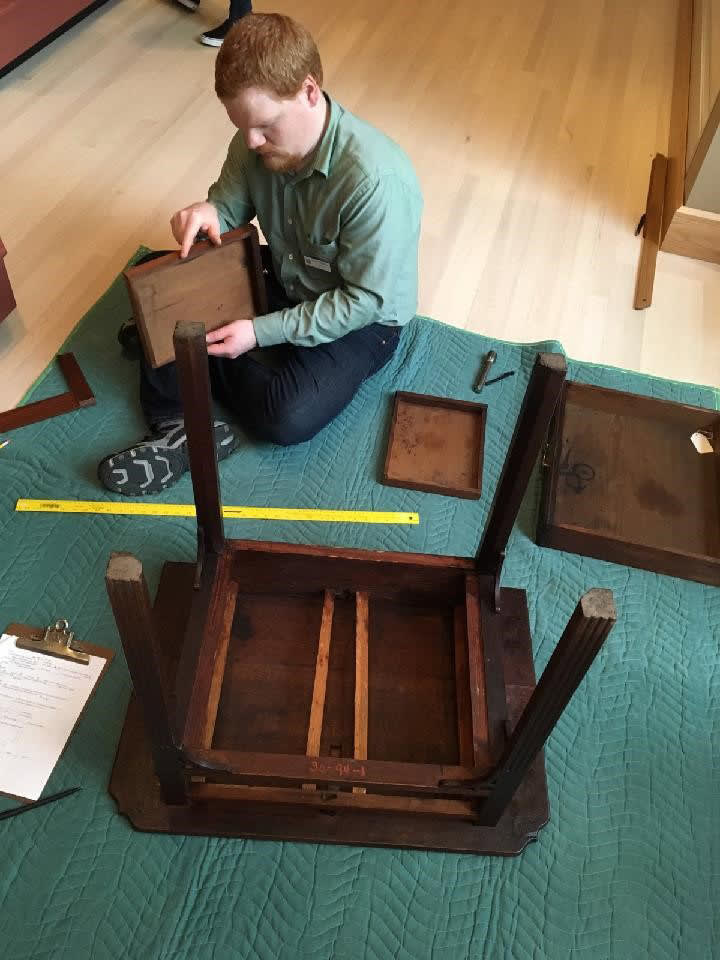 Before I knew it, four months had passed, the table was finished, and we were already thinking about the next big project. As most often happens in the Hay shop, my table was up for sale, and had an interested buyer before the last coat of wax was dry. As I prepared the table for its new home in Pennsylvania, I found myself thinking about this new perspective that had grown in me. This connection to a piece of furniture as an artifact, as a storyteller, as art. Before coming to Colonial Williamsburg, I would create the story of the things I made out of wood, but through my work in the cabinet shop, I am now helping to tell the story of America through the things that were made. As I continue with my apprenticeship, I look forward to exploring the cabinet work of the past, deepening my understanding of the people of the past, and sharing that with our visitors.


John Peeler is an Apprentice Cabinetmaker in the Anthony Hay Cabinet Shop. He has special interests in the 18th-century furniture of central North Carolina, and is currently working collaboratively on a high chest of drawers from northwestern Virginia.
Learn More