Did you know that October is Archaeology Month in Virginia? All month long, our Archaeology team will be holding events and offering online content that highlights our archaeological projects. Of course, we celebrate archaeology every day at Colonial Williamsburg, but we may be a little biased!
We know that, for many of you, archaeology may seem like it revolves around finding artifacts — and that's true — but there's so much more! This month, we're tackling some of the fundamental questions we often get from visitors who ask why we do archaeology, how we do archaeology, and what archaeology means to our understanding of historic sites like Colonial Williamsburg. Read here and join us on social media for a whole new lens through which to view the Historic Area during your next visit.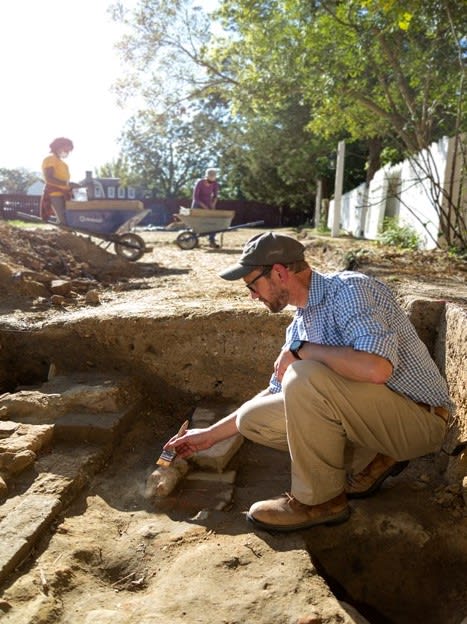 First thing's first—what is archaeology anyway?
Put simply, archaeology is the study of humans and human behaviors through the systematic recovery and analysis of the materials they left behind. The things left behind by people in the past vary widely and can be as large as a building or as small as a marble. Whether big or small, each artifact and feature we find in the ground can tell us a little bit about what life was like for people in the past.
American archaeology is divided into prehistoric archaeology and historical archaeology. "Prehistoric" archaeology is the study of cultures without written language. Although prehistoric peoples did not write about their culture, they left remains such as tools, pottery, ceremonial objects, food waste that offer a window into the rich cultures that were thriving in North America when Europeans first arrived. Historical archaeology, which most closely describes the archaeological work done at Colonial Williamsburg, is aided by written records such as maps, letters, legal documents, and even photographs. Combined with careful excavation, we work to better understand the daily lives of people in Williamsburg from the 17th century all the way up through the 20th century!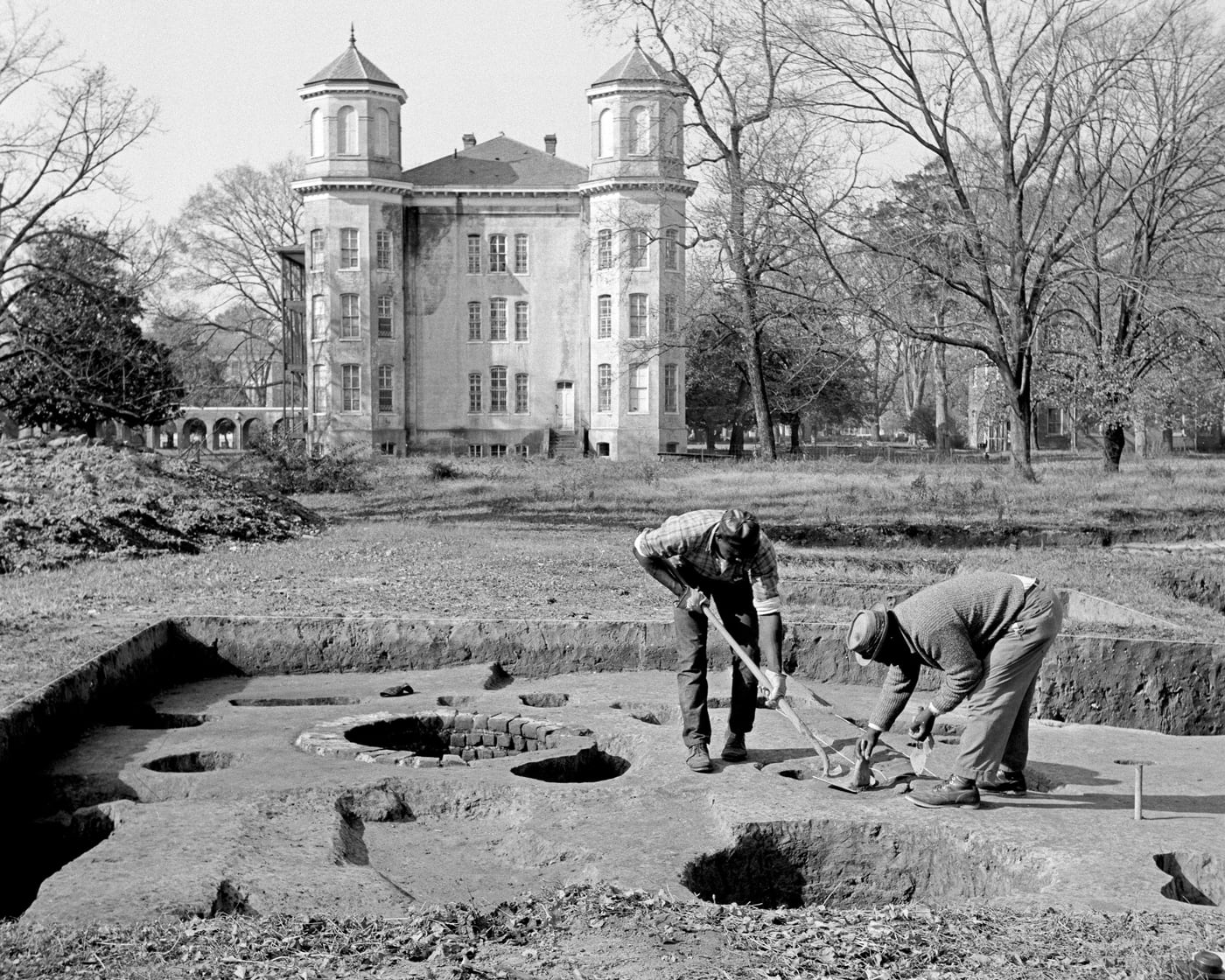 Why is archaeology important at Colonial Williamsburg?
When excavations began at Colonial Williamsburg back in the 1930s, 88 structures from the colonial period were still standing, including some that you are all likely familiar with, such as the Powder Magazine and the Peyton Randolph House. The rest are reconstructions based on extensive research by and excavations conducted by some of the organization's first historians and archaeologists. Back then, archaeologists at Colonial Williamsburg had one guiding objective: find the remains of 18th-century buildings so that they can be reconstructed, returning the city to its colonial-era appearance.
With nearly 100 years of archaeology behind us, you might think that there would be little left for the archaeological record to teach us, but shifts in our methods, technologies, and research questions continue to open new lines of inquiry. Rather than focusing solely on reconstructing an 18th-century city and celebrating its revolutionary past, we've come to understand that the soil beneath our feet holds clues that take us well beyond the famous figures and events of the American Revolution. Archaeology paints a picture of everyday life for everyone living in the past, including enslaved people, native tribes, and other people for whom documentary evidence may be scarce but physical evidence and cultural traditions are rich.
While many of our own names will never appear in the textbooks of the future, the archaeological record is constructed by everyone. We all leave things behind to be found. What do you think the things you leave behind will tell future archaeologists about you?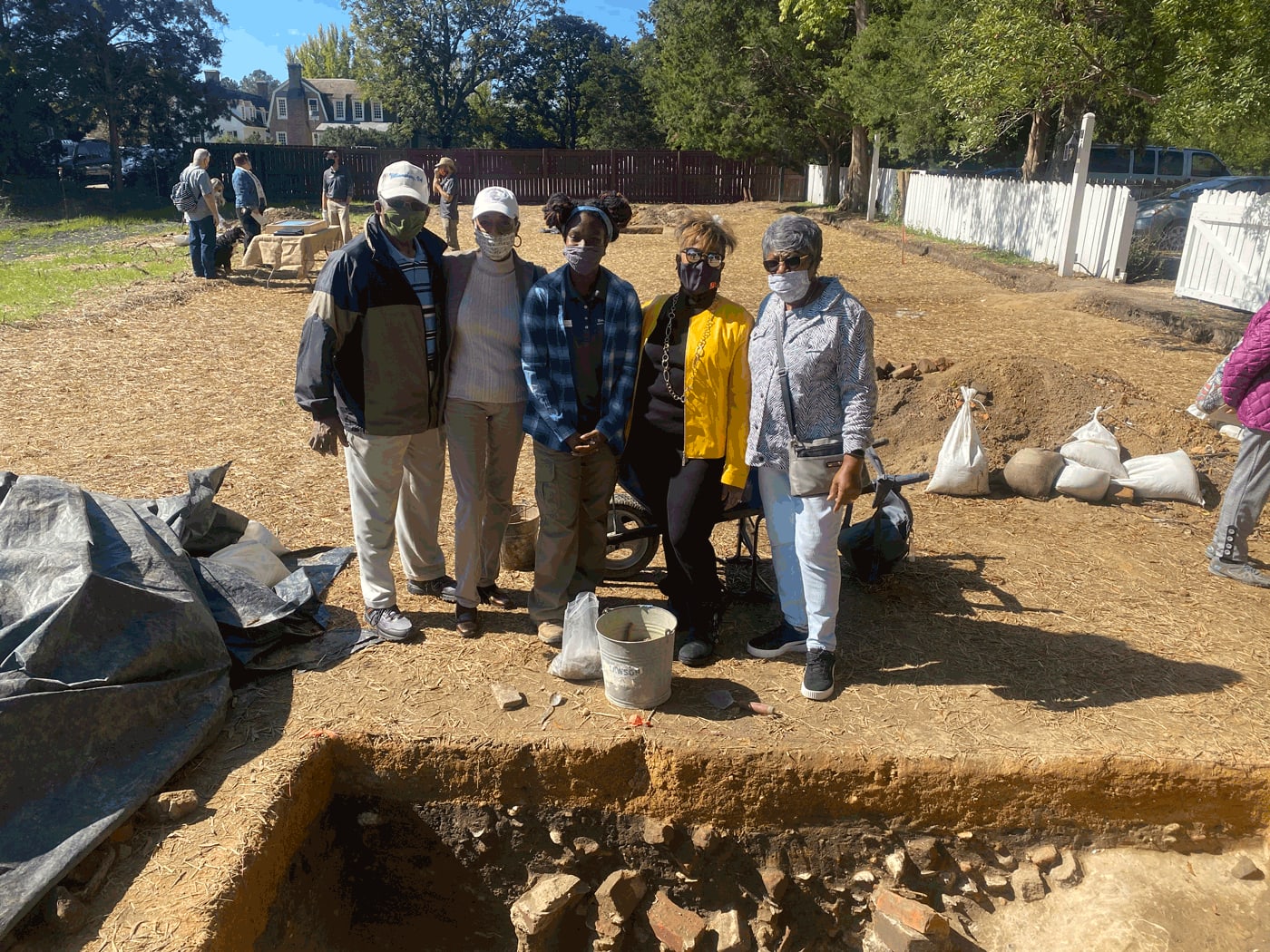 Archaeology for the Public
At Colonial Williamsburg, we practice public archaeology. We know that the archaeological work we do isn't just about showing off artifacts and the remains of old buildings — it's really about getting to know all of the people who contributed to the development of the Williamsburg community over the centuries. That's why we work in partnership with local residents and descendant communities to ensure that they have an active role in the work we do and the histories we share. Knowing that Colonial Williamsburg's history is national history, we also reach far beyond the local community by talking with visitors from all over the world! Exploring an archaeological site and speaking with archaeologists in the field isn't something that happens every day for a lot of people. With that in mind, we come to work each day ready to share what we're working on with people of all ages. Engaging with visitors each day means that we get to share new piece of the puzzle with all of you as it happens — and that's what makes doing archaeology at Colonial Williamsburg the most fun for all of us!
Keep an eye out this October for our community open house events at the Historic First Baptist Church archaeological site on October 9 and at Custis Square on October 30 and keep up with us on our Facebook page here and on our webpage here.


Crystal Castleberry is Public Archaeologist at the Colonial Williamsburg Foundation, where she develops public programming and coordinates community outreach efforts in association with the Foundation's archaeology projects. Crystal began her public history career in 2013 as a member of the team excavating Colonial Williamsburg's Market House, later joining excavations at the Wren Building lawn and Bray School grounds on the campus of the College of William and Mary. Prior to rejoining the Foundation in 2019, she worked at the Virginia Department of Historic Resources, advocating for the preservation of architectural and archaeological resources across the state, with a special focus on underrepresented communities.
Keep History Alive!
Our donors help us achieve a deeper understanding of America's founding ideals and how they relate to the world and this country today. Because we are not state or federally funded, your support is crucial to preserving the wonder of Colonial Williamsburg. Give now to keep history alive for generations to come.
Colonial Williamsburg is the largest living history museum in the world. Witness history brought to life on the charming streets of the colonial capital and explore our newly expanded and updated Art Museums of Colonial Williamsburg, featuring the nation's premier folk art collection, plus the best in British and American fine and decorative arts from 1670–1840. Check out sales and special offers and our Official Colonial Williamsburg Hotels to plan your visit.
Learn More