How and why we captured a 360-degree tour of the Governor's Palace
Each year, one talented applicant is selected to be a Colonial Williamsburg 3D Visualization fellow (made possible in part by a generous grant from the National Endowment for the Humanities). This year's honor went to Rob Cloutier, a professional 3D animator and consultant from Maryland. For the last few weeks, Rob has been diligently working on a 360-degree tour of the Governor's Palace. You may already be familiar with this type of tour; it's used by some museums and many realtors to allow for virtual "walk throughs" of selected buildings. My challenge to Rob was, "How can we use this type of tour as a starting point rather than an end?" My goal is to see if we can push the boundaries of this technology to connect our guests to a broader range of Colonial Williamsburg resources, and in a way that also meets our educational goals.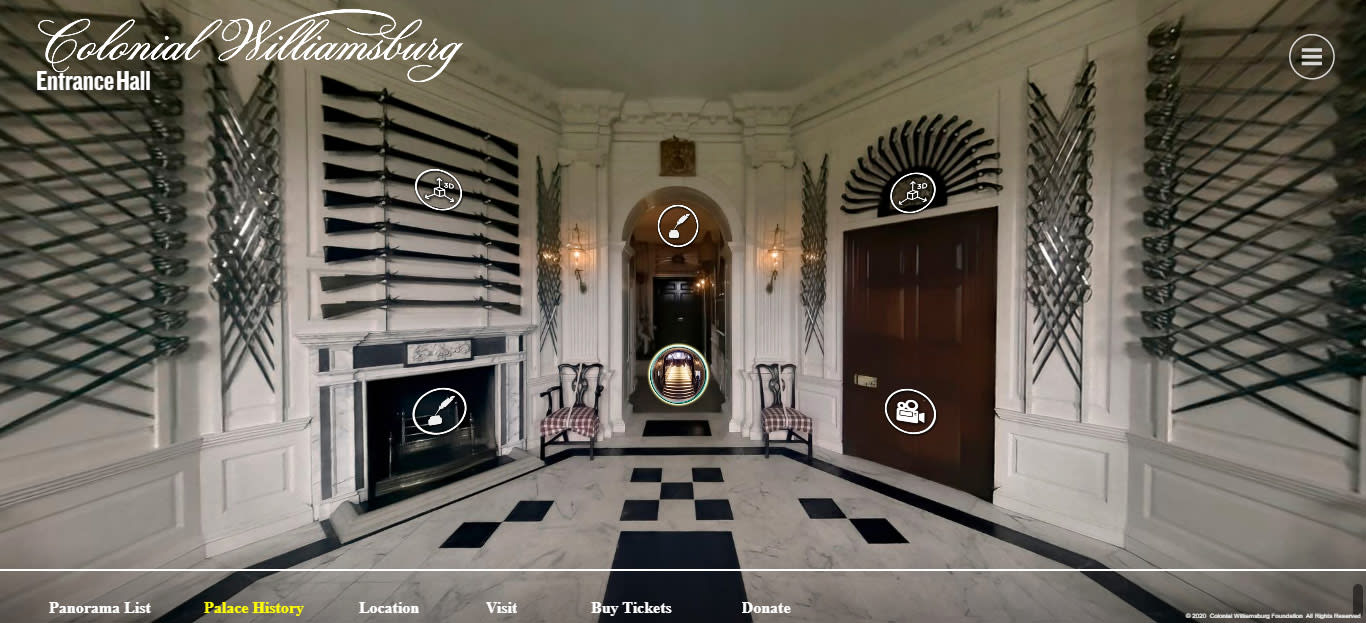 Colonial Williamsburg is a large venue, and so, as you might expect, making connections between things can sometimes be challenging. The beauty of a virtual tour such as this is its potential to take objects that are in different locations in the real world and link them together digitally. This means we can jump from a building, to an object, to online information, or to Colonial Williamsburg's museums and galleries, all in a single line — similar to a web-browsing experience. There is no better way to connect all the magnificent artifacts, buildings, people, and historical information we have.
So where do we begin? We simply begin with an idea, and then follow that with a plan. Once we know where we want to make the tour, and how the tour will unfold (how many pictures to take etc.) we can begin taking photos. Rob uses an Insta360 One-X, 360 Camera, to take the pictures. The camera is small, about the size of a smart phone, and is mounted on a tripod with a very small footprint, about 12" in diameter. This means that when the photos are stitched together it is easy to erase the tripod from the image. The camera takes a picture in two halves of a sphere, first one side, then the other, later joining them together in a single 360° picture.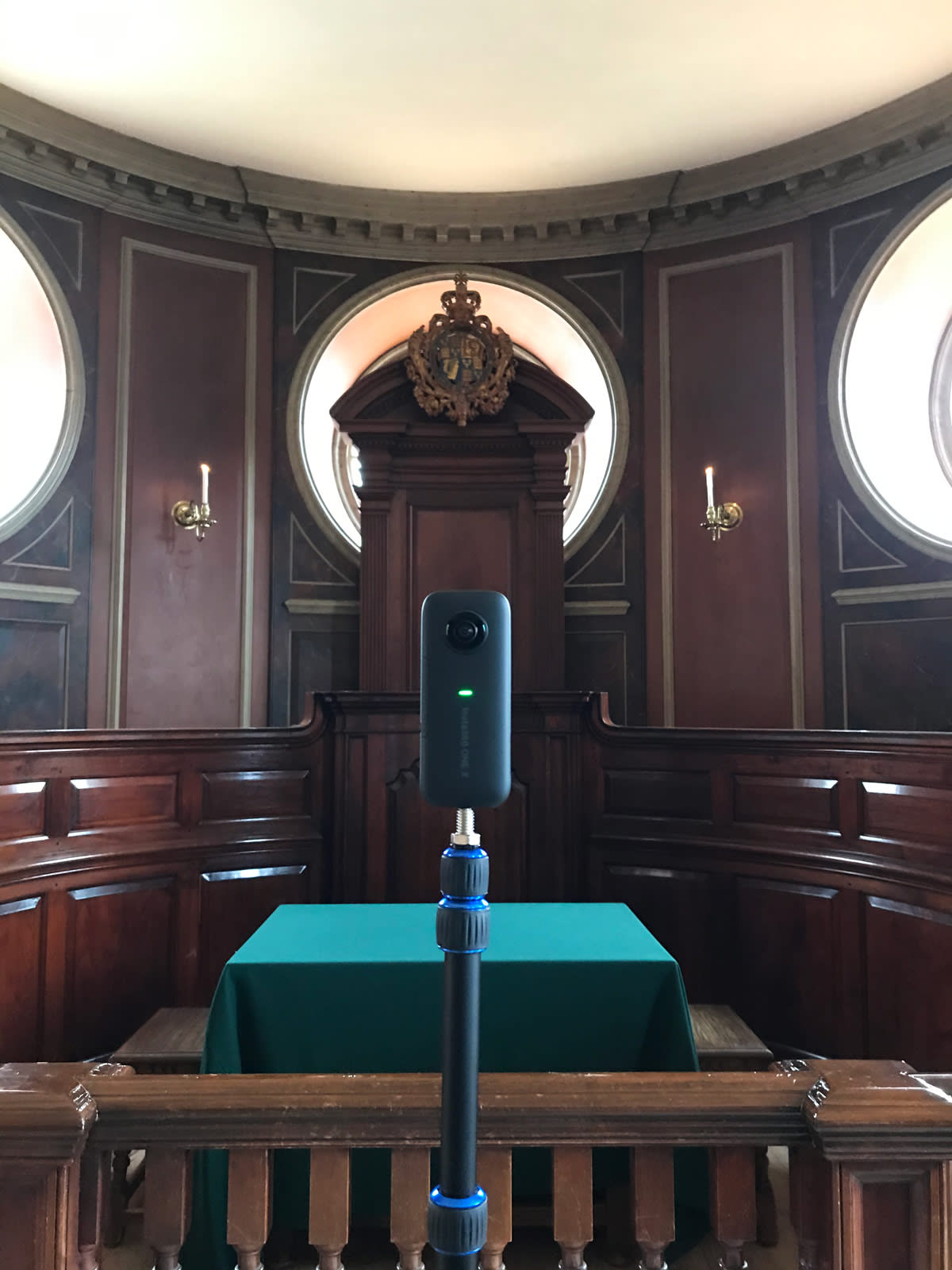 Once we have taken all the pictures we need (the Governor's Palace took 15 set ups) they are uploaded to a smart piece of software called 360 Vista. This is software connects all the pictures together, allowing you to move from place to place. We also use this software to connect the pictures with other digital data, like 3D models of artifacts, textual information, links to artifacts in eMuseum, and other interesting and relevant digitized information.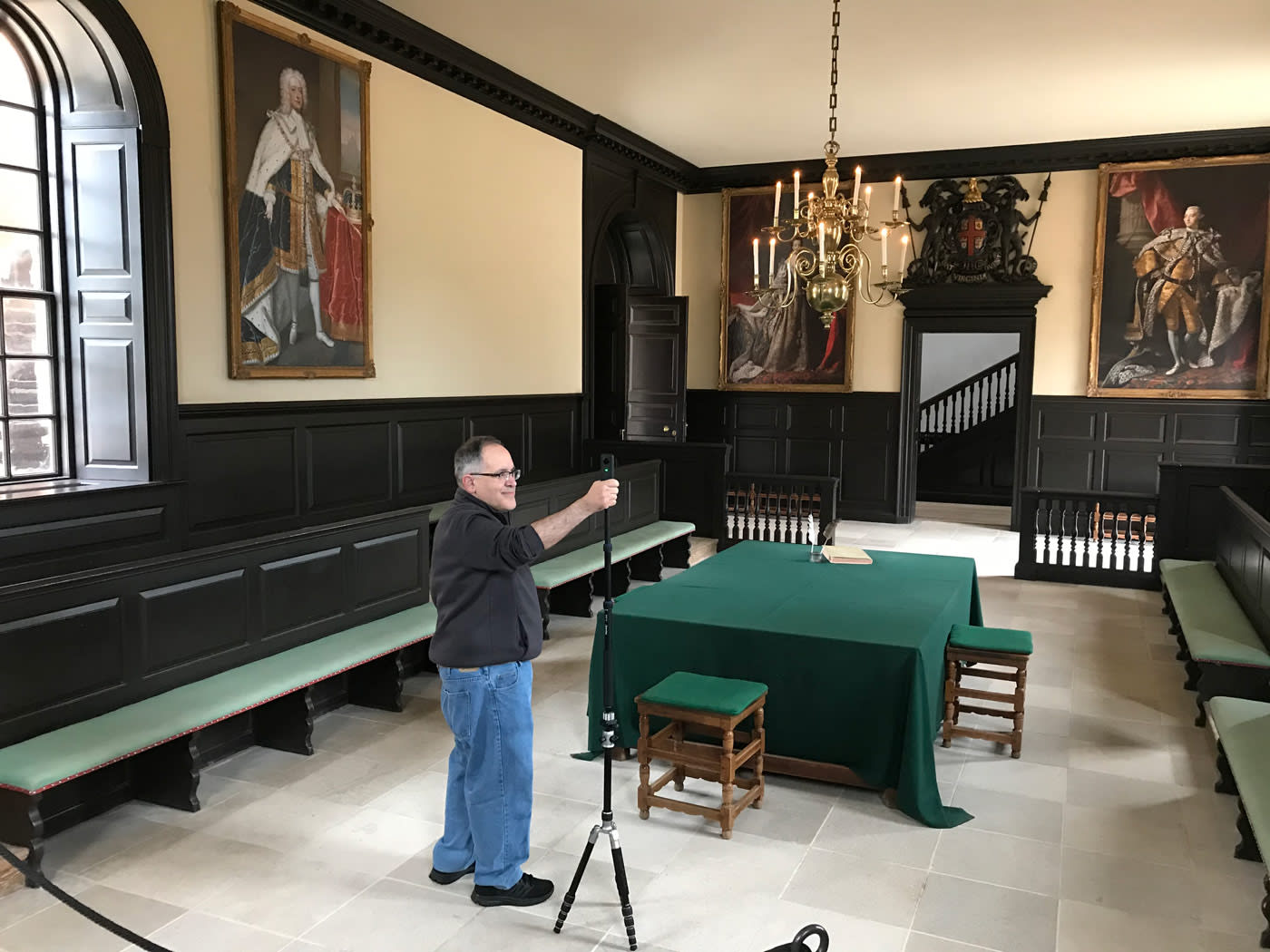 However, there is a more serious side to this tour – it is far more than just a new technology. One of the goals of the fellowship is also to explore how we can meet the educational mission of the Foundation in new ways that can attract new audiences. By placing artifacts and documentary sources in the context of the place they were used during the 18th century, we can enhance their meaning. For instance, imagine reading the archaeology report of the excavation of the Palace in the place where the excavation actually took place. Students and interested learners can be transported to the location from wherever they are in the world. This also means they have a better understanding of the site, and hopefully that understanding will also encourage them to visit us in person. We must always be aware that the virtual world does provide a broad understanding of a place, but this is only one understanding. Nothing beats the multi-sensory reality of standing on a site, talking to a human being, smelling the scents, and hearing the noises of the real place.
We have begun developing virtual tours at the Governor's Palace, but be on the look out over the coming weeks for more tours of Colonial Williamsburg's buildings and galleries (the photos included in this blog will provide a clue to one of the next buildings you will soon be able to virtually tour). We were quite fortunate that Rob was able to work onsite in CW's Historic Area before the recent temporary closure, so we will be adding more tours, and updating what we have with special Easter eggs in the coming weeks.


Rob Cloutier is the Colonial Williamsburg 3D visualization fellow for 2019. He is the owner of Digital History Studios, and has been a 3D cinematic animator for the past 25+ years, 12 of which had been in the computer gaming field. His website is https://www.3dhistory.com/ .
Dr. Peter Inker is the Director of the Historical Research and Digital History Department. He is passionate about the past and living history museums. Originally from Wales, UK, he now lives permanently in Virginia.
Learn More