Monday

9:00 a.m. - 5:00 p.m.

Tuesday

Closed

Wednesday

Closed

Thursday

9:00 a.m. - 5:00 p.m.

Friday

9:00 a.m. - 5:00 p.m.

Saturday

9:00 a.m. - 5:00 p.m.

Sunday

9:00 a.m. - 5:00 p.m.
In an age before TV, radio, and the internet, the printed word was the primary means of long-distance mass communication. Watch and learn as printers set type and use reproduction printing presses to manufacture colonial newspapers, political notices, pamphlets and books.
DIY-ers & Makers Itinerary
See the time before power tools and meet our world-class artisans in the Historic Trades. Must see for DIY and makers of all ages!
Learn More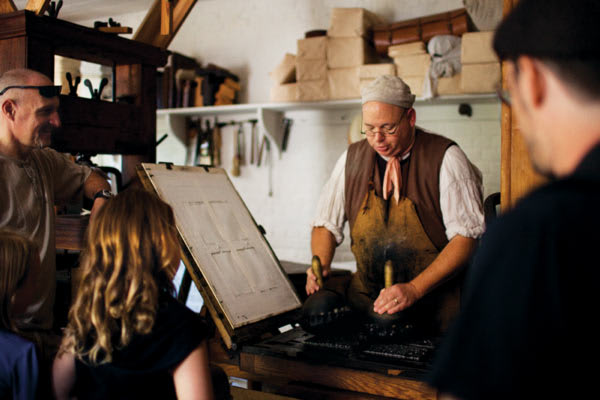 Make A Difference!
As we are not state or federally funded, The Colonial Williamsburg Foundation relies on individual donations of any size to fulfill our mission: that the future may learn from the past. Send in your gift today and make a difference!
Historic Trades
Discover craftsmanship in more than 20 trades, where modern-day practitioners use 18th-century tools and techniques to apprentice in — and eventually master — blacksmithing, woodworking or gunsmithing, just to name a few.
View All