Getting to Know an Interpreter
Let's get to know one of the interpreters behind the smiles you see when you visit Colonial Williamsburg. We'll let her introduce herself …
Hi, I'm Mairin, an Orientation Interpreter at Colonial Williamsburg. I've been working for CW for three years continuously, but I also worked a summer in 2016 when I was a college student. While living in Connecticut, my family came to Colonial Williamsburg for the first time when I was eight years old. As part of the "Felicity Generation" I immediately fell in love with the historic area. We started by visiting every other year... then once a year... then twice... then five times! Eventually I realized I could move here, so in 2017 that's what I did. I moved to Williamsburg by myself, started my job, and the rest, as they say, is history. I live in Williamsburg with my partner, Danni, and my dog, a Catahoula/Border Collie mix named Luna Mae. The 18th century makes up a large part of my life both inside and outside of work, but beyond that I enjoy hunting for antiques, walking Luna, sewing by hand and machine, and playing Dungeons and Dragons.
What do you do at Colonial Williamsburg?
As an Orientation Interpreter. I'm part of the front line of costumed interpreters and am often one of the first faces that our guests see. I check tickets, give directions, and manage crowds, but I also get to answer lots of questions. OIs are "in" the 21st century when we are speaking with guests, which allows us to talk about anything from the 18th century, through the restoration in the 20th century, and of course, modern day. I take lots of picture for guests and smile a lot too. Smiling and being welcoming is a big part of the job, but it's honestly not hard because I really enjoy what I do!
What is your favorite part of working at Colonial Williamsburg?
Definitely the people I meet! I've made some wonderful friends in my coworkers — a group of us even get together to play Dungeons and Dragons every week. I'm also in a relationship with our former resident Portrait Artist for the past three years. The guests, however, are really the people who make my job so enjoyable. I have become friends with local and long-distance visitors alike. I've been asked questions that challenge me, make me think, allow me to expand on a topic that I'm excited about, make me laugh, and everything in between! I work at Colonial Williamsburg because I love history — mainly the American Revolution — and getting to interact with people who share that interest on a daily basis is my favorite part of my job.
What is something that surprises you about working at Colonial Williamsburg?
Even though I wrote these questions, this one really made me think. One thing that I am constantly surprised by is that there are still new places for me to explore in Colonial Williamsburg. I've been walking these streets for the past fifteen years and just last week I saw a new (to me) gazebo! There's just so much to see. I'm also surprised by how much I still enjoy being a guest. I will gladly sneak away on my lunch hour to see a Nation Builder program or walk through a new exhibit. On my day off I might walk my dog down Duke of Gloucester Street or take my grandma to see the gardens, and my whole family loves having lunch at a tavern. I'm grateful that, especially as an employee, I still appreciate and find joy in Colonial Williamsburg.
Do you have a favorite topic to research outside of work?
Not surprisingly, I usually stay focused on the American Revolution which is what led me to Colonial Williamsburg. I enjoy the fashions and material culture, studying specific individuals or events, but I never land in one place for too long. There is an incredible amount of interesting things to learn still! If I had to pick another era to study, though, it would be Tudor/Elizabethan times. But to be completely honest with you and myself, I'm interested in almost all history! I love finding out how different eras/events/rulers/empires fit in with each other on the timeline of world history. It's really hard for me, and probably for a lot of people, to pick just one topic.
Tell us one interesting fact.
I have pink streaks in my hair! You probably wouldn't guess it by seeing me in costume, but swept up under my crisp white cap is quite a bit of hot-pink hair. I've had it dyed pink for the past 12 years, so at this point it is as much a part of me as anything else. And relating this to the 18th century, did you know that wigs could be powdered with different colors? If you were at a party you might see people with blue, purple, or yes, even pink powder on their wig, so it's a personal fact and a period one too!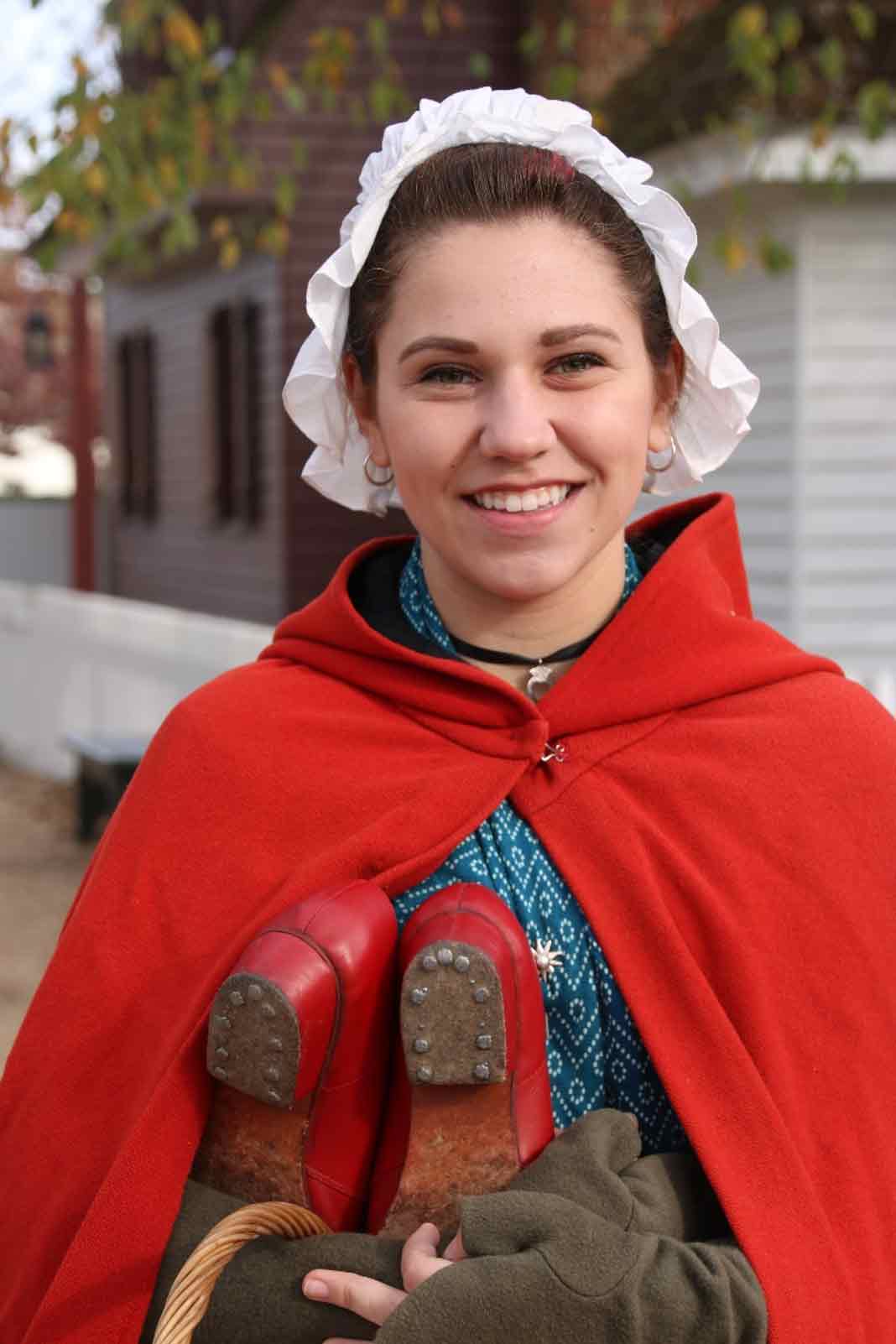 Mairin has been visiting Colonial Williamsburg since the age of eight with her Felicity doll in tow. Now she gets to live her dream every day as an Orientation Interpreter with the Colonial Williamsburg Foundation. In her free time she enjoys playing with her dog, Luna, and being creative with her partner, Danni.
Learn More