Meet Tab Broyles. She develops, reviews, and evaluates on- and off-site and online Teacher Development programs and has collaborated with more than 120 school districts to develop programming and grant proposals for private and governmental funding. Pictured on the far left above, Tab has been part of the Bob and Marion Wilson Teacher Institute of Colonial Williamsburg since 1990. As of 2019, the Teacher Institute has welcomed more than 10,300 participants to their summer residential programs. The above image celebrates its 10,000th teacher. In addition to the Teacher Institute, Tab has worked in costume in the Historic Area and with School Groups as an interpreter and supervisor, Lanthorn Tours, and colonial dancing along with presenting at the National Council for Social Studies Conferences, state affiliate organizations, and on- and offsite workshops. As our Teacher Institute online courses kick off for the summer, we're getting to know her more in the interview below.
WHAT DO YOU DO AT COLONIAL WILLIAMSBURG?
I am the Peter L. and Patricia O. Frechette Director of Teacher Development. Our team provides opportunities for teachers to learn about the importance and relevance of the American Revolution and the founding of our democracy. We share with teachers instructional strategies, history content, and educational resources from diverse perspectives that enhance their ability to inspire students as they become informed, engaged, and active citizens. One of my favorite quotes is from Justice Sandra Day O'Connor, "The practice of democracy is not passed down through our gene pool. It must be taught and learned anew by each generation of citizens." We are fortunate that Colonial Williamsburg has a 301-acre outdoor living history classroom with talented and dedicated employees who help teachers experience the history of our nation's past and how these narratives help us create a better future.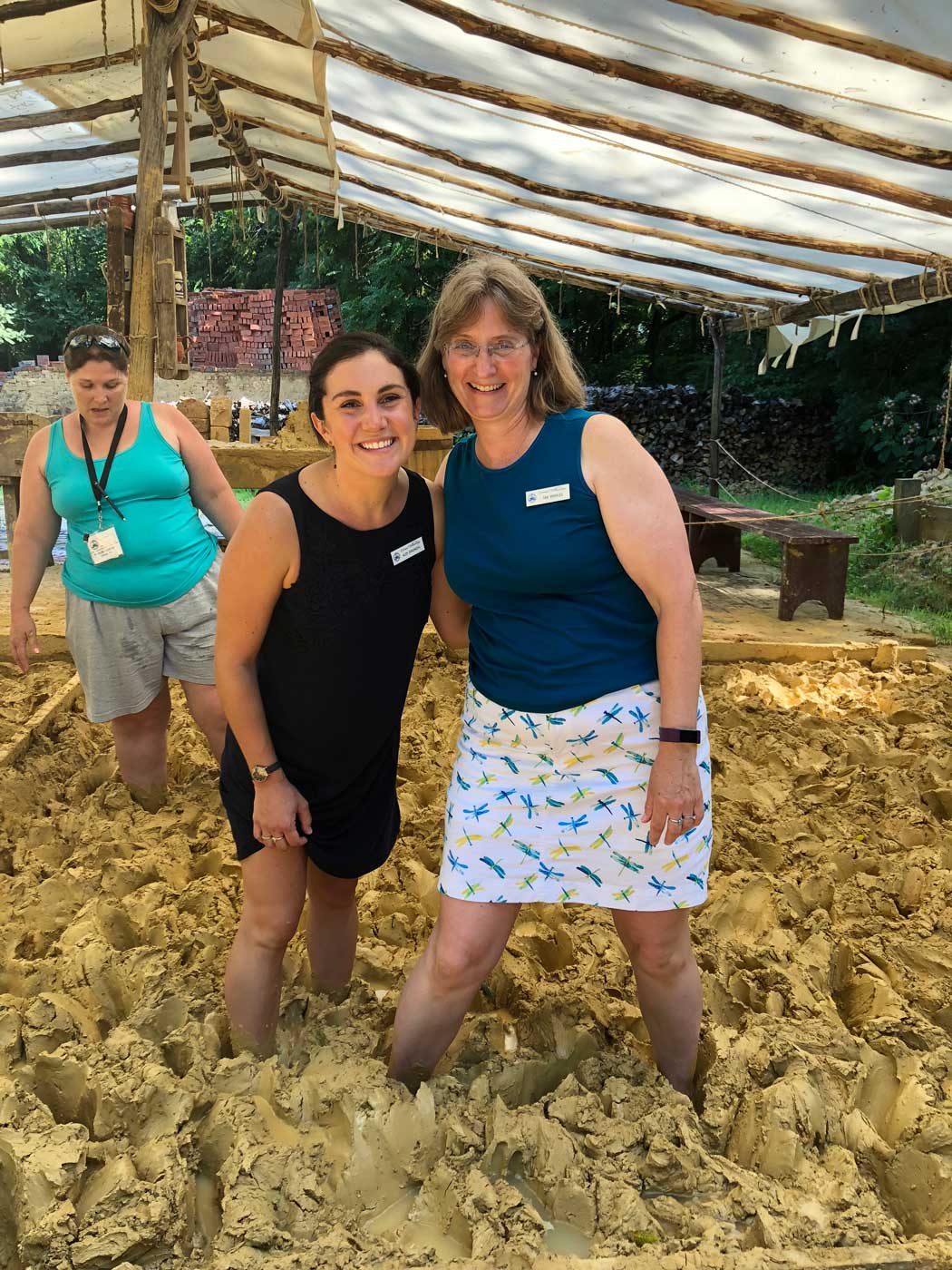 WHAT IS YOUR FAVORITE PART OF WORKING AT COLONIAL WILLIAMSBURG?
My favorite part of working at Colonial Williamsburg is any time teachers can collaborate and learn with Colonial Williamsburg interpreters, the Art Museums or Rockefeller Library staff, and our Teacher Institute team, especially when teachers are onsite. When these groups of educators meet, there is mutual sharing of historical content, instructional strategies, and how to help each other engage students in the story of the founding of our nation and their role as future citizens.
The best part is seeing the "door to learning and understanding" open or "ah ha" moments happen as teachers explore new primary sources at the Rockefeller Library, move a 500-pound log at the Carpenter's Yard, meet a person of the past and learn about their daily life, or re-enact the debate and vote for Virginia's independence. It is also our team learning about the inquiry design model, ways to promote reading through primary sources, or how to evaluate programming to ensure that it is culturally responsive to students from all backgrounds. Most importantly, it is hearing teachers share that their Teacher Institute experience makes them feel valued and empowered because Colonial Williamsburg staff respect them for their important role in ensuring that students learn about the diverse people from the past who helped shape our nation.
WHAT IS SOMETHING THAT SURPRISES YOU ABOUT WORKING AT COLONIAL WILLIAMSBURG?
The most impressive aspect is the generosity and creativity of our employees and donors who share the latest historical research, a gift of their time, their skill and expertise, or financial support to impact students. I have seen numerous examples of how employees from throughout the Foundation and our donors have helped school-age children visit Colonial Williamsburg to bring to life their social studies curriculum standards and make history relevant to their lives. Teachers, many of whom have had no opportunity to take coursework in American history, benefit greatly from receiving Teacher Institute scholarships. Being immersed in the Historic Area and working with Colonial Williamsburg interpretive staff and master teachers develops teachers' knowledge and desire to learn more about many aspects of the past. Colonial Williamsburg employees, the teachers, and our donors are a community working together to create a brighter future for our students by helping them understand our nation's beginnings and its founding ideals. It is the belief in the importance and relevance of education, the determination, the creativity, and everyone working together that make educational and life-changing opportunities available to teachers and students.
DO YOU HAVE A FAVORITE THING TO DO OUTSIDE OF WORK?
Outside of work, I enjoy caring for and riding my horse. I love to be outside and active. Horses are wonderful, exciting, and challenging all wrapped up in one package. With horses, you are always learning something new and continuing to build a bond with them.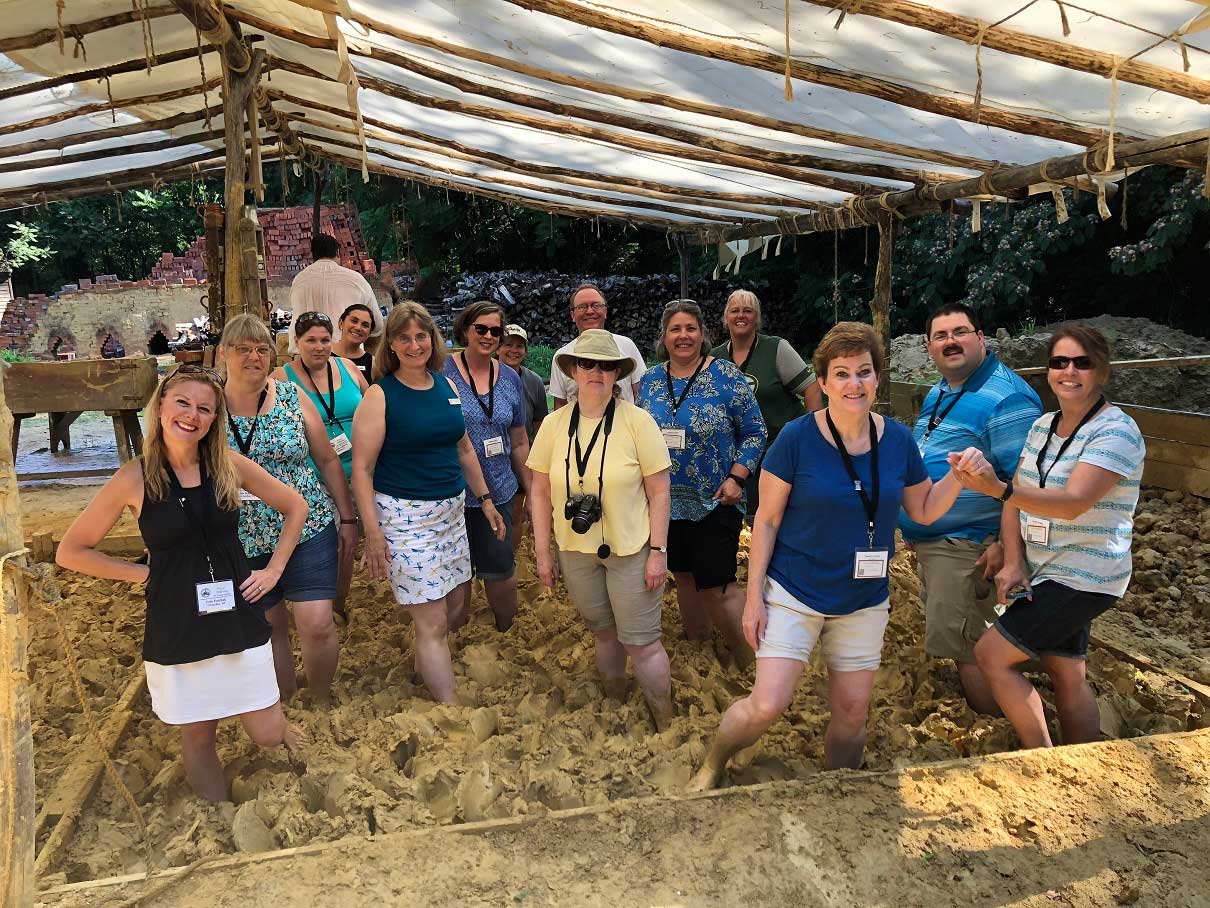 TELL US ONE INTERESTING FACT ABOUT YOURSELF.
I visited Colonial Williamsburg as a fourth-grade student on a school visit and promised myself that I would return. With my acceptance letter to college, two childhood dreams became a reality: attending the College of William and Mary and returning to Colonial Williamsburg. To support my education, I worked at the Golden Horseshoe Club House as a lifeguard and bartender. Those jobs were the beginning of a 38-year journey at Colonial Williamsburg that opened many opportunities to fulfill my dream of supporting and inspiring other students to be curious and love learning—just as my incredible Colonial Williamsburg experience as a 10-year-old did for me.
Colonial Williamsburg is the largest living history museum in the world. Witness history brought to life on the charming streets of the colonial capital and explore our newly expanded and updated Art Museums of Colonial Williamsburg, featuring the nation's premier folk art collection, plus the best in British and American fine and decorative arts from 1670–1840. Check out sales and special offers and our Official Colonial Williamsburg Hotels to plan your visit.
Together, with You
We count on you to fulfill our mission that the future may learn from the past. Together, with you, Colonial Williamsburg strives for excellence through nationally recognized preservation of this living museum, world-class educational opportunities and thought provoking civic engagement programming. Make a gift now to support and advance this important work.
Learn More