Getting to Know the Interpreters of Colonial Williamsburg
WHAT DO YOU DO AT COLONIAL WILLIAMSBURG?
I started at Colonial Williamsburg back in 2011, and hope to be here a lot longer! I serve primarily as an Orientation Interpreter and can be found most often helping folks find their way through town, answering questions about programming, and giving a basic introduction to 18th-century history.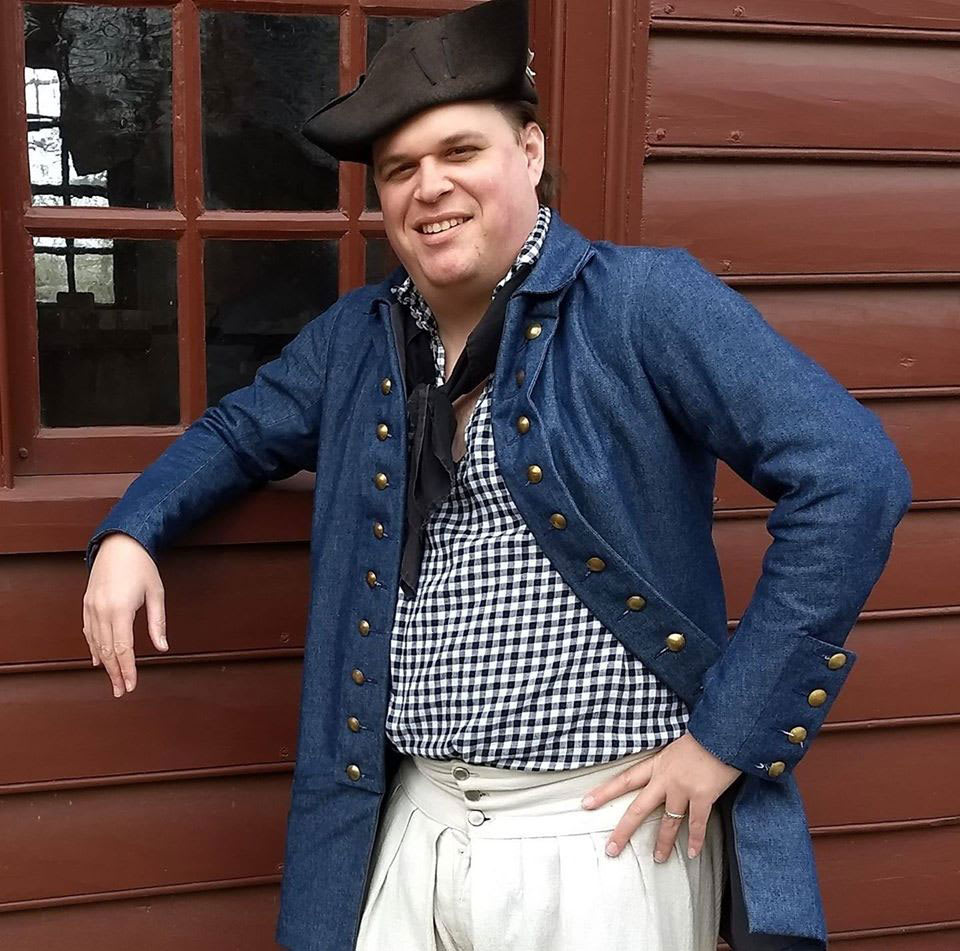 For nearly five years now, I've been interpreting as an 18th-century sailor thanks to some specific clothing designed and made by our Costume Design Center. When I can, I try to have something related to Revolutionary War naval history prepared at the entrances to sites to give guests a unique tidbit from the period they might not get anywhere else. You'll also see me giving tours in the Capitol Building or the George Wythe House. It's smart to have multiple skills under your belt at a place such as Colonial Williamsburg. I've also performed in a multitude of CW evening programs from "Ghosts Amongst Us" to "Life of a Jolly Pyrate" and most recently the trial program "To Hang a Pirate." I'm usually a sailor there, too, go figure…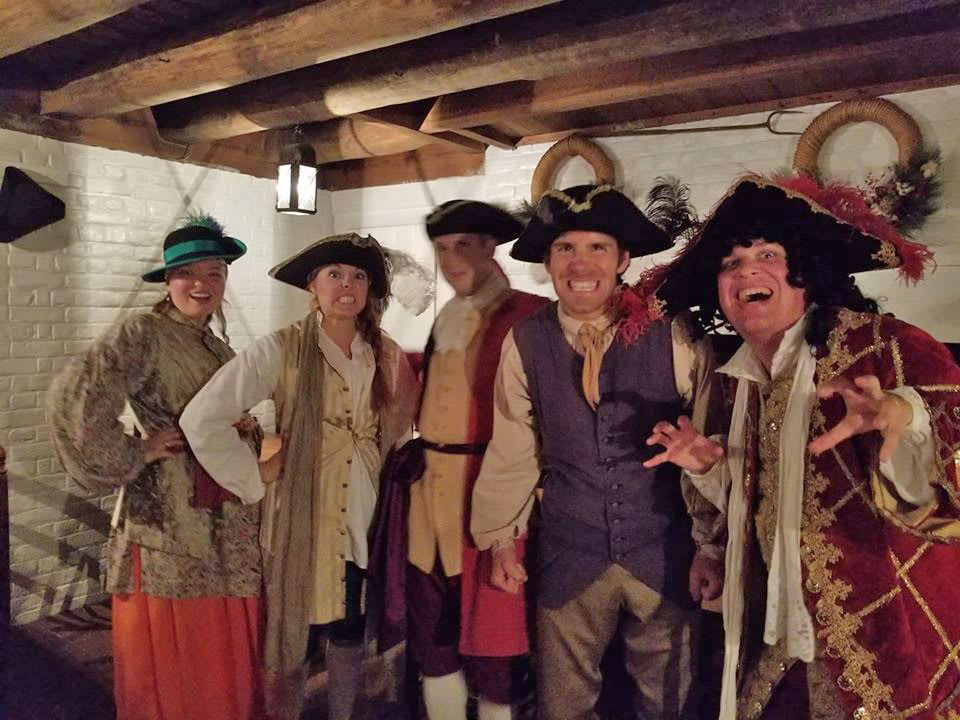 WHAT IS YOUR FAVORITE PART OF WORKING AT COLONIAL WILLIAMSBURG?
The ability to engage directly with our guests. It's one thing to learn history in a classroom setting, but it's another thing entirely to actually experience history the way you can at Colonial Williamsburg. I think being able to interact with people, decor, and objects of the past helps maintain the relevance of history to the modern audience. At times, the guests can become the interpreters, too. I recall a time about three years ago where I was using a sextant to talk about the basics of 18th-century celestial navigation ... only to find out that one of my listeners was a World War II veteran who had used remarkably similar equipment when he served as a B-17 navigator. He eagerly shared stories about how celestial navigation has changed during the past two hundred years and how much it has stayed the same. You can't have personal interactions like these just anywhere.
WHAT IS SOMETHING THAT SURPRISES YOU ABOUT WORKING AT COLONIAL WILLIAMSBURG?
That there is always so much more to learn. I'll finish one book for a new research project, only to discover five more in the sources that I need to read. History is replete with "rabbit holes" that you have to follow into new threads of research, so you continue to grow. If that weren't enough, new history is constantly being discovered and new interpretations of known history are always being written. While it seems intimidating at times, the best part of being a historian to me is that I'll never be finished studying and learning.
DO YOU HAVE A FAVORITE TOPIC TO RESEARCH OUTSIDE OF WORK?
Hands down, it's naval history from 1750 to 1820, though it spills into my work life fairly regularly. Outside of work, I'm also a big science-fiction fan. Seven years back, I was turned on to the Honor Harrington novels by David Weber, which are frequently described as "Horatio Hornblower in Outer Space." After reading Weber, I got into the historical fiction novels of C.S. Forester and Patrick O'Brian. It was an easy jump from there to learning about the real-world history upon which these phenomenal novels are based. I've been hooked on naval history ever since, and it has quickly become the focus of my career.
TELL US ONE INTERESTING FACT.
I have a tattoo appropriate to the 18th century, which also means I can openly display it at work!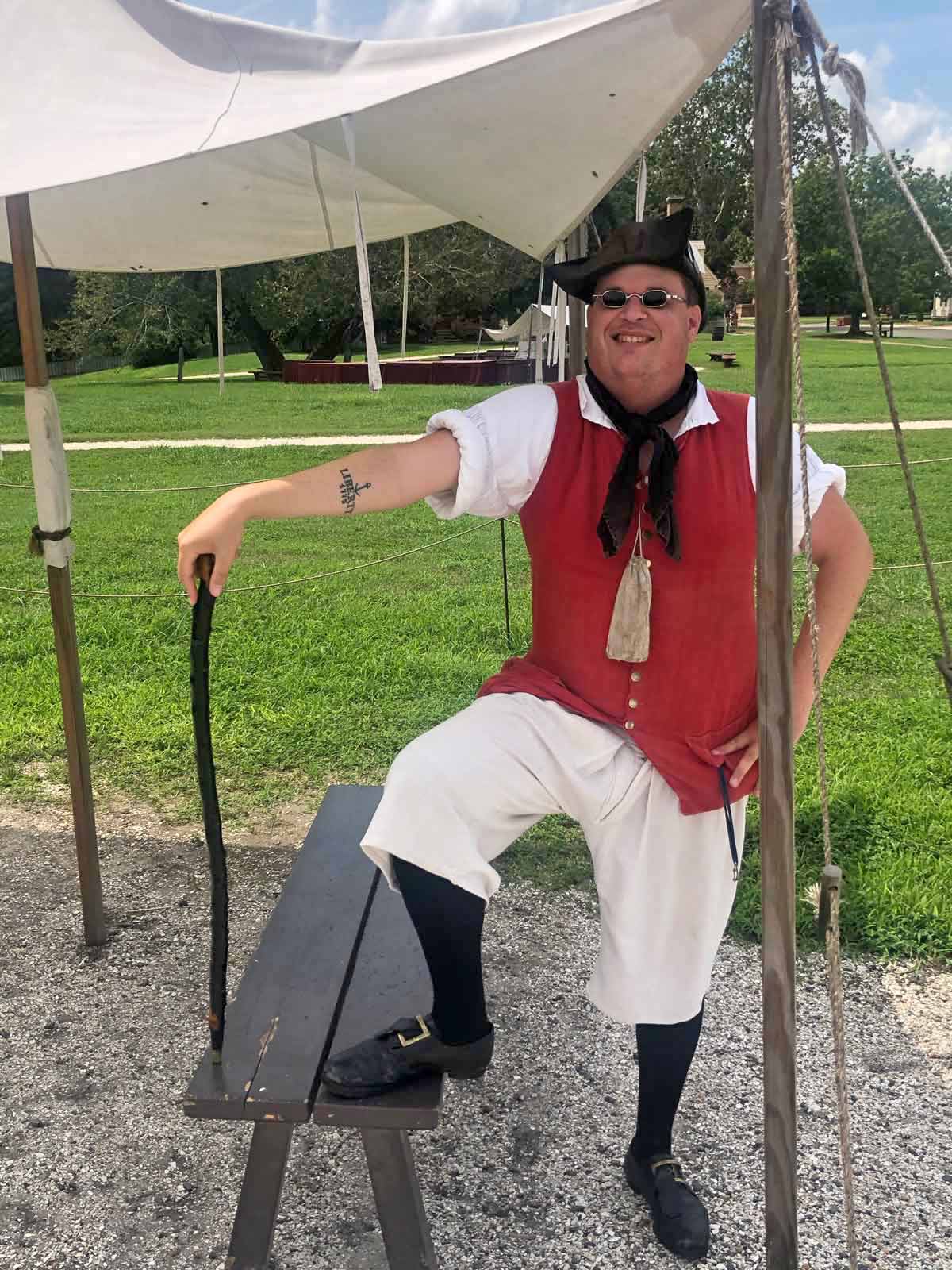 In 2018, I found a very interesting article describing sailor tattoos that were documented in the 1790s, complete with artwork. After digging a little deeper, and with some research help from Andrew Warren (currently an artificer's apprentice at CW, by the way) we found tattoos documented in the Virginia Gazette from the time period we typically portray here. My tattoo includes an anchor, along with the words (in appropriate 18th-century typeface, even) "Liberty" and "1775" in honor of the most successful vessel in Virginia's Revolutionary War navy. If you ever see me about town with my sleeves rolled up and tattoo visible, come ask me about it! I love talking about this stuff.
Colonial Williamsburg is the largest living history museum in the world. Witness history brought to life on the charming streets of the colonial capital, plus, explore our newly expanded and updated Art Museums of Colonial Williamsburg featuring the nation's premier folk art collection, plus the best in British and American fine and decorative arts from 1670–1840. Check out sales and special offers to plan your visit.
Learn More