Getting to Know the Interpreters of Colonial Williamsburg
Hi, I'm Holly, a Groups Interpreter at Colonial Williamsburg. I've been working for the Foundation for nearly seven years, though this is my second time with the Foundation. I started out as an Orientation Interpreter in 2005 as my first job after college. As I like to joke with guests, I just couldn't get Colonial Williamsburg out of my head!
I have loved history from the time I was very small. My grandparents would take me to the Hermitage, the home of Andrew Jackson, for every birthday. One of my grandfathers lived in the Tidewater area and would bring me to Colonial Williamsburg from the time I was very small. I once gave a tour at the Hermitage by accident as a young child and it was then that I discovered that I could actually get paid to talk about something I loved. Now, I live in Virginia Beach in a multi-generational home that includes my eight-year-old, Alex, and his Golden Retriever Poodle mix, Charlie. When I'm not working, you can normally find me reading, knitting, fishing with my son, and hanging out with my family. I've participated in the Colonial Williamsburg Employee Craft Fair for the last three years, so I always have a project underway on my needles!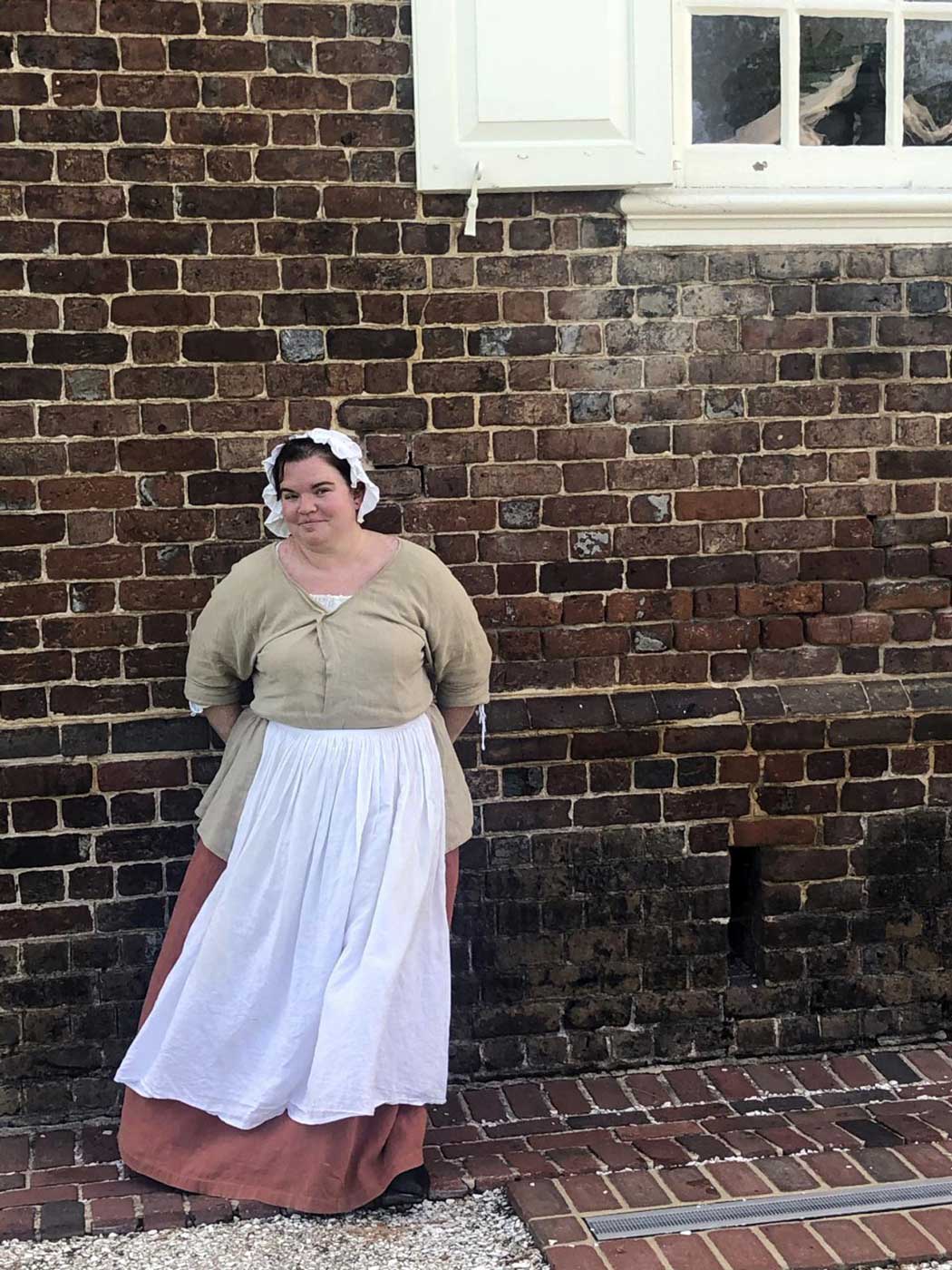 WHAT DO YOU DO AT COLONIAL WILLIAMSBURG?
Groups Interpretation is exactly what it sounds like! As the world's largest living history museum, navigating Colonial Williamsburg can be overwhelming if you've never been here before, especially when visiting as part of a group. That's where we come in! We generally fit in two tours per day, and those last about three hours. We take groups through the Capitol and the Governor's Palace, take them to trade shops, all the while constantly talking with them about what they're seeing, what it means, and what life was like in the 18th century. It's not uncommon for us to walk the Historic Area several times over in any given day. Because we're trained to do a little bit of everything, it's also not uncommon to see Groups Interpreters in costume giving tours of the Capitol and Palace, doing Orientation Interpreter work if needed, or most recently answering questions at the Orientation Zones!
WHAT IS YOUR FAVORITE PART OF WORKING AT COLONIAL WILLIAMSBURG?
I think working in Groups is one of the most exciting jobs you can have here. Our days are never quite the same. In the morning, I might have a school group of fourth graders from Gloucester and in the afternoon, I might have a group of adults from Australia, which actually happened not too long ago! I'm constantly meeting new people and finding different ways to help my colleagues make the history of this place truly come alive. I've developed some of the most enduring friendships of my life here. In my experience, there's something genuinely special and unique about this place. We look out for each other and rely on each other, which is something I find particularly wonderful.
WHAT IS SOMETHING THAT SURPRISES YOU ABOUT WORKING IN COLONIAL WILLIAMSBURG?
If I had to choose a single thing, it's that I'm always discovering something new every single day. Whether it's a fact a guest drops in casual conversation or something new to see in the Art Museum I've never seen before, I'm always impressed with how much there is to learn here. Every coworker I have has a slightly different perspective on the same topic, so it's always interesting to have an in-depth discussion on a subject I'd previously believed I knew very well. For example, a friend of mine gave me a printout of a quarantine notice from the 1793 yellow fever epidemic in Philadelphia. I hadn't been able to find one, so I was thrilled to see it, especially since I've been doing a lot of research about it lately!
DO YOU HAVE A FAVORITE TOPIC TO RESEARCH OUTSIDE OF WORK?
Lately, I've been doing a deep dive on World War II history from both the Allied and the Axis perspective, both Pacific and European theatres. I'm more of a social historian than anything else, so learning about battle strategies has really been interesting. I'm also fascinated with Tudor history, specifically the six wives of Henry VIII, the family of the last tsar of Russia, and the British monarchy. Basically, any book about any of those topics feels like time spent with an old friend. I'd like to expand my horizons beyond that and think my next focus of interest will probably end up being the Chinese emperors or the history of India.
TELL US ONE INTERESTING FACT.
Another area of my research is the treatment of disabilities and mental illness in the 18th century, which is what led me to Sir John Fielding who was also known as "The Blind Beak of Bow Street." A 'beak" is 18th-century slang for a detective. Henry Fielding, Sir John Fielding's brother and author of Tom Jones, became Chief Magistrate of London and created formal law enforcement in the city. He planned out crime control and hired permanent detectives who worked out of his house in Bow Street. The "Bow Street Runners" were the first known professional police force in London and later became the Metropolitan Police. Sir John was blinded in a naval accident at 19. He became his brother's assistant, then took over the Chief Magistrate job when his brother retired. The "Blind Beak" could supposedly identify over 3,000 criminals based on their voices alone. He held the job as the head of the Bow Street Runners until he died in 1780. I love this fact because it proves that in the 18th century it was possible to live a full and complete life no matter your disability, just as it is today. The more things change, the more they stay the same!


Holly works for Groups Interpretation at Colonial Williamsburg and enjoys every minute of it! In her spare time, she can be found turning yarn into something that will hopefully be beautiful, hanging out with friends, and spending time with her family.
Learn More