Getting to Know the Interpreters of Colonial Williamsburg
I am a Sites Interpreter, working mostly inside Colonial Williamsburg's buildings. I currently work at the Governor's Palace, the George Wythe House, and the Raleigh Tavern and give guided tours of those buildings that last between 25 and 30 minutes. In my position, I am expected to be able to answer questions about all those buildings on the spot. While sometimes I do not actually have the answer to every question I'm asked, I try to find out so I will be ready to answer them next time.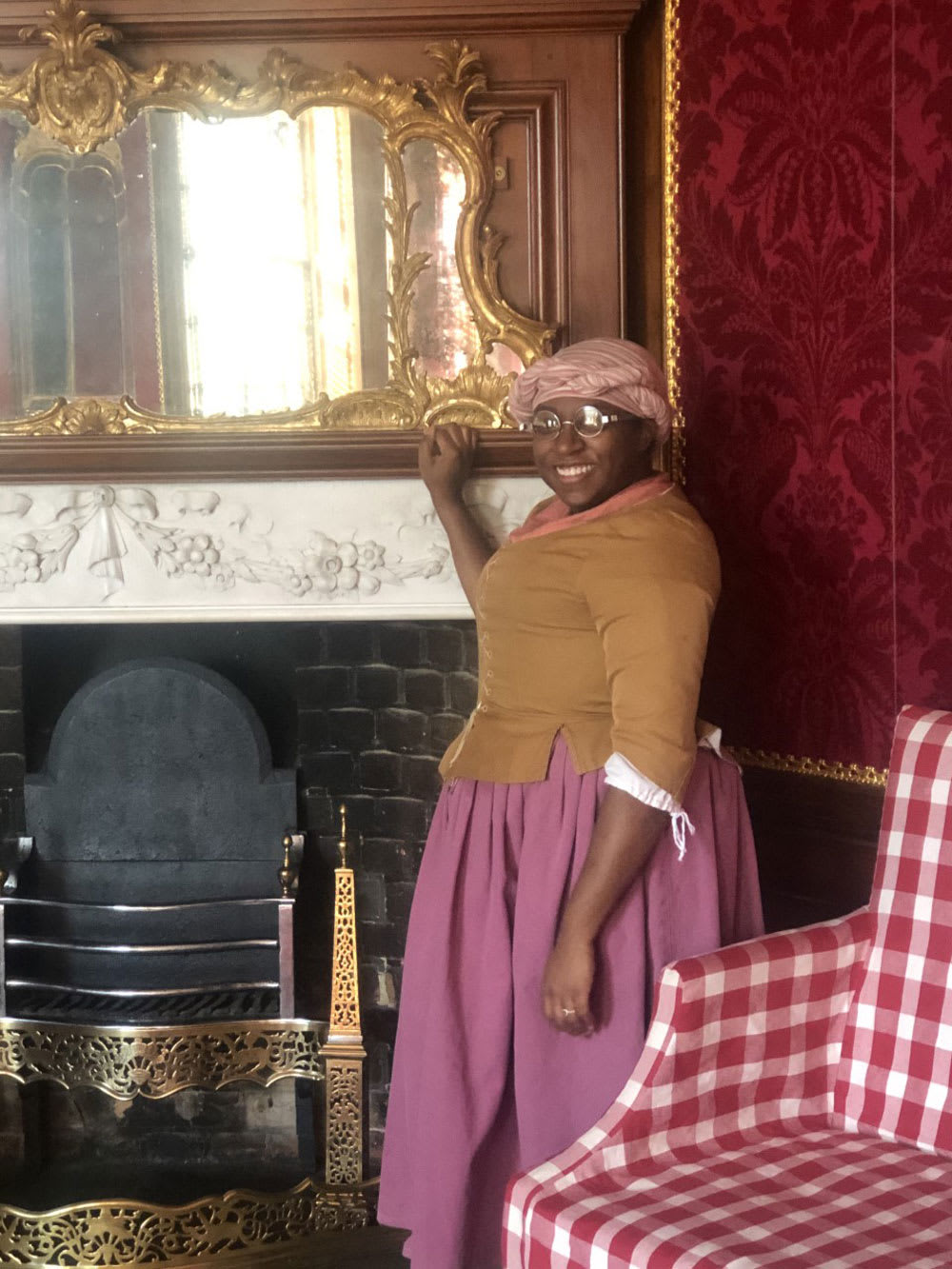 Of all the buildings I work in, I would say that I like the George Wythe House the best. It has a lot of history and there are a lot of stories about that house, but also about George Wythe himself. For example, not everyone knows who he really is, which is the funny part. George Wythe! Who is he? He signed the Declaration of Independence. What else did he do? Um… Okay, here we go… he is a man of the Enlightenment. Yay! Science and reason! He also talks about Thomas Jefferson, one of his law students at the time. Wythe also owned slaves. So, for me, I like to bring the story of Lydia Broadnax to light, as she was one of the enslaved individuals on the Wythe property.
I also am part of our evening programming and play a role in Trial of a Patriot. I find this to be quite fun; I really do enjoy it! There are times when the role is frustrating because I play a formerly enslaved individual, Mrs. Morris, who at times gets her integrity questioned. So, in this particular program, the roles have been reversed and my character is now free. And, in this story, the British win the war! So how does all this play out? I am the first witness appearing in the show, and I testify against Mr. Fry for committing treason against the Crown. After I give my testimony, the guests get to ask questions, and they are wondering, "How do we know if we can believe her?!" And you need to believe, that my character Mrs. Morris heard everything that happened in the house and I was a spy by the end of the case. In the court's opinion, I am the most trusted person in Mr. Fry's world, and I observe and hear everything that happened in the house. I really enjoy working at night and love working with my colleagues. We have a good time!
WHAT IS YOUR FAVORITE PART OF WORKING AT COLONIAL WILLIAMSBURG?
I love the people that I work with on a day to day basis! We are all fun, we are all a little bit crazy if I can say that. We are unique. You can go to anyone and they will know something about something you don't know. So, we feed off one another. We are friends and family both in and outside of work. That's my favorite part, getting to engage with colleagues. We get to meet unique people who want to talk about history and what we do on a daily basis. It is always fun.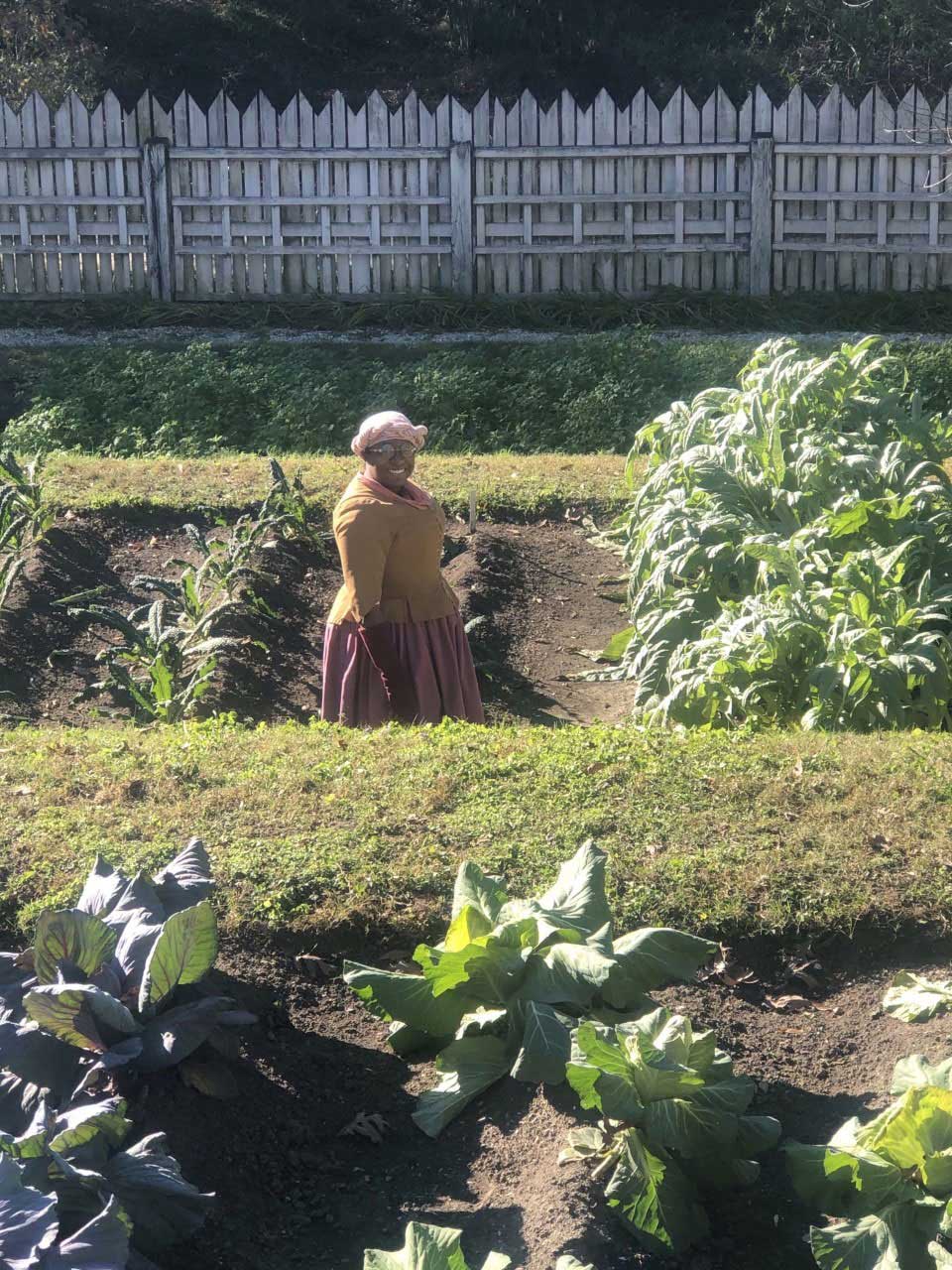 WHAT IS SOMETHING THAT SURPRISES YOU ABOUT WORKING AT COLONIAL WILLIAMSBURG?
The uniqueness of our guests. No two guests are the same. They can be unexpected. You never know what they are going to say or what questions they are going to have. Some just have a genuine interest in us as people and what it's like to work here. 'Why are you here?' 'How can I get a job here?' I hear these questions All. The. Time. I love the day-to-day experience, not knowing what I am going to experience given the changing guest experience.
DO YOU HAVE A FAVORITE TOPIC TO RESEARCH OUTSIDE OF WORK?
Without a question, it is African American interpretation. I studied this in college. Even today, I am still interested in the topic. I want to understand the entire experience, not just the events of 1619. But the events of 1619 and how they affect us even to the current day. Just understanding that part of our history and be able to engage not just with guests but also with colleagues. I want to be able to interpret the topic much better with what we know and also understand what we think we know so we can tell that complete story.
TELL US ONE INTERESTING FACT.
I recently become engaged to a guy I NEVER thought I would get engaged to. So that's interesting, a lot of my friends would not have expected this, but he is so great and he makes me so happy. I also have a puppy that I ADORE SO MUCH! He is my little ray of sunshine, his name is Tobi Blue and I cannot get enough of him!
Colonial Williamsburg is the largest living history museum in the world. Witness history brought to life on the charming streets of the colonial capital and explore our newly expanded and updated Art Museums of Colonial Williamsburg, featuring the nation's premier folk art collection, plus the best in British and American fine and decorative arts from 1670–1840. Check out sales and special offers and our Official Colonial Williamsburg Hotels to plan your visit.
Learn More