We caught up with site interpreter Kathleen McDonough who's been with the foundation for eight years. Get to know her below.
WHAT DO YOU DO AT COLONIAL WILLIAMSBURG?
Most days I can be found giving tours of historic buildings such as the Governor's Palace, Capitol, Coffeehouse, and the George Wythe & Peyton Randolph houses. Also, when needed, I help out with orientation assignments or leading tours for various groups that visit Colonial Williamsburg, which are other parts of our Department.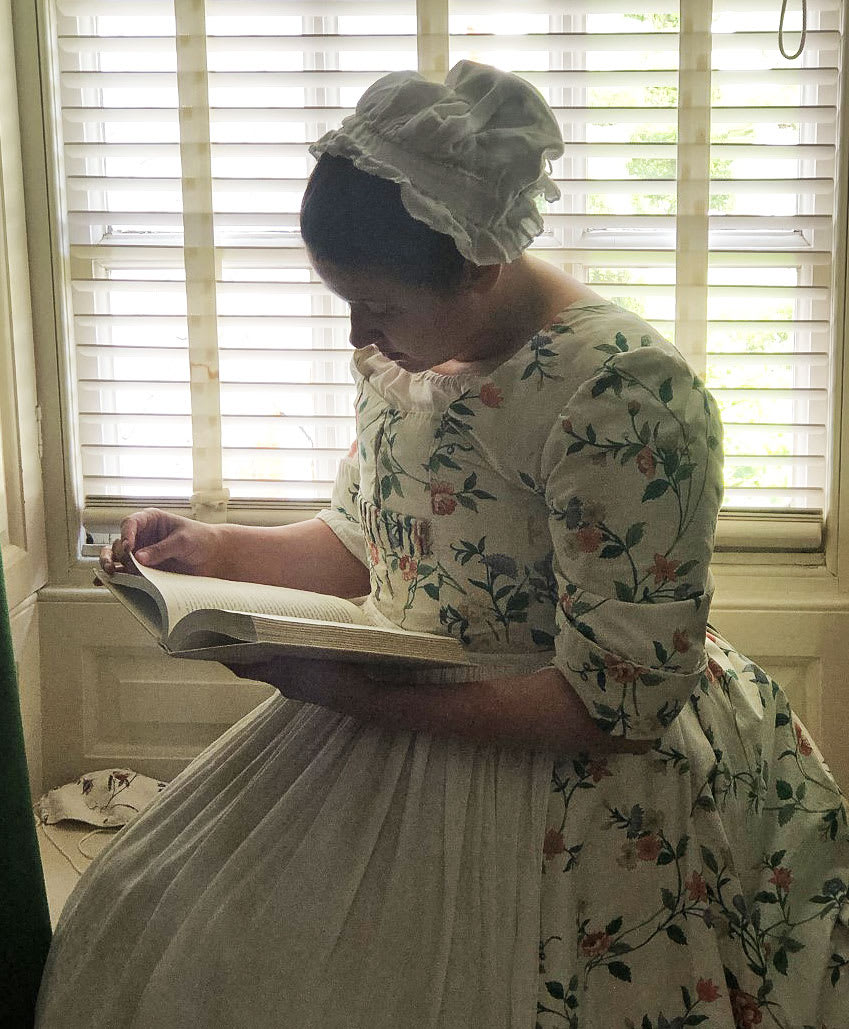 WHAT IS YOUR FAVORITE PART OF WORKING AT COLONIAL WILLIAMSBURG?
I really enjoy interacting with our guests, whether it's simply chit-chatting while they're waiting to enter a building, or when they ask me a really intricate question after taking a tour. Some of my most memorable experiences working at Colonial Williamsburg have come from our younger guests asking all manner of questions about 18th-century life, from where colonial people went to the bathroom to detailed questions about the Transatlantic slave trade. Seeing our guests have that "aha!" or "lightbulb" moment makes me feel grateful for what I do.
WHAT IS SOMETHING THAT SURPRISES YOU ABOUT WORKING AT COLONIAL WILLIAMSBURG?
How much of a family I have found in my colleagues. I am constantly amazed at the depth of their knowledge and ability to interpret complex history to diverse audiences. Their support of my own life accomplishments and personal endeavors has also meant so much to me in the eight years I've worked with the Foundation.
DO YOU HAVE A FAVORITE TOPIC TO RESEARCH OUTSIDE OF WORK?
It's no secret that I love researching monarchs & nobles of all centuries. I really enjoy researching their personalities and social lives to see what correlation that had with their reigns and or the times in which they lived. When I first began working at Colonial Williamsburg, I was researching travel between colonies and came across the story of a young woman named Eleanor Calvert ... only to discover that we were related when researching my own family tree!
TELL US ONE INTERESTING FACT
I was the first girl born on either side of my family in 35 years! My father's side of the family are diehard fans of Pittsburgh sports teams, which makes family gatherings fun for this Baltimore-bred girl and fan of the Ravens and Orioles!
Colonial Williamsburg is the largest living history museum in the world. Witness history brought to life on the charming streets of the colonial capital, plus, explore our newly expanded and updated Art Museums of Colonial Williamsburg featuring the nation's premier folk art collection, plus the best in British and American fine and decorative arts from 1670–1840. Check out sales and special offers to plan your visit.
Learn More